Introduction to hospitality carpets
Why Use Hospitality Carpets vs. Hard Flooring
Design Considerations: Wall-to-Wall vs. Carpet Tiles
Design Considerations: Tufted, Woven or Needle Punched
Choosing the Right Hospitality Carpet
Designing for Acoustics With Hospitality Carpets
Understanding Carpet Properties
Getting Ready for Your Hospitality Carpet Project
Carpet Maintenance
How Much Will Your Hospitality Carpet Cost?
Do You Have a Current Hospitality Project You Want to Talk About?
Introduction to Hospitality Carpets
In the hospitality industry, offering great service means creating a top-notch experience. Whether you're designing for hotels, restaurants, bars or clubs; a great experience begins in a flawless and unique environment. Your job is to engage and wow patrons from the moment they walk in the door. What better way to do this than by designing the surface they set onto?
With a versatile array of designs and styles, amazing acoustic properties and undeniable comfort, hospitality carpets are a superior flooring option for your next hospitality project.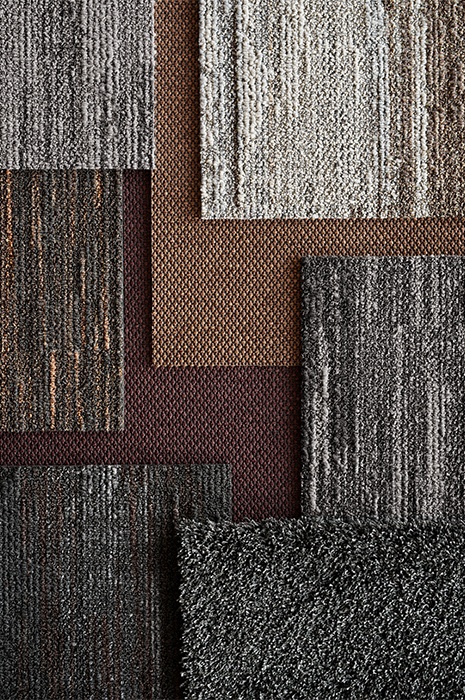 We know that every hospitality project is different, has its own objectives and is aiming for a unique ambiance. It can be difficult to choose which hospitality carpeting is right for your project.

That's why we've put together this comprehensive guide to walk you through every step of the process, from selection all the way to installation and care. Enjoy!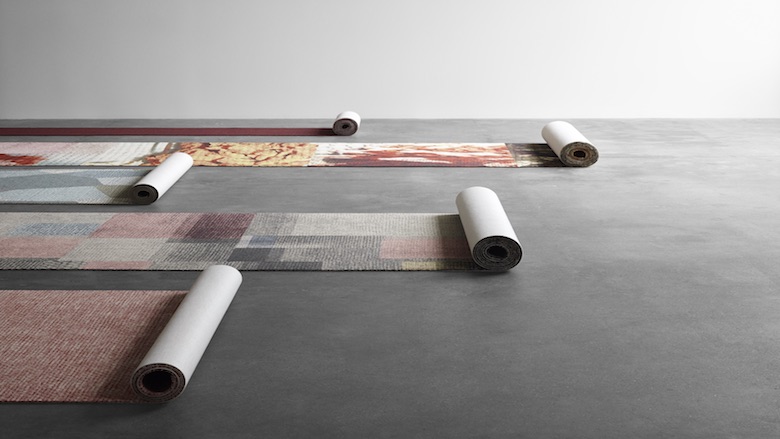 Why Use Hospitality Carpets vs. Hard Flooring
To create a unique and comfortable environment that solves for the abundance of sound inherent in hospitality establishments, the best bet is to go for carpet.
While other flooring options, such as hardwood, polished concrete or tiles have their place in certain projects, generally speaking, these options lack the diversity in style, design, texture and construction type that carpeting can offer. When installed correctly and properly maintained, the benefits of carpet simply can't be beat. Let's take a look at some of them:
Diversity of style
Carpet offers unmatched design versatility. With carpeting, you can choose from a wide array of different colours, patterns and textures, or custom-order a project-specific carpet. In the hospitality industry, this versatility is crucial! Whether you're designing a hotel, bar, restaurant or club, these unique design choices will directly affect the guest experience.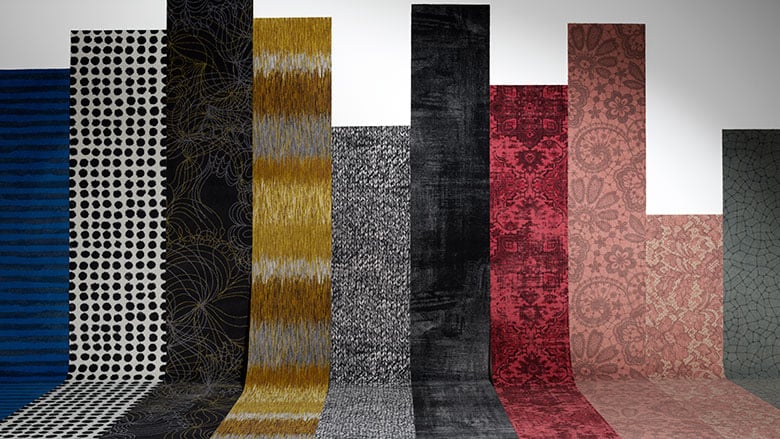 In the past, the choice of a standard selection vs. custom carpet design was a question of budget, time constraints and desired lavishness. Today, this is not the case. Advancements in dye-injection technology mean custom carpet designs are faster and more cost-effective. Only your imagination sets the limit.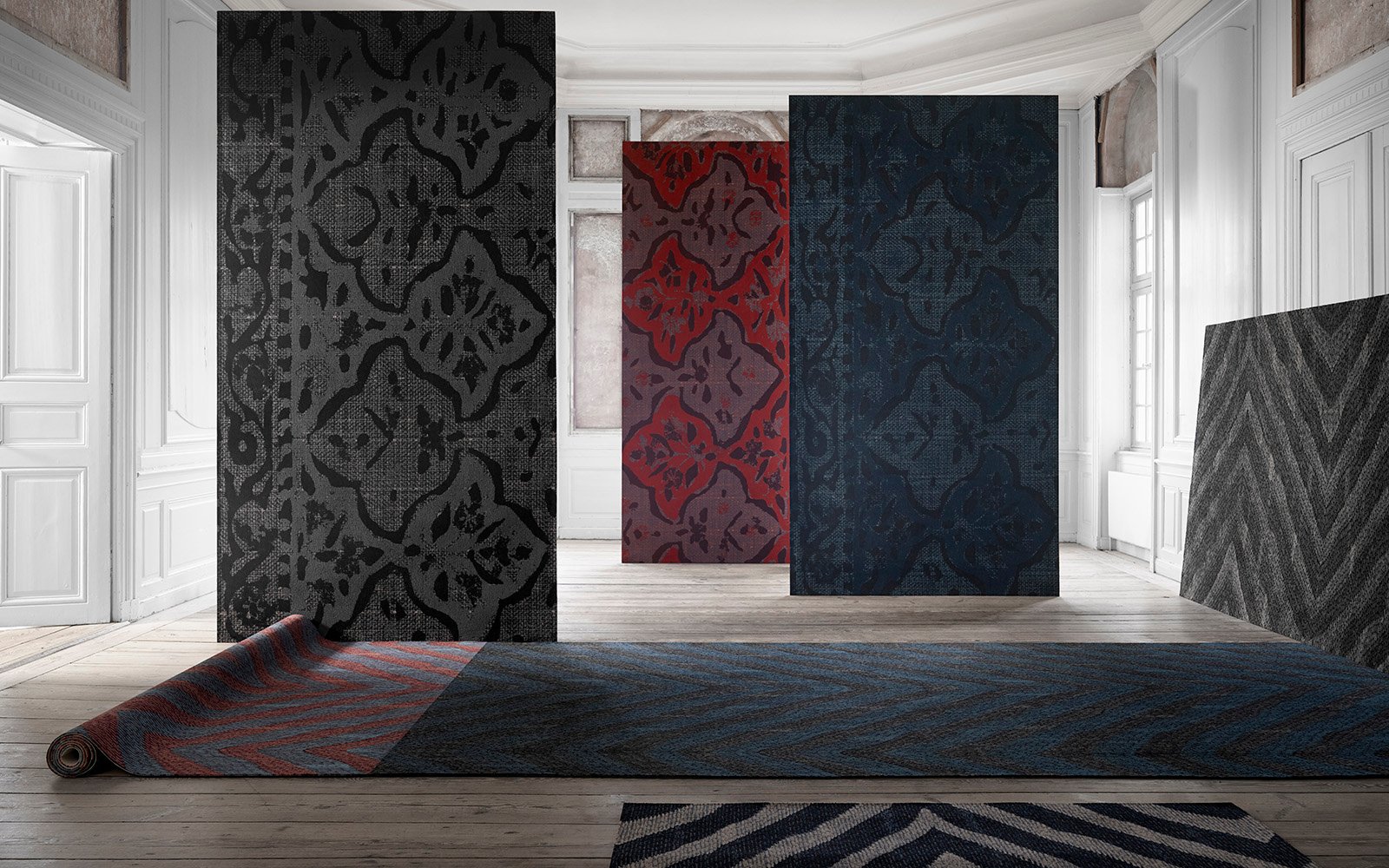 Get inspiration from some of our favourite projects with hospitality carpets in the hospitality section of The Urge to Explore Space blog.
Durability
While durability is often cited as a main argument against carpet, this need not be the case. A high-quality carpet that's correctly specified will last you 10-30 years.
To make sure you get a durable carpet, be sure to choose a manufacturer that adheres to proper international standards. In Europe, this means all carpets should be tested and certified in accordance with EN 1307, which rates carpeting on durability and long-term appearance retention. Beyond this, though, ensure that the manufacturer you select uses proper testing equipment in all product development activities.
Noise level
As architects and designers, you know that accounting for noise is critical for hospitality projects. Your job is to facilitate intimate environments, in spite of the many people within them. This is where carpet comes in handy, providing clear acoustic benefits. Carpet reduces noise by absorbing sound, rather than reflecting it as hard surfaces do. Here at ege, we even provide specialised acoustic backing for further dampening effect.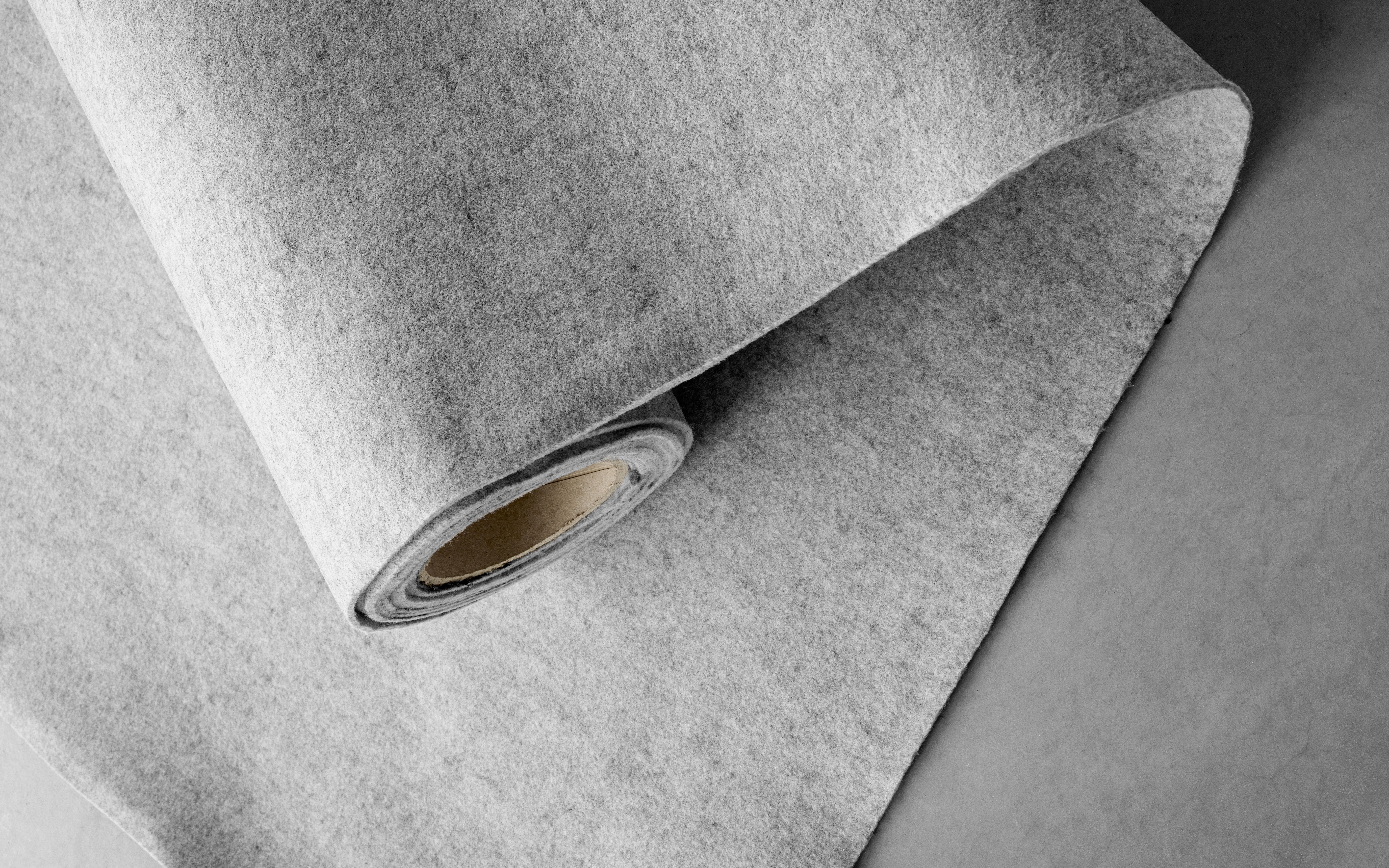 Static electricity
Static electricity and the shocks that you get from it can be quite the annoyance. The great news it, it can be easily avoided by choosing a carpet that contains conductive fibres and is permanently anti-static.
Temperature control and energy efficiency
The fibres in carpet act as natural thermal insulators. This means that carpet feels warmer and does not draw warmth from the feet as quickly as smooth flooring does. Not only does this make for a cozy environment, but it also makes carpet more energy efficient.
The temperature in a carpeted room can be lowered 2-3 degrees Celsius without the room feeling any colder. This could significantly reduce the energy bill for your client!

Safety
Carpet is a safer option than hard-surface alternatives. Its springy fibres create a cushion-like effect that's better for preventing back pain or injury to joints. Further, carpet provides a better foothold than smooth flooring. This means falls are less likely, and when they do occur, the consequences are far less severe.
Sustainability
Sustainability is becoming an increasingly important design consideration. More and more, we hear of clients requesting that architects and designers incorporate sustainability into their projects. Is sustainability a main concern for your project? If so, choose a carpet manufacturer that considers and actively addresses their environmental impact at every step of the manufacturing process. One particular area of concern you should be aware of is what their carpet backing is made of. Many manufacturers, for example, use bitumen and PVC in their carpet backing, which is harmful to the environment. Look for manufacturers, such as ege, who actively avoid these additives.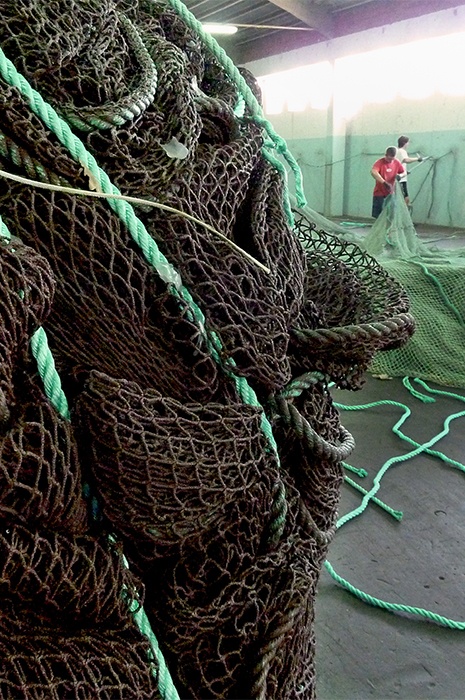 If sustainability is important for you, or your client, read about the 11 factors you should look at, to ensure your carpet manufacturer is truly sustainable. Further, check out how we, here at ege, address sustainability across our product selection.
Design Considerations: Wall-to-Wall Carpet vs. Carpet Tiles
So you're sold on hospitality carpeting. Now what? There are still many choices to take into account before delving into your final selection. It may seem like colours and patterns are your hardest choices, but this simply isn't the case. First off, you have to choose between wall-to-wall carpet and carpet tiles.
Wall-to-wall carpet
Wall-to-wall carpet, also known as "broadloom," offers superior quality and design versatility. Despite the name, wall-to-wall carpet doesn't need to cover an entire room. It can be contained to specific areas and even used to complement other flooring types.
Wall-to-wall carpet is the the option you'll want to go with if you require large-scale patterning or custom designs. It's great for large spaces and projects with high design ambitions.

Further, because of the many options you have to customise your carpet backing and yarn type, wall-to-wall carpets can achieve a plush comfort that pre-backed carpet tiles simply can't replicate.

Bear in mind, though, wall-to wall carpets will cost you a bit more. While it's possible to find wall-to-wall carpets at different price points, in general, they're considered the more expensive option. Further, installing wall-to-wall carpets is more time consuming and results in more waste. Since wall-to-wall carpet is printed on large rolls, you should expect a waste of anywhere from 5-25 %. With thorough planning and skilled installers, though, you can keep waste to a minimum.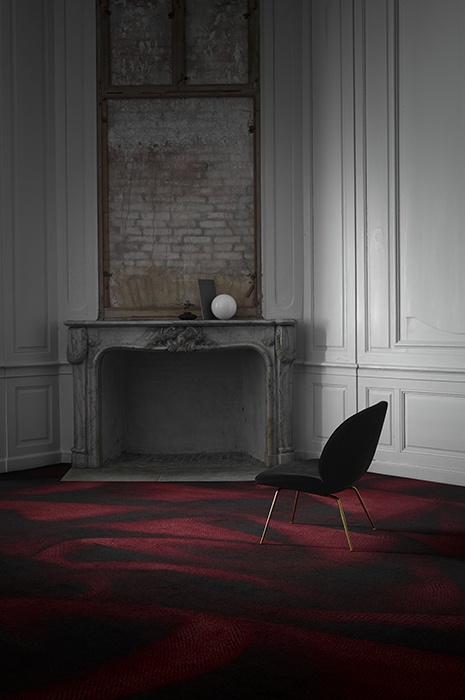 Carpet tiles
Carpet tiles are small squares of carpet that can be installed and combined in many versatile ways. Carpet tiles are cost-effective, as well as quicker and easier to install. Because of their modularity and small size, they generate less waste in the installation phase - only 1-3% - but further, are easier to sub out and replace should a single tile be destroyed or stained.

There will be some drawbacks, though. For one, even with the best installation, you'll always be able to see the seams between tiles. This means you can't achieve the look or feel of a single piece of flooring - if this is the objective. Further, because carpet tiles have pre-attached backing, they lack the plush underfoot feeling of some wall-to-wall carpets.

Recent technological advances, however, have enabled carpet tiles to appear more seamless and have provided an array of versatile options for designing with them.
While they don't always fit the needs of more complicated or high-end projects, carpet tiles may be an attractive option if you're working on a mid-range or less complicated project.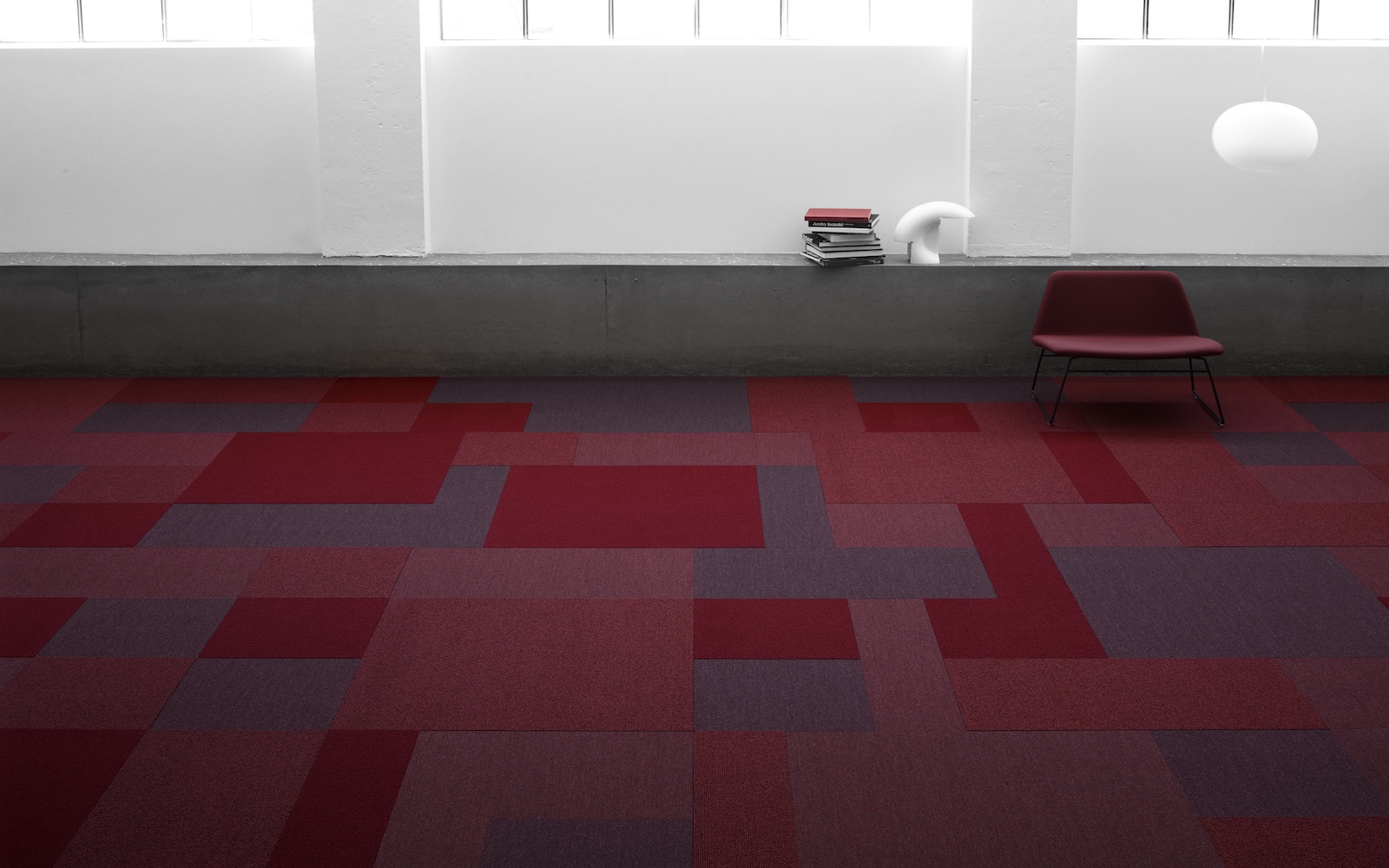 Design Considerations: Tufted, Woven or Needle Punched Carpet
Tufted carpets
Tufted carpets have a fast production time, lower price point and come in the variety of different designs. Accounting for 95 % of all commercial carpets on the market, tufted carpets are applicable to most projects. When superior quality and endurance are of top concern, however, they might not be the most attractive option.
Woven carpets
Woven carpets - or carpets produced on a loom - were the only option up until the 1950s. Since then, production machinery and synthetic materials have allowed for other possibilities, but woven carpets are still on the market and selected today because of their superior quality and durability, particularly with natural materials. Woven carpets are a good choice for a high-end hospitality project.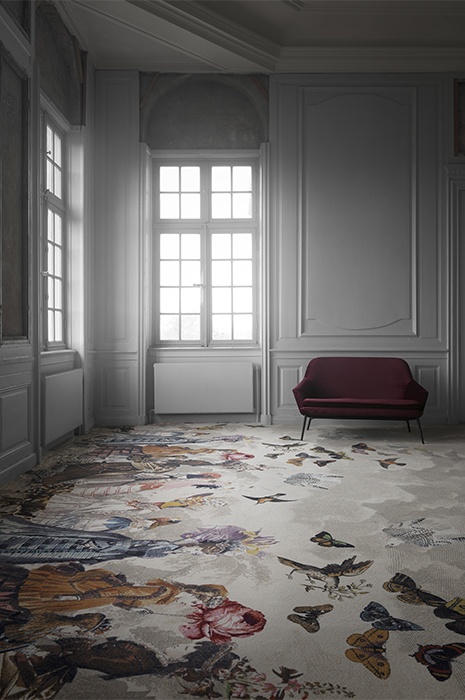 Needle punched carpets
Needle punched carpets are colourfast, dry quickly and are resistant to sunlight and fading. They lack versatility, though, with regard to their look and feel. While not recommended for general use, needle punched carpets are good for things like entry mats.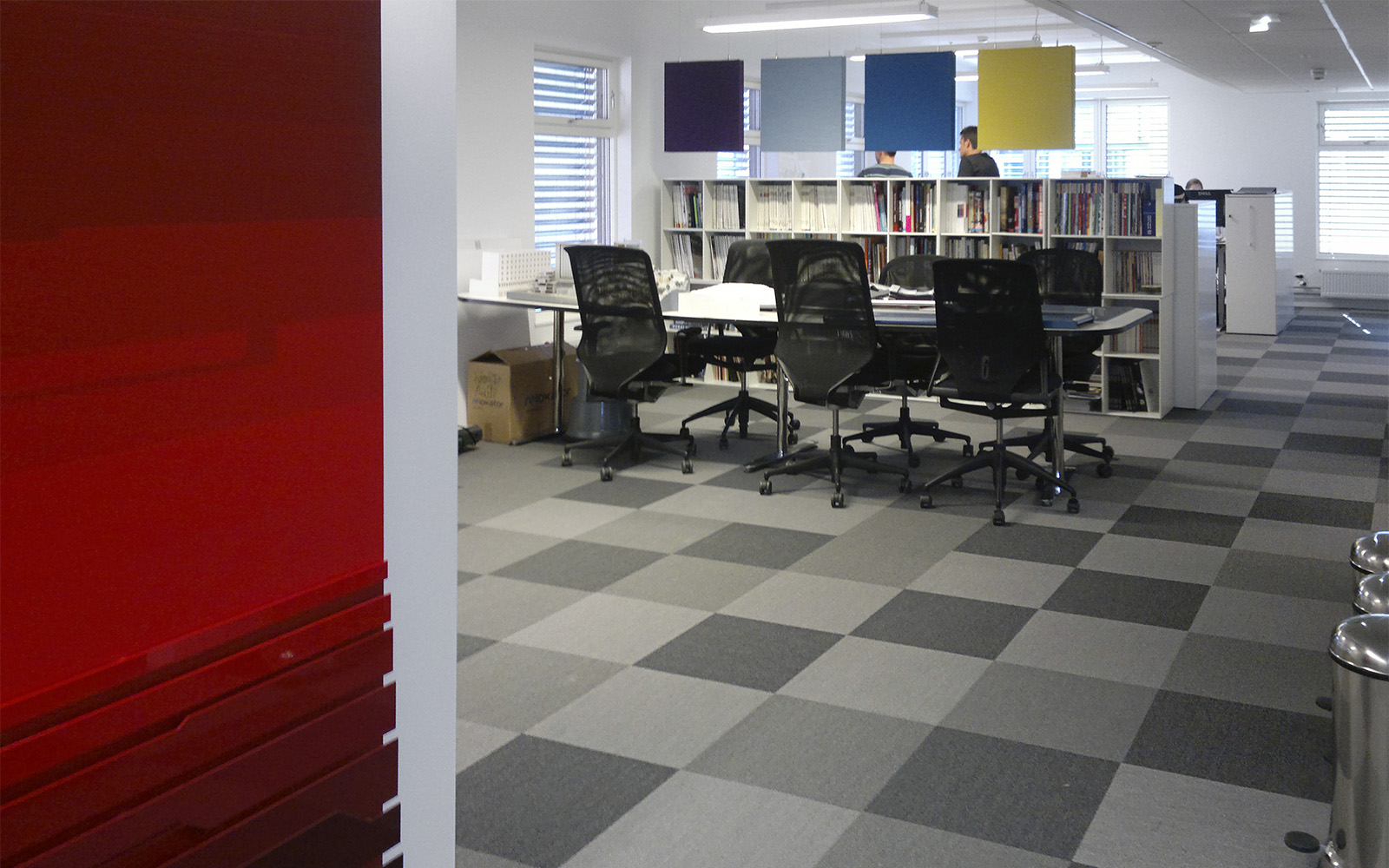 Choosing the Right Hospitality Carpet
Now you understand the benefits of using carpet for your hospitality project and the choices you have, in terms of carpet type and construction. What else should you consider?
Some main properties to keep in mind when choosing a hospitality carpet are: acoustics, durability and soil resistance.
Ultimately, though, the properties you should consider depend on the nature of the space you're designing. For example, is it a high-end, or more casual space?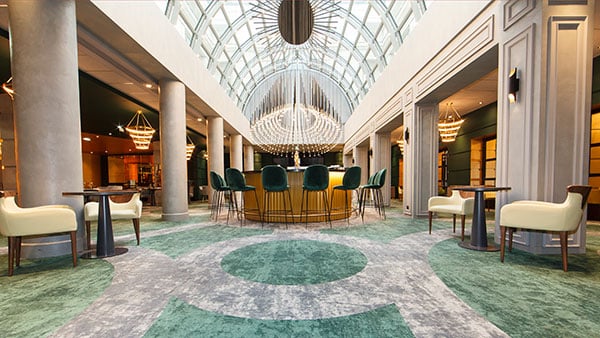 Hospitality carpets for a high-end project
If you're designing for a five-star hotel or top-of-the-line restaurant, there's no question, your client and their future patrons will want every detail tended to. This doesn't just mean choosing the best of the best materials anymore, this means telling a story with your design choices and creating an experience unique to the establishment you're designing for.

A great vehicle through which to tell this story is quality custom wall-to-wall carpet. With custom wall-to-wall carpeting, you can seamlessly integrate your vision into your design, creating a truly unique experience - both visually and texturally.
It's even possible to order custom designs as small as 4 x 4 metres, enabling individualisation of the smaller things, like guest rooms in a boutique hotel.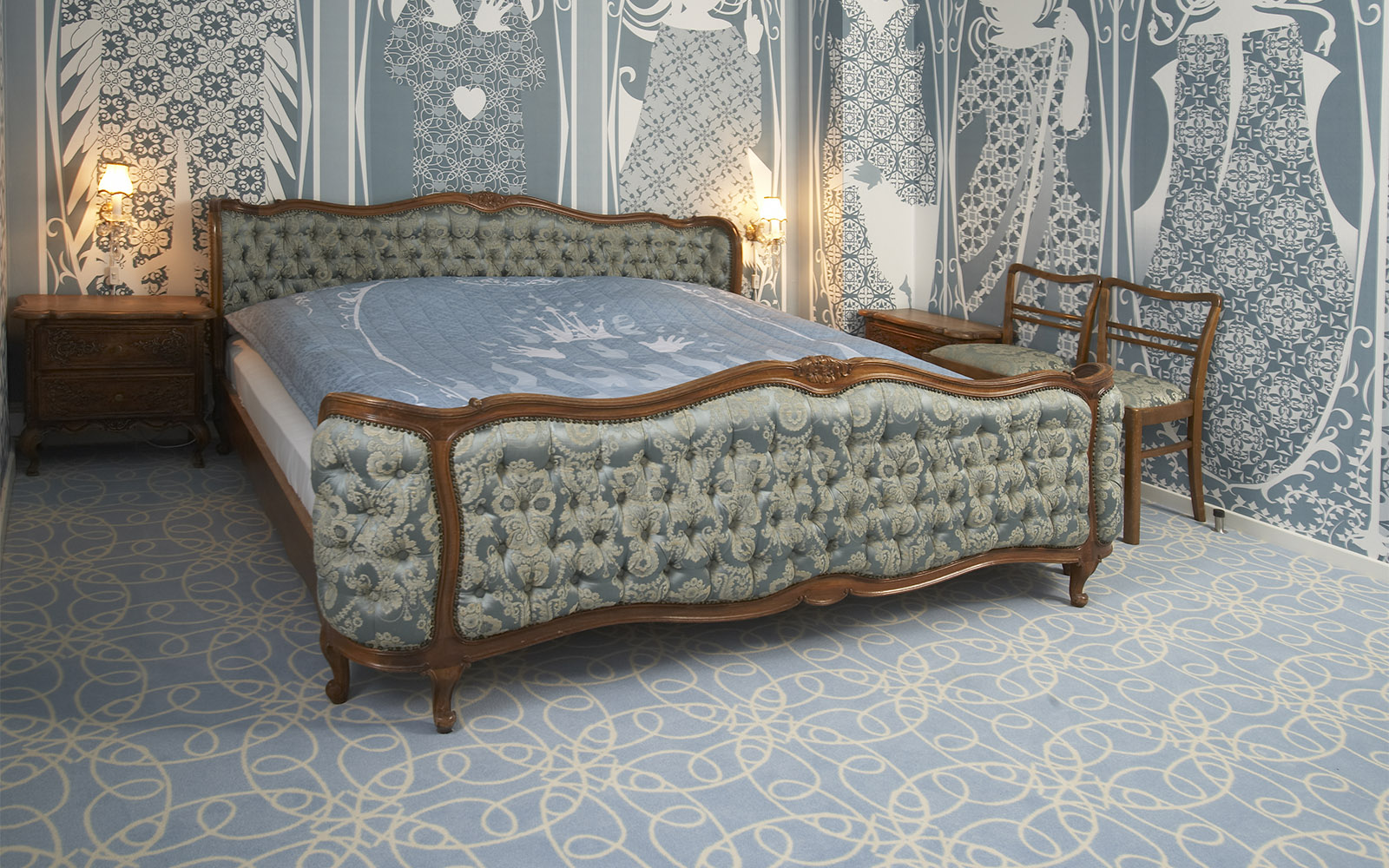 A custom carpet provides so much more than flooring. It can help you carry out a unifying theme, it can subtly separate spaces, it can help you express the personality or history of a space. The choice is yours. Check out our guide, " 10 Amazing Carpet Cases we Love," to see how your carpet choices can help achieve your design objectives in unexpected ways. For further information on wall-to-wall carpet check out our comprehensive guide.
For mid-range projects where custom wall-to-wall designs are desired, but where budget is limited, a good solution is to use custom designs in lobbies, or main public areas and use more cost-effective approaches in the lesser-used areas.
Hospitality carpets for the more casual space
For a casual space - for example, a bistro, pub, or club - a custom design might not be necessary. For projects like these, your best bet might be to go with a standard selection. With a wide range of colours, patterns and textures to choose from, deciding to go standard does not mean giving up on customisability. Alternatively, if cost-savings and regular maintenance are your top concerns, you may want to consider carpet tiles. Available at ege in a wide range of sizes and shapes, including square, plank and hexagon, as well as custom colours and patterns, carpet tiles offer a greater degree of design versatility than they once did. To read more about them, check out our comprehensive guide on carpet tiles.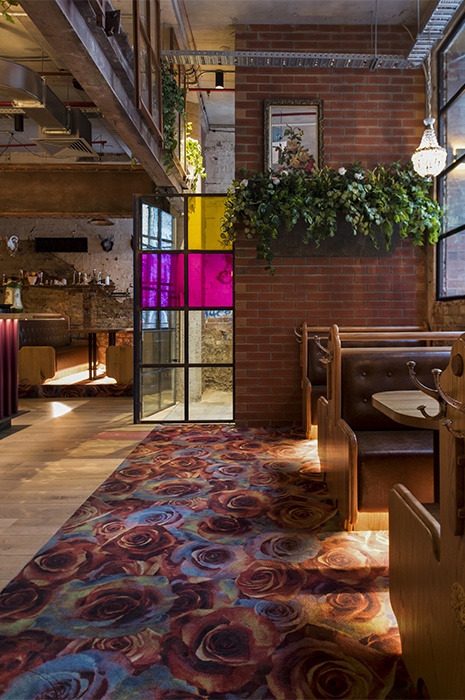 Our recommended colour for hospitality carpets

Worried about stains mucking up your beautiful new carpet?
Choose a medium range colour. Medium range colours work best for concealing stains - both light and dark and offer little contrast to daily soil buildup, so the eye is not drawn to it.
With all this in mind, go forth and get some inspiration. Check out our articles "4 Bold Design Trends to Watch" and "5 Unexpected Ways to Use Carpets in Interior Design".
Designing for Acoustics With Hospitality Carpets
Acoustics are a huge concern when designing for a hospitality project. How relaxing would it be to walk into a fine hotel and hear the voices of concierges, bellhops and guests all muddled together? What about visiting a restaurant and hearing the bustling of the kitchen, but not your dinner guests? Then, of course, everyone knows the struggle of not being able to hear someone when they're right next to you at a bar.
Whatever your goal, with its natural sound absorptive properties, carpet is a great choice when it comes to absorbing sound and cutting down noise levels. Some of the more creative interior designers are even beginning to use carpet for tapestry or wall covering to achieve an even greater muffling effect when required.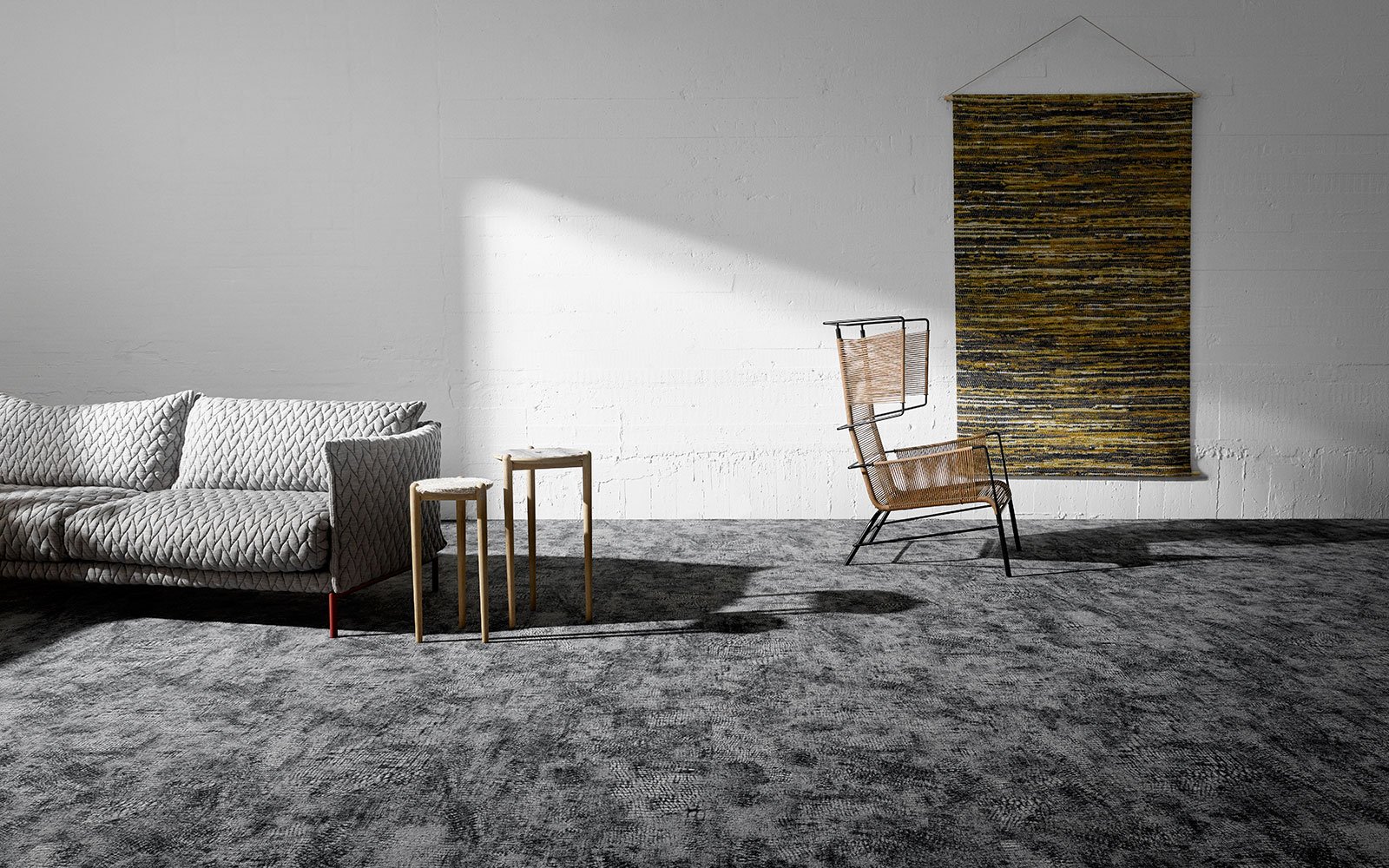 The acoustic benefits of carpeting, though, aren't a factor of the carpet alone, but the padding, or backing used beneath it. As a rule, the thicker the underlay you select, the greater the sound absorption. Manufacturers, such as ege even offer acoustic-optimised carpet backing. For projects where sound absorption is critical, it is important that you consult your carpet manufacturer or supplier and keep a few things in mind:
wall-to-wall carpet can be paired with heavy duty backing, namely, acoustic-optimised carpet backing to enhance its sound absorption properties.

The more permeable the carpet backing, the more sound energy can penetrate into the cushion and the higher the resulting noise reduction coefficient (NRC).

Cushion underlays with higher weight and thickness also improve the NRC.
For a more comprehensive guide on how to optimise for acoustics, make sure to read our guide, "Improving the Sounds of the Room".
Understanding Carpet Properties
Having delved into the task of selecting your preferred carpet and its accompanying backing, I'm sure it's become clear that there are many variables and properties to consider, beyond physical appearance. With so much to contemplate, it's crucial that you consult with your client and decide which properties they deem most essential for their hotel, restaurant, bar, etc. From there, check that the carpet you select holds all relevant certifications and classifications to ensure performance in these areas.
EN 1307
As previously mentioned, EN 1307 is a European standard that rates long-term appearance retention. Test results categorise carpets in terms of domestic and commercial classifications.
EN 1307 commercial classifications

Class 31: Moderate usage - Suited for light traffic areas like hotel rooms.

Class 32: Normal usage - Suited for most commercial projects. Recommended for areas with a high, but not extreme amount of traffic like restaurants.

Class 33: Heavy usage - Suited for areas with very high amounts of traffic like hotel reception halls. Also recommended for projects with a high amount of expected spilling or soiling, or areas with a large amount of traffic from muddy outside areas.

Vettermann Drum test: ISO 10361

To qualify for ISO 10361, a carpet will undergo the Vettermann Drum test, which detects how much a carpet will change based on heavy foot traffic. This test is crucial for carpets intended to be used in areas like entrances and walkways. The test provides results on a 1-5 scale, with 1 being a heavy change and 5 providing no change.
Other classifications and tests for carpets

Fire classification - The slower a fire can spread, the higher the chance occupants have to make it to safety. Two fire and smoke tests are required under the European standard. For additional safety, many carpets are also treated with flame retardants or incorporate flame retardant fillers. This prevents the spread of flames and suppresses smoke by releasing water molecules, ensuring a longer evacuation time.

Colour fastness - Carpets are tested for colour fastness, or resistance to colour fade after undergoing wet and dry rubbing techniques. Performance is based on a 1-5 scale with 5 being the best.
Light Reflectance Value - Light reflectance denotes the percentage of visible light reflected to the light of the human eye. Ability to reflect levels of light will impact the look of your final project. Note that light-coloured carpets reflect a greater portion of light and require more maintenance.

ISO 354 - Measuring a carpet's acoustical absorption.
Take note of these important symbols upon carpet selection

In most European countries, this symbol is required before a carpet can be used in an escape route:


This carpet has been permanently tested for castor chairs:


This carpet is suitable for stairs:


This carpet is permanently anti-static:



This carpet is suitable for heated floors:


For a more comprehensive understanding of carpet compliance, please see our article, "Understanding Properties, Certificates and Classifications." If you're in doubt as to whether the carpet you've selected - or intend to select - is in compliance with local laws, or if you simply want more information about it, please don't hesitate to reach out to us. We are happy to assist you or direct you to your local point of contact.
Getting Ready for Your Hospitality Carpet Project
Now you know the properties you're looking for in a hospitality carpet and how to ensure the carpet you select is properly tested and certified in line with your preferences. You may even have your carpet picked out. What do you need to do before you're ready for installation?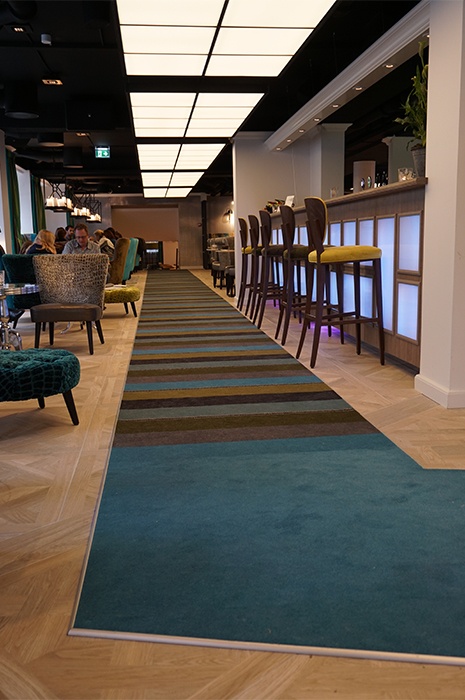 This next section will walk you through the steps you should take from before you place your order, through preparing for the installation. We can't stress enough that the success of a hospitality carpet project is the result of thorough communication between project planners, suppliers, clients and floor fitters.
Grab a carpet sample
First off, before you place an order, get a feel for what the carpet and design you have in mind will look like in practice. Take the sample on site and see how it looks in context. Pay close attention to the effect the light has on it - different lighting can drastically change the way a carpet appears. Make sure that the sample is made in the same quality as is specified for the final carpet - this will also influence the look and feel.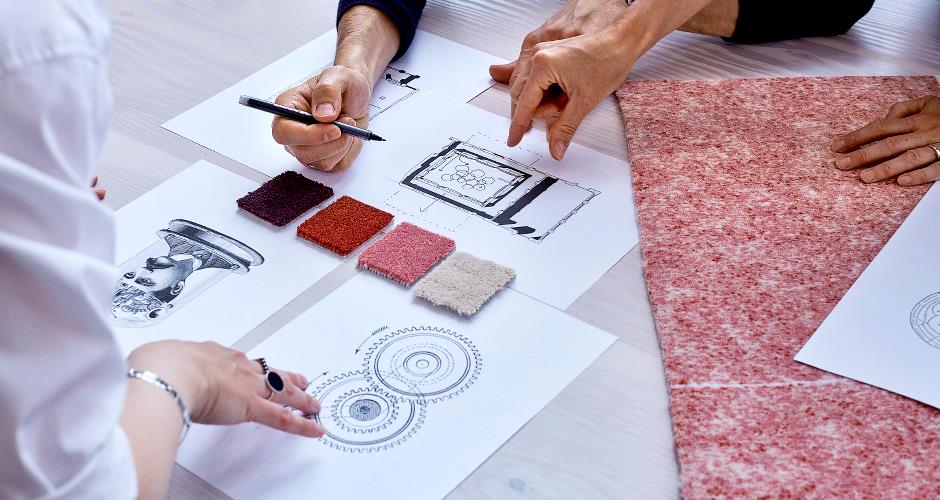 Before you make your final selection, we suggest you check out our guide - The Main Problems You Will Face With Carpets – and How To Overcome Them - to ensure you're making the right choice, both practically and logistically before you place your order.
Select your carpet backing
Just as important as your carpet selection is the kind of carpet backing you choose to accompany it. The backing, or the fabric and yarn that make up the underside of the carpet, can determine quite a lot about how your carpet will perform.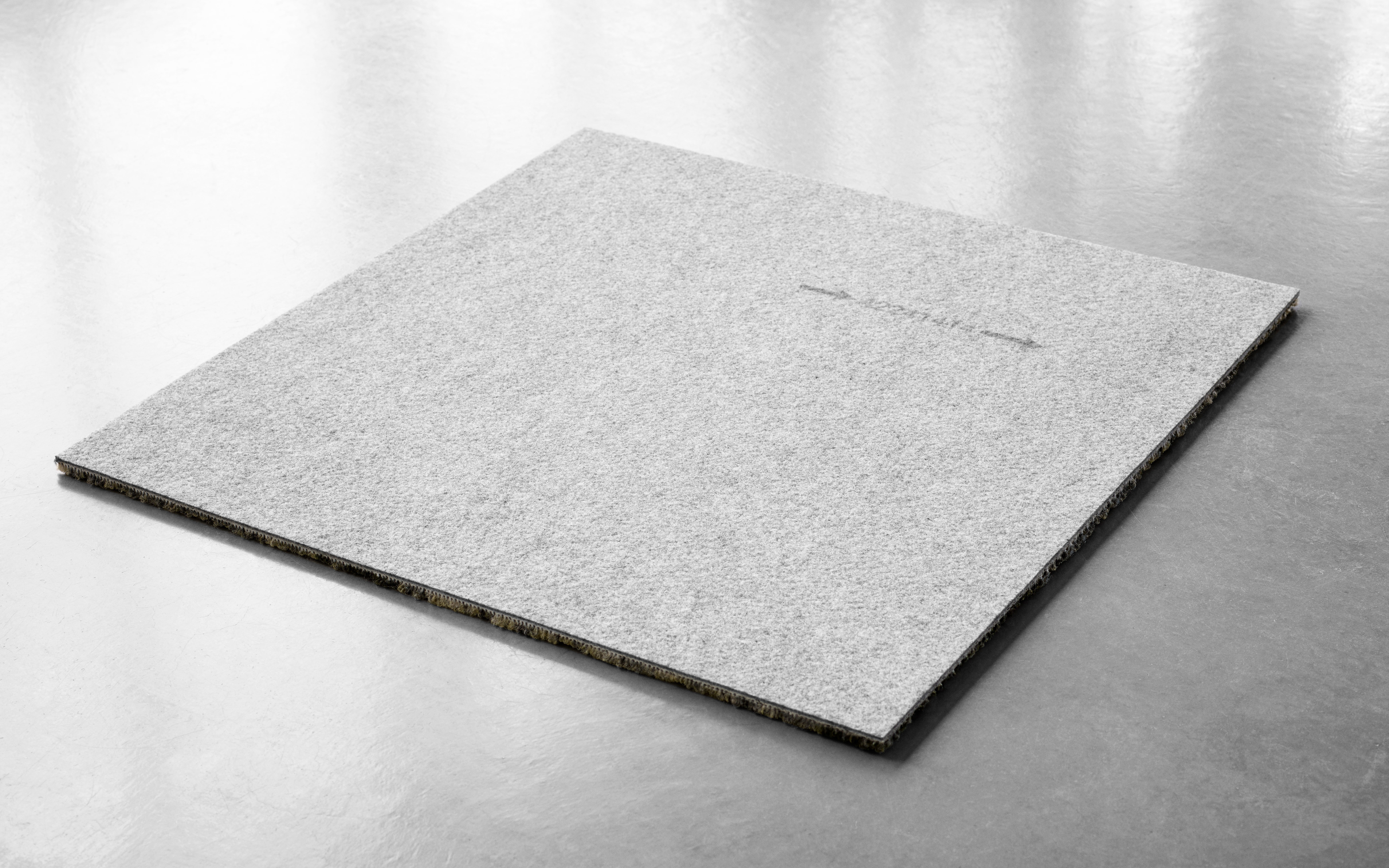 Backing will determine the underfoot feel, acoustic properties and durability of your carpet. For instance, cushion backing will improve comfort, absorbing much of the impact of foot traffic. This will reduce back pain from standing, but will also preserve the integrity of the carpet over time.
Finally, your choice in carpet backing can have a tactile impact. Pairing the purpose of a room with the backing you select can impact the mood and natural sensation of a space. A cushion backing, paired with a lounge-type space - for example - can accentuate the feeling of relaxation.
On a final note, in order to cut costs, many carpet manufacturers around the world use bitumen and PVC in their carpet backing. While there are no specific provisions in place prohibiting manufacturers from doing this, the practice is harmful to the environment. If this is an important consideration for you, be sure to ask your supplier about these additives and choose a manufacturer, such as ege, who avoids them.
Prepare a flooring plan
It is imperative that before you get started you have a plan of action. Mistakes can be costly, particularly with wall-to-wall carpet, where seam placement and direction are critical for optimal results. We suggest that you prepare a detailed carpet placement plan and have your carpet supplier check it to ensure all details are correct.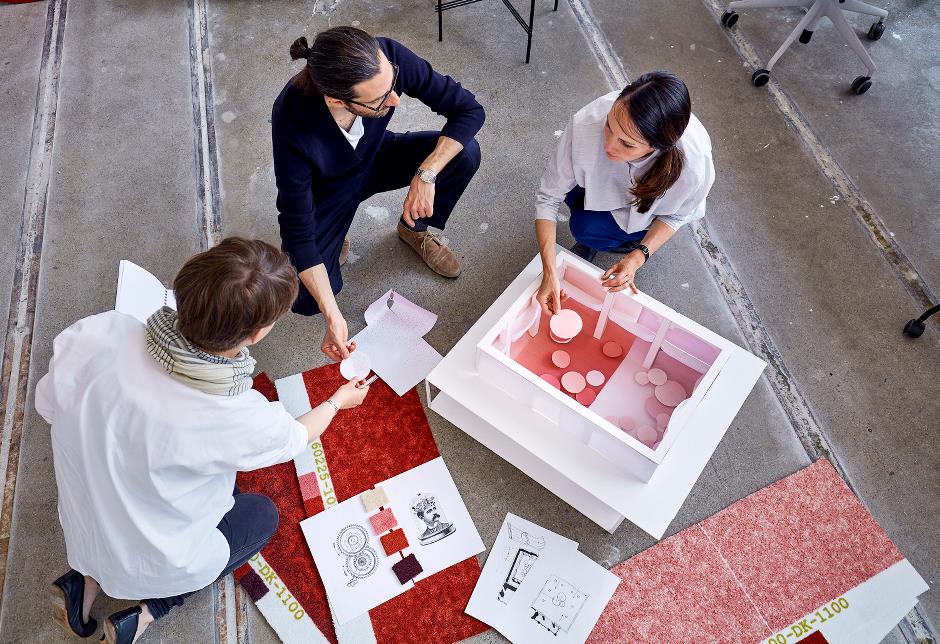 Prepare for your carpet installation
Before the delivery of your carpet is made, it's important that you have details in hand from both your supplier and installer. Check with your supplier about whether you need to account for the 24 hour wait time that may be required for wall-to-wall carpet to settle flat and carpet tiles to acclimatise before installation can begin. Further, determine whether it is necessary to air the space for 48 hours or more after installation—this will depend on the adhesives used.
A smooth installation hinges on you and your floor fitter having a clear plan. We recommend using our installation checklist, in order to ensure that each step of the process is completed on time and on budget.
Carpet Maintenance

In order to ensure that your clients remain happy with their carpet selection, you'll want to establish a clear plan for carpet maintenance. This involves determining the areas of the carpet that will be most impacted by heavy soiling and figuring out how to address them. Generally speaking, the areas you should address are:

Track-off areas - areas where a carpet collects tracked-in soil from the outside or from hard-surface floors. Track off areas average 90 square feet (6 x 15 metres) at building entrances, 10 square feet (2 x 5 metres) at internal doorways, and 40 square feet (5 x 8 metres) in corridors that are six feet wide.
Congested channels - areas with heavy foot traffic, such as doorways or stairwells. A congested channel averages three feet (0.9 metres) around doorways and 10 feet (three metres) around elevators.

Traffic lanes - areas with the highest degree of foot traffic.
Properly addressing these areas is something that can happen preemptively, through use of mats and colour selections, but is also a matter of daily maintenance and spot treating post installation.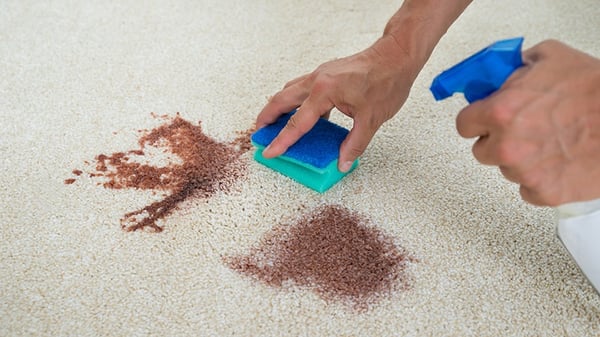 How Much Will Your Hospitality Carpet Cost?
The cost of the carpet you select varies, depending on carpet type, type of fibre, type of backing, degree of customisation and even installation costs. Let's recap:
Type of carpet

Wall-to-wall carpet is generally more expensive than carpet tiles, both in initial costs and in total costs due to differences in installation difficulty, waste and time. However, certain pre-dyed varieties of wall-to-wall carpet, in certain qualities, will have initial costs on par with carpet tiles.
Woven wall-to-wall carpet is generally more expensive than tufted wall-to-wall.
Tufted wall-to-wall is available in a wide range of qualities, with price points to suit.
Type of fibre

Natural fibres are generally more expensive.
For wool, prices depend on the pureness and the average length of fibres.

For nylon, prices depend on the use of

bulk continuous filament (

BCF) or staple fibres. It also reduces cost if the yarns are pre-dyed.
Polyester, because of its lower quality, tends to be cheaper than Nylon, though different qualities can increase this price tag.
Polypropylene is typically cheaper than it's synthetic counterparts, but typically at the cost of quality.
Custom vs. standard carpets

As you would imagine, a custom design will cost you more than a standard one.
Carpet backing

For wall-to-wall carpet backing your most expensive option is thick latex, followed by felt, thin latex and finally woven textile.
Many manufacturers around the world use

bitumen and PVC in their carpet backing. This is cheaper but bad for the environment.
Carpet installation considerations

Installation on perimeter grippers provides a cushion-like effect, makes for high strength and electricity, secures

increased footstep suppression

and makes carpet replacement simple. It comes at a greater cost, however.
To make sure you, your client and your carpet fitter are keeping prices to a minimum at every step of the process, we recommend consulting our guide, "How to Run a Profitable Carpet Project."
Do You Have a Current Hospitality Project You Want to Talk About?
Please don't hesitate to get in touch with us for assistance with your hospitality project. From idea to unique carpet solution - no matter where you are in the process - we'd be delighted to help!