Globalisation and affordable travel mean that more people than ever can be tourists and business travelers. The hospitality trends and the demands of customers are constantly changing and failing to adapt could result in a dramatic drop in success.

One hospitality trend we're likely to see a lot more of in 2020 is the ongoing shift towards a perception that less is more, when it comes to modern luxury. In this perception, lies other subtrends like sustainability and minimalism that are likely evolve and expand further in 2020.
Below, we'll uncover 4 major hospitality trends in 2020 that we believe will define both 2020 and the decade to come.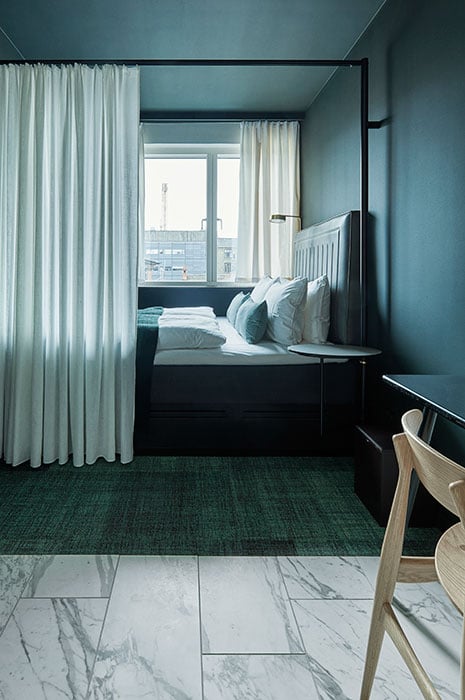 Hotel Danmark, Denmark
The top hospitality trends in 2020
One of the hospitality trends that we've seen in recent years is that new travelers are aware of their travel privilege and turned off by displays of wealth. Overt materialism is no longer an attractive way to show off ones social position and combined with an increasing need, particularly for the Millennial generation, to make a positive difference in the world, an urge for new travel experiences is on the rise.
Among other things, this reflects in the start-up of new systems that score trips according to how much spending remains in the local economy. Another example of the new behavioural movement is travelers boycotting air travel for environmental reasons.
Hospitality trend one – an experience in essentialism
As feelings of travel guilt increase among consumers, travel and hospitality brands face a great opportunity to rethink their offers. One of the trends defining travel and hospitality in 2020 and beyond, is the new luxury consumer requiring a shift from wasteful extras such as sewing kits, slippers and leaflets. So, since billions of half-used hotel shampoo bottles are thrown away each year, hotels are adding bulk dispensers to hotel rooms instead with high quality shampoos and bath gels.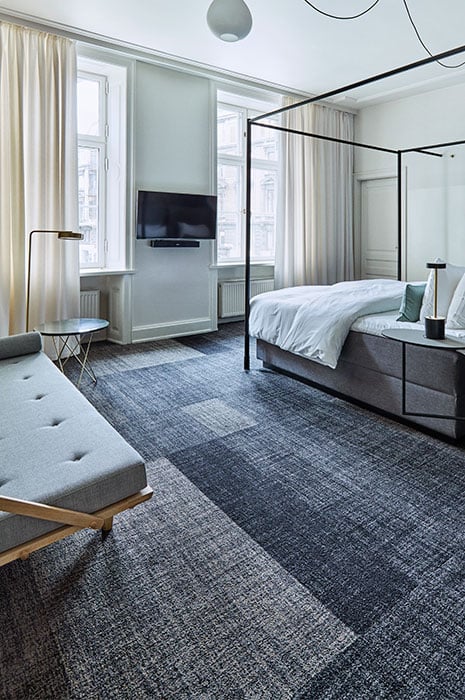 Hotel Danmark, Denmark
Holly Friend from the London-based futures consultancy The Future Laboratory, gives a heads-up on foresight trends for sectors such as travel, hospitality and luxury. Identifying micro and macro trends, interviewing experts and attending industry events, Holly also consults on research briefs for top clients such as Vans, Spotify and Lacoste.
At The Lobby – Nordic hospitality conference 2019, she navigated the major cultural shifts that transform the current travel and hospitality landscape. In the video below, Holly explains how to create an experience in essentialism:
The new luxury consumer wants a scaled-back experience with only essential hospitality, maybe just a room with a shower and a bed. Thus, hotels are offering guests an experience in essentialism created around a functional room, a restaurant and maybe a rooftop bar with the philosophy of creating a higher degree of satisfaction by offering less, but better.
Hospitality trend two – an increase in solo travelers
One in four Americans say they will travel solo, demonstrating that travelling alone has grown into a big hospitality trend. And it's likely to grow further in 2020. By creating virtual lobbies, hotels are helping fellow guests make unexpected new connections while allowing them to share as much or as little personal information as they please.
Hotels offering check-in at a small desk in the lobby are breaking down traditional barriers between guests and staff. Likewise, easy accessible hotel restaurants and bars with an informal atmosphere and homely décor embrace single travelers and encourage them to join the hotel community, even inviting locals into shared areas for concerts, talks etc. in the lobby.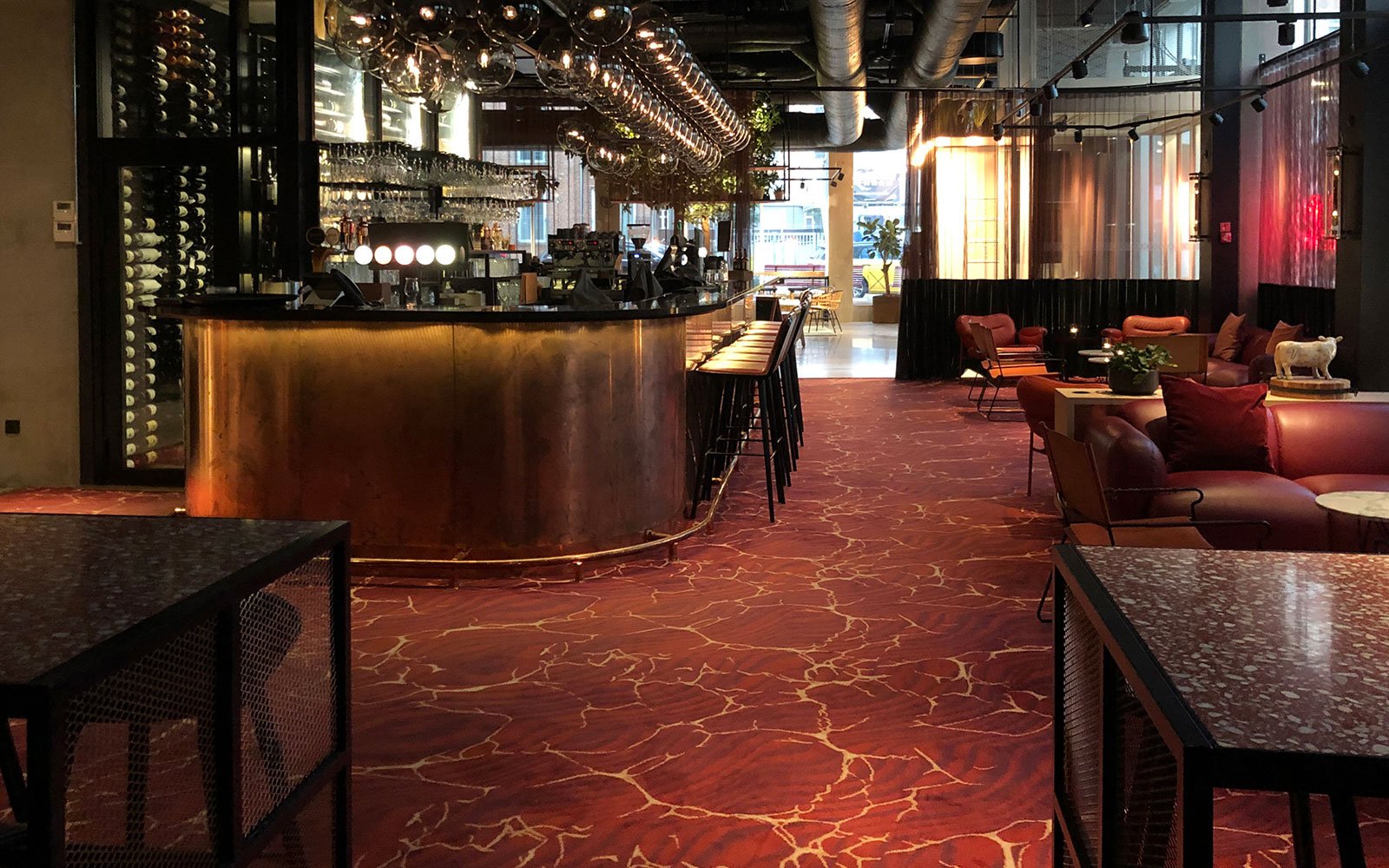 Scandic Kødbyen, Denmark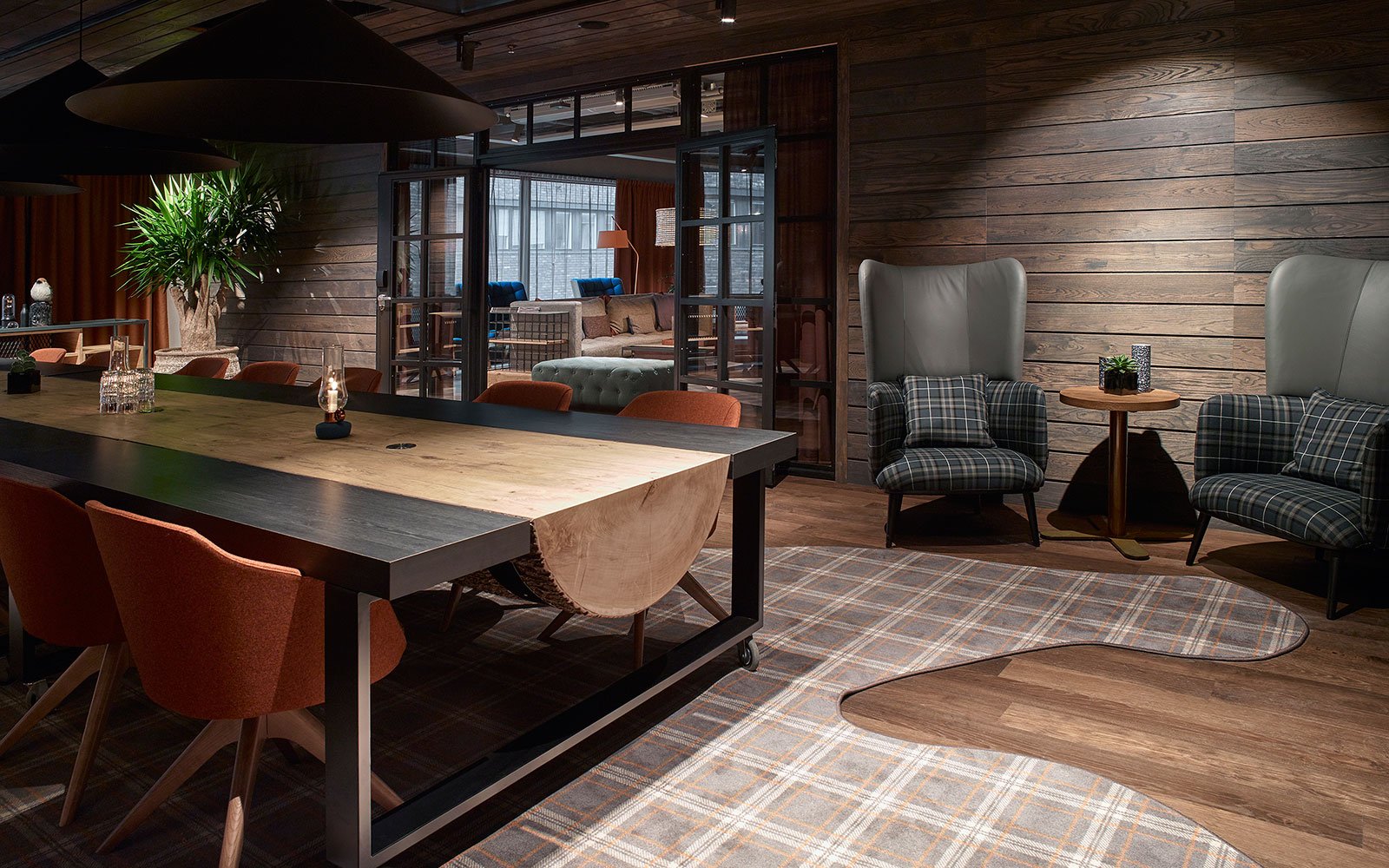 Hospitality trend three – places with purpose
Not only are travelers becoming more aware of the impact of travel, they are becoming interested in investigating the roots of their destinations too.

Thus, one of the hospitality trends that will define the industry in 2020 is that tomorrow's travelers want to spend money in places with purpose. Tourism can be so much more than a quick capital injection to the local society.

For instance, some travel initiatives are allowing visitors to funnel their spending into women-owned businesses by creating a sisterhood of local women who guide female travelers around the local area. In this way, travelers can explore their destinations on their own terms and in exchange share their expertise to impact the next generation of women.
Hospitality trend four – sustainability is no straitjacket
Sustainability has been trending for quite some time now in the hospitality industry and other industries alike. Sustainability is obviously still as relevant as ever, as the topic has become an integral part of other trends such as experiences in essentialism and places with purpose.

While our increasing level of consciousness is reflected in changing travel, eating and buying behaviours, many of us are trying to get our heads around how to do more and how to do better.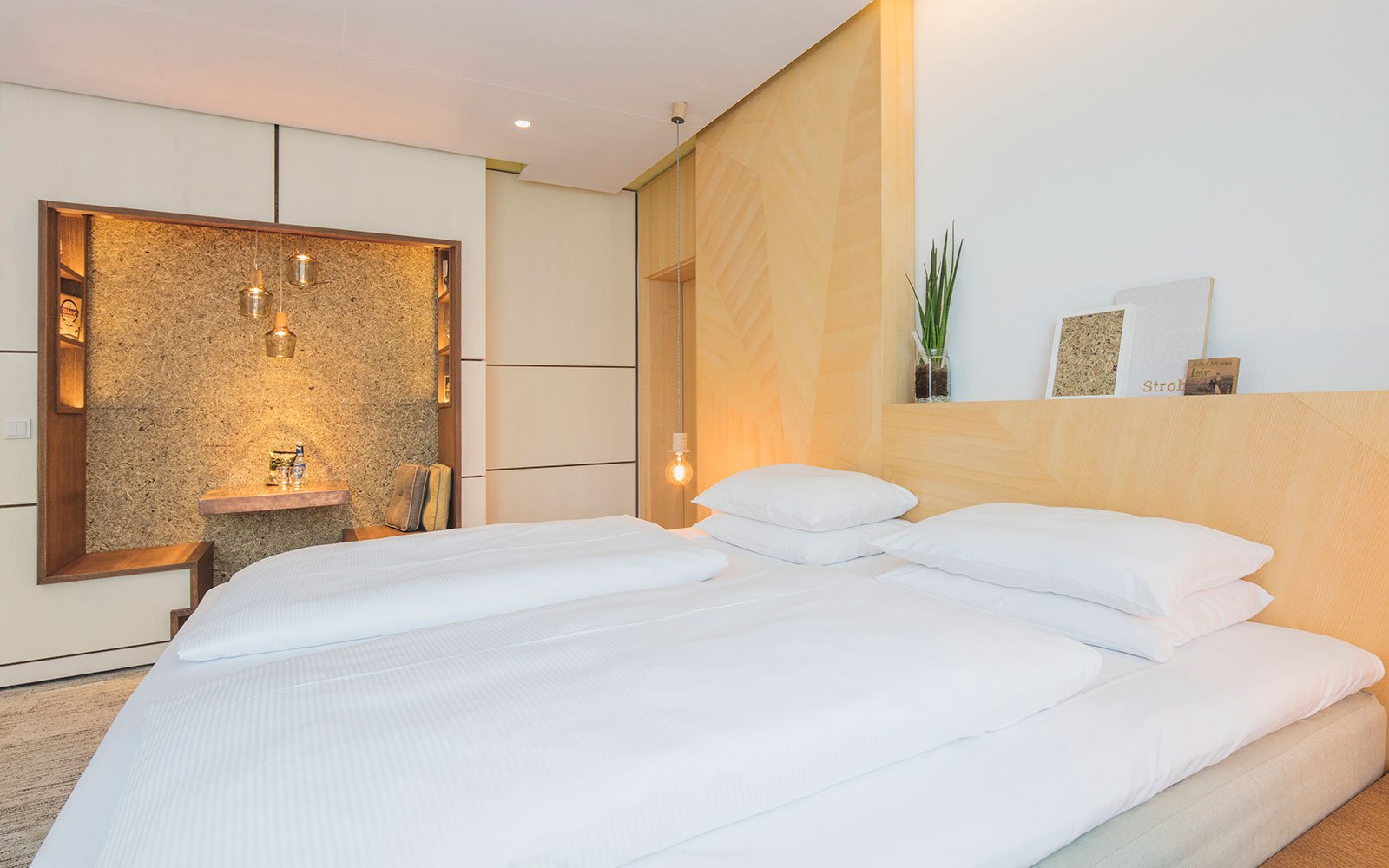 Creativhotel Luise, the first climate positive hotel in Germany
At The Lobby – Nordic hospitality conference 2019 keynote speaker Rikard Jaucis, an architect with Norwegian architecture and design firm Snøhetta, summed up how to achieve an ambitious yet still realistic sustainable design approach.

Watch the video below to gain insight into just how architects and designers in the hospitality industry can re-think sustainability in 2020.
Jaucis considers sustainability to be all about having the right mindset from the very beginning of your project, no matter if you are restoring or building from the ground up. When restoring or building sustainably, architecture, design and humanity are still the most important variables to combine and optimise. Sustainability should be an integral part of the entire process and it should be the most natural thing to use sustainable approaches to design. It is not something you can "add" afterwards.
Sustainability should not feel like something you put on that is too tight. It should be a natural approach to design.
- Rikard Jaucis, architect at Snøhetta
However, Jaucis calls for travel and hospitality brands to be more ambitious. In hospitality, sustainability is not only a question of reusing towels. When changing door handles, for instance, he urges architects and interior designers to specify a sustainable option. The sum of all details matters and when changing 700 door handles, a single component grows into a choice with great environmental impact.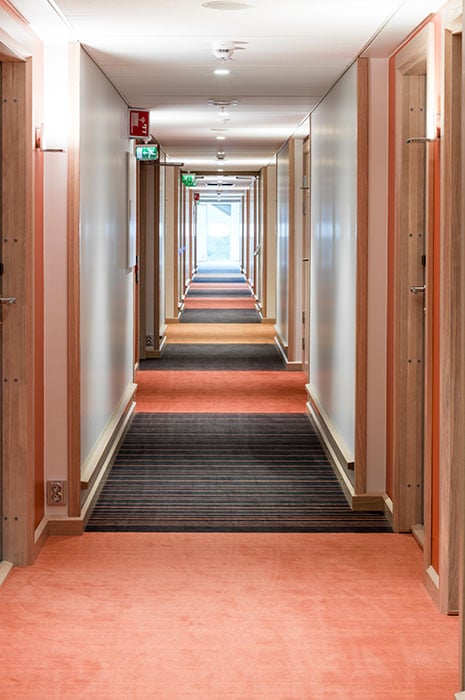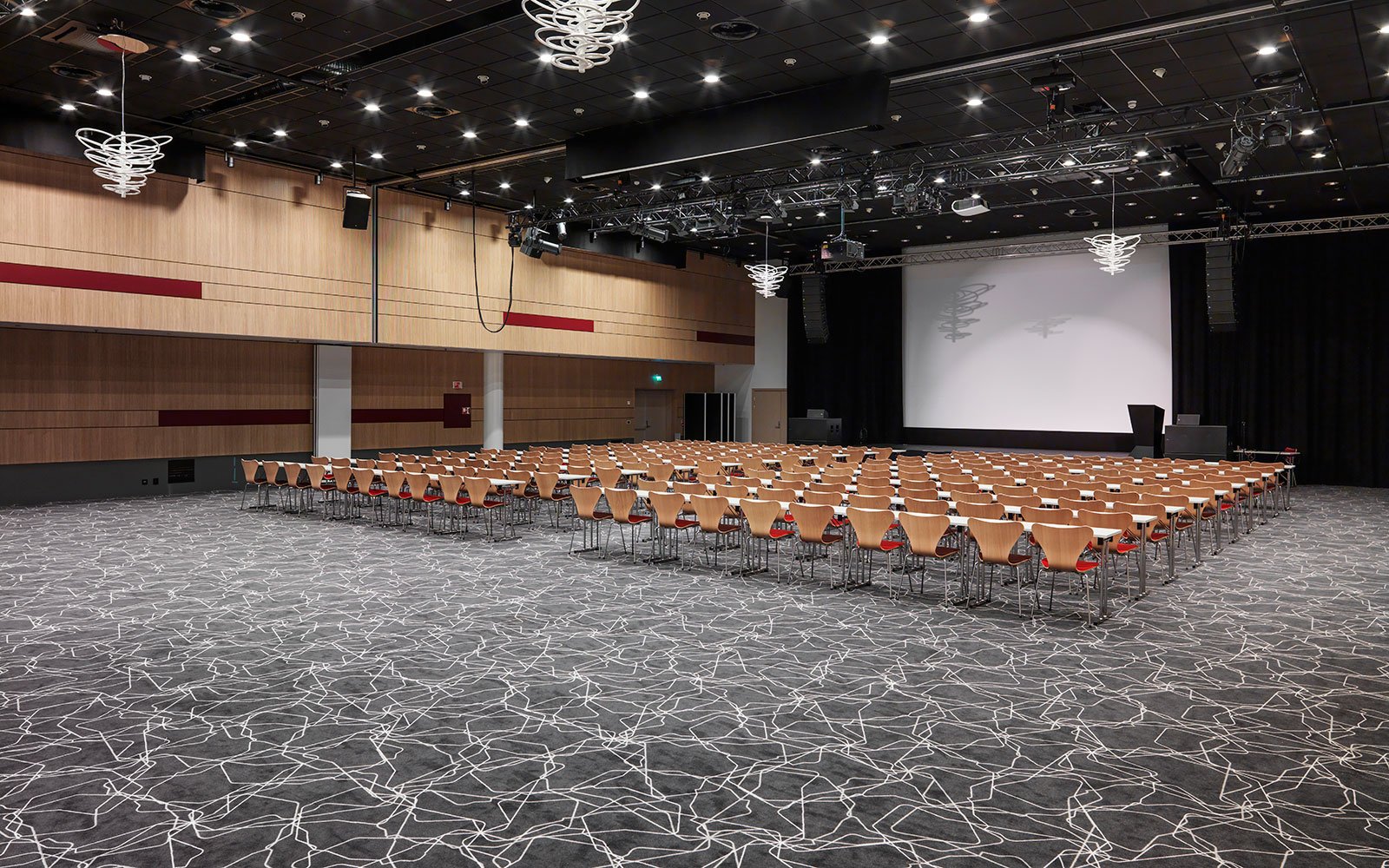 Clarion Hotel Energy, Norway by Snøhetta
From waste to beautiful carpets for a sustainable future
Do you want your project specifications to make a difference? Watch this movie to learn how our ReForm concept carpets eases your sustainable design approach while offering great design and high quality for any interior project: