The flexibility of Highline is limitless and so is the potential! The concept allows you (or your customer) to take advantage of the carpet's ability to tell a very special story about your hotel, office, restaurant, educational establishment, museum or… [insert your own room or building].
This building is listed and originally served as a hospital, so it was important to understand the story of the house and the Norwegian interior style in the beginning of the 19th century. We made archeological tests of the original surfaces to determine the exact colours of the patient rooms.
- Siv Amundsen-Lack, CEO & Interior Architect at Fab Lab Design AS
The story might include design details or symbolic references carefully picked from the architecture and geographic location, alternatively it can communicate your product universe and business vision. Or, something else entirely, developed and designed to fully meet your wishes. The Highline concept is available as custom design, designer collections and express collections.
Transferring a Rawline pattern to a Highline construction
Actually, the potential is even greater than described through the custom design, designer collections and express collections that you will learn more about later. You can, for instance, transfer patterns originally developed for flat woven constructions to one of the completely different Highline constructions as perfectly illustrated by The Sweet Hotel by The Apartments Company in Oslo, Norway.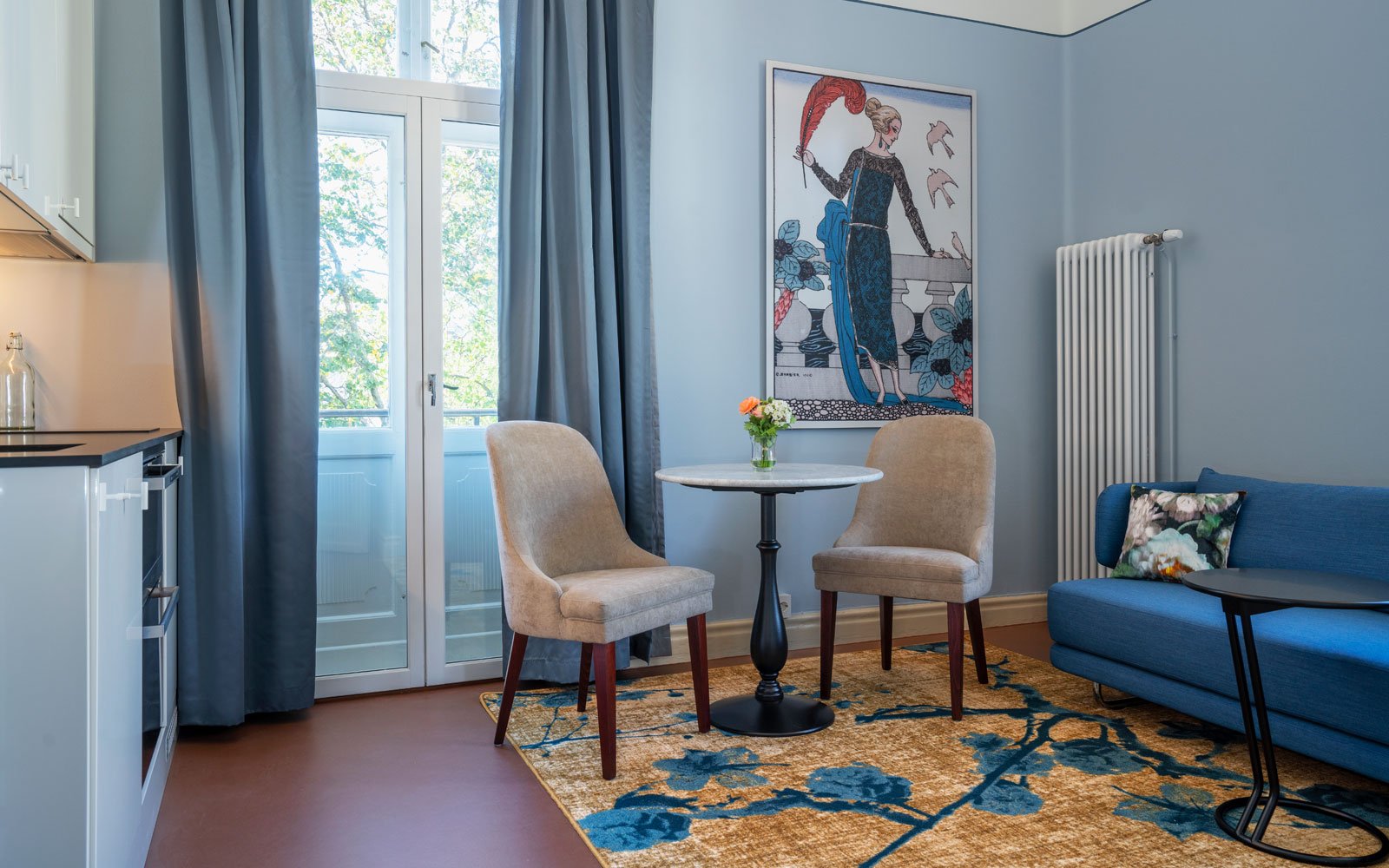 For this project, the Velvet Bloom design from Rawline Scala softens the entire look and feel by transferring the design from a raw weaving structure to the soft Highline 1100 and thus, the botanic expression perfectly suits the slightly romantic ambience of the hotel. Click to learn more about the nine Highline constructions - seven with cut pile and two with loop pile.
Full recolouration flexibility
CEO & Interior Architect Siv Amundsen-Lack from Fab Lab Design AS has structured the interior design of The Sweet Hotel around blue, green, rose and yellow colour stories – a creative concept obviously calling for carpet recolouration.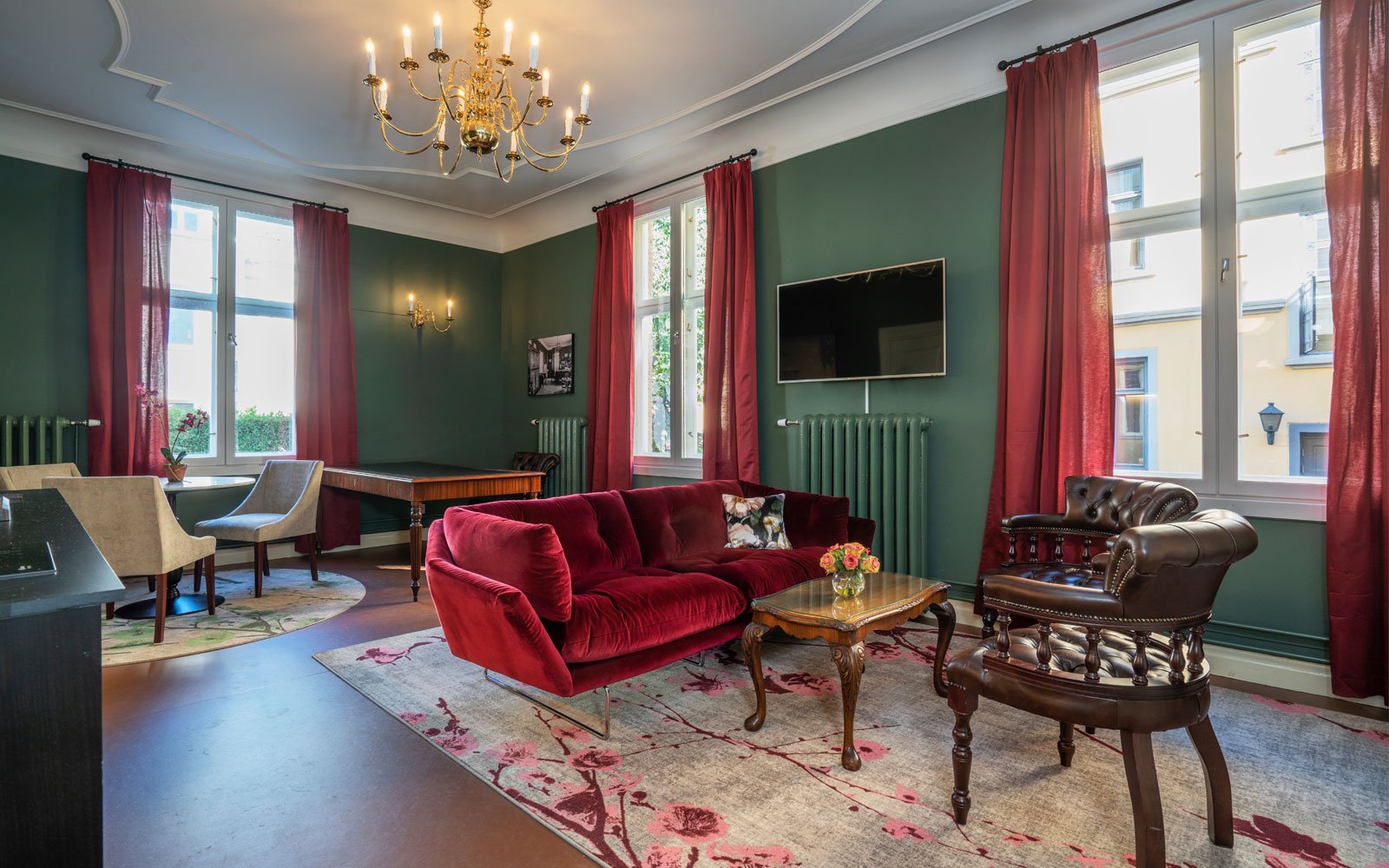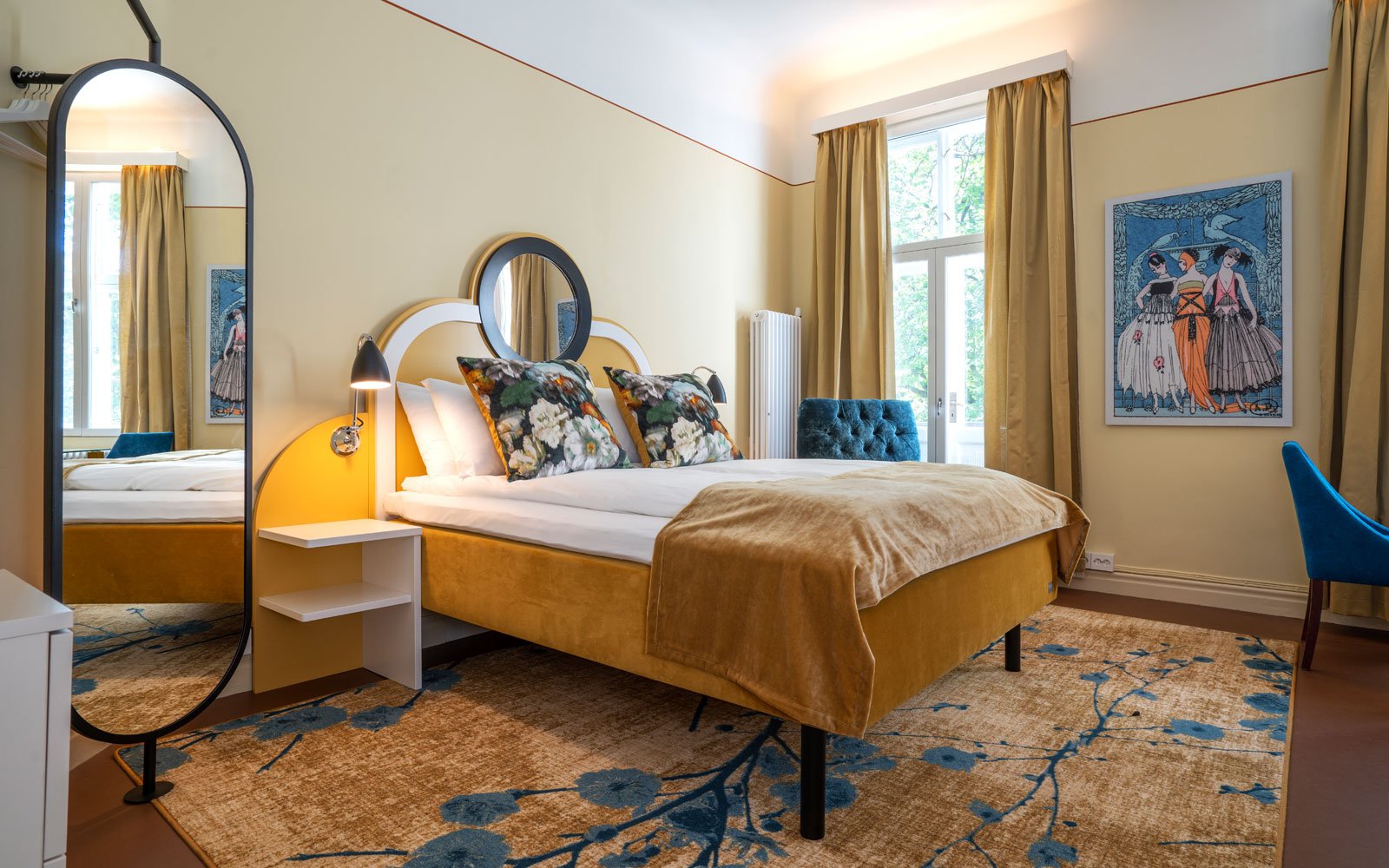 Thus, the wall paints, curtains, art objects and furniture pieces are specified in, for instance, different shades of blue that blend with comfortable and noise reducing rugs featuring a blue floral pattern. The vintage expression of Velvet Bloom harmoniously fit into the romantic room settings simply because of the delicate recolourations adding an even softer touch to the original design.
We wanted big, generous rugs to add lots of comfort and a homely feel. The colours of the flowers had to match the wall paints from the original 1917 palette so we really appreciated the recolouring opportunity.
- Siv Amundsen-Lack, CEO & Interior Architect at Fab Lab Design AS
An interesting detail is the blue flower matched with the golden colour's ability to fit into both the blue and yellow colour stories as illustrated by the images.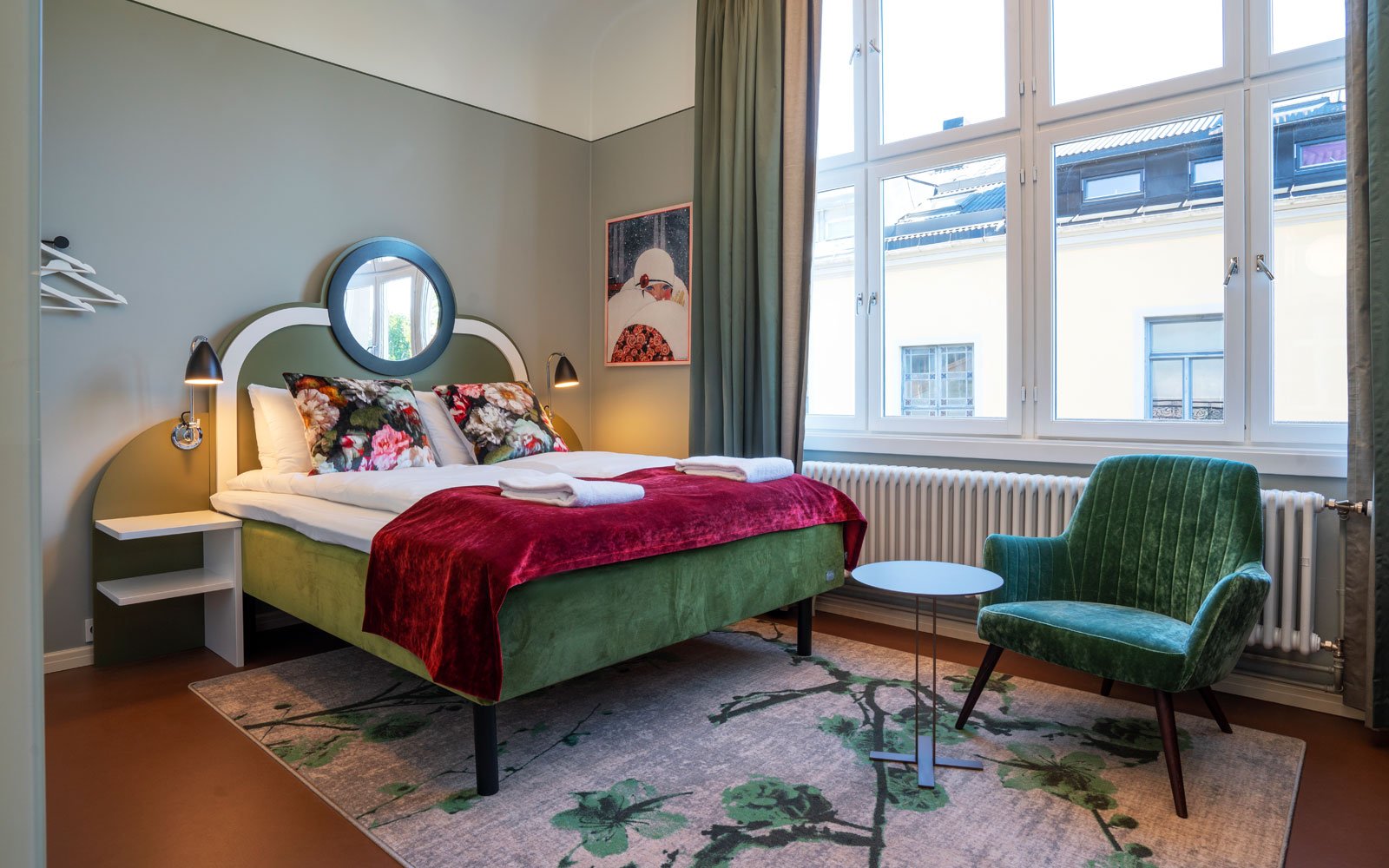 On each floor the corridors hold the same wall colour. The corridor colours vary from floor to floor and to make the perfect floor fit, the Kurta design from the Floorfashion by Muurbloem collection is recoloured into several versions featuring the authentic shades.
Staying true to the history of the listed building, each specific colour tone is based on archeological clarifications of the original paints and décor stripes.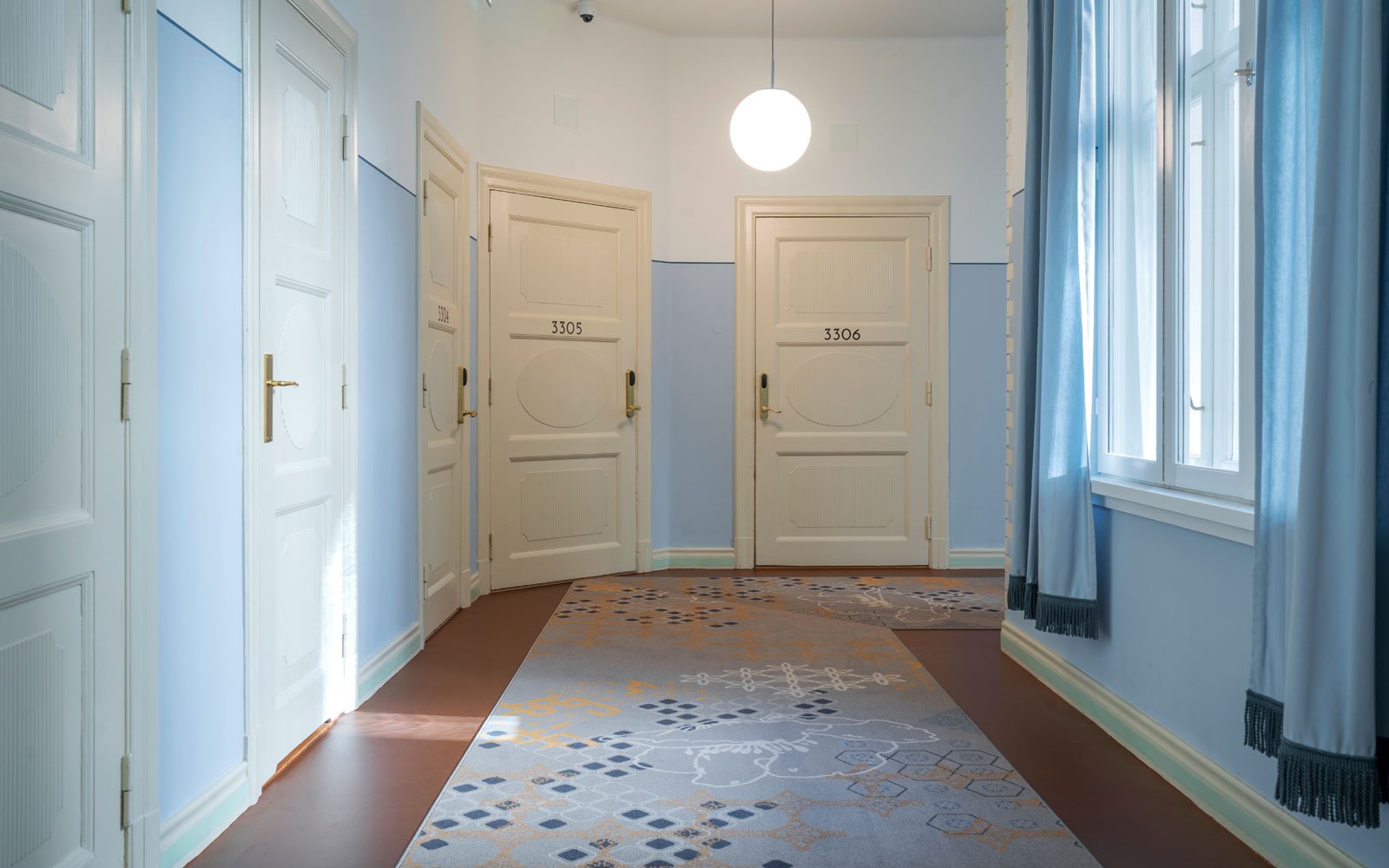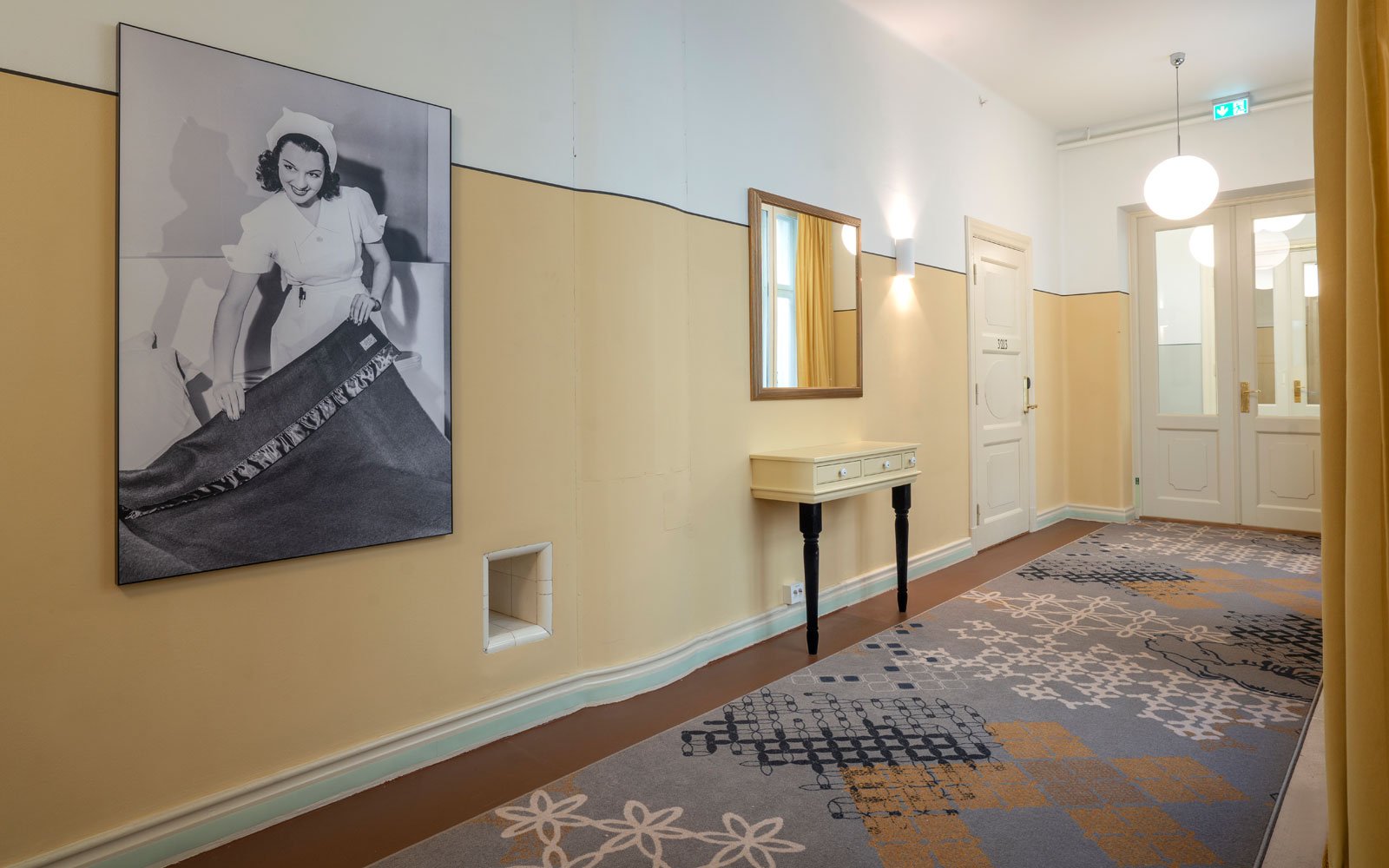 All Highline collections are available for recolouration
The reasons for recolouring your carpet may be that you prefer to stick to a predefined colour code within your hotel, restaurant or office project. You may also like the atmosphere another colour can give to the one expressed within the Highline collections; alternatively you may feel a different colour choice gives the interior design an enhanced look. Click to learn more about recolouration.
Express collections
The Highline Express Collections embrace more than 2,000 ready-to-produce carpet designs already available in our pattern portfolio. Therefore, the production time is very short – only 1.5 week.
The collections are developed around six diverse design themes Arts & Crafts, Classic, Cultures, Essentials, Graphic and Nature. Each theme offers a myriad of predesigned patterns to choose from and to combine exactly as you prefer. You can easily change colours and pattern scales to make the designs fit perfectly to the rest of your interior.
Designer collections from renowned artists
Want a beautiful design created by some of the world's leading designers? Internationally acclaimed designers such as Tom Dixon, M. Christian Lacroix and Nicolette Brunklaus are makers of some of our designer collections that will make a strong statement on your floor. And actually, Floorfashion by Muurbloem specified for the hotel corridors is one of our popular designer collections too!
With a carpet from a designer collection, you get a distinctive design story inspired by phenomena as diverse as London's industrial materials and French monuments.
Custom design – your complete design freedom
For some of the rooms at The Sweet Hotel, those holding a slightly simpler and elegant design expression, custom rugs have been created to add a sense of purity and exclusivity.
On the top floor the restrictions from the listing loosened a bit so we went for a more contemporary design. We felt inspired by a cushion textile when designing matching custom rugs.
- Siv Amundsen-Lack, CEO & Interior Architect at Fab Lab Design AS
Once again, built up around a strong colour coordinated concept, rugs manage to complete the ambience in combination with the remaining handpicked interior pieces.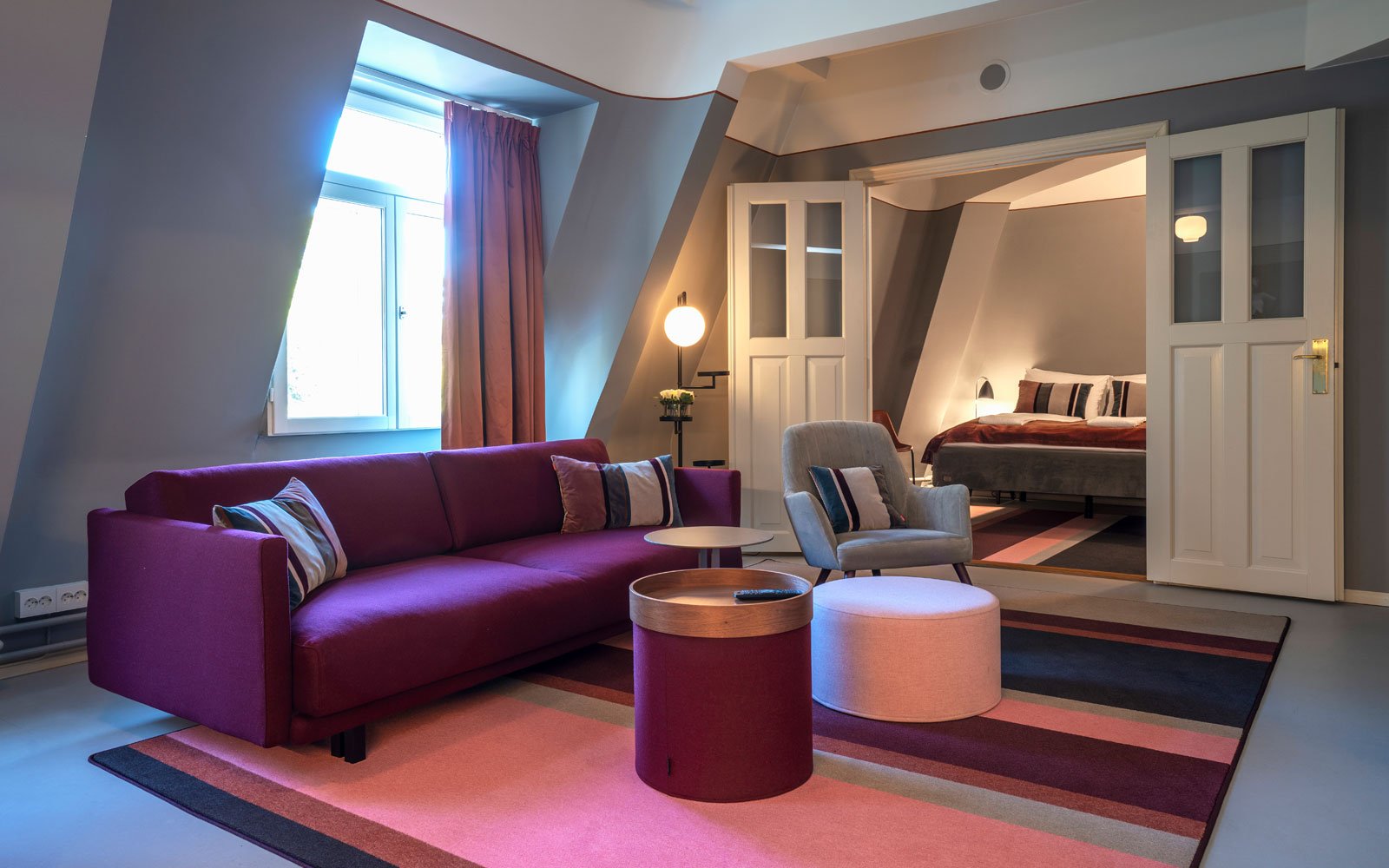 A custom designed carpet is an effective communicator, a physical surface that makes an impression. The custom-made design gives you complete freedom over pattern and colour, and you have the opportunity to transfer your design vision to the carpet by reproducing a specific motif, such as a unique image or a historical element.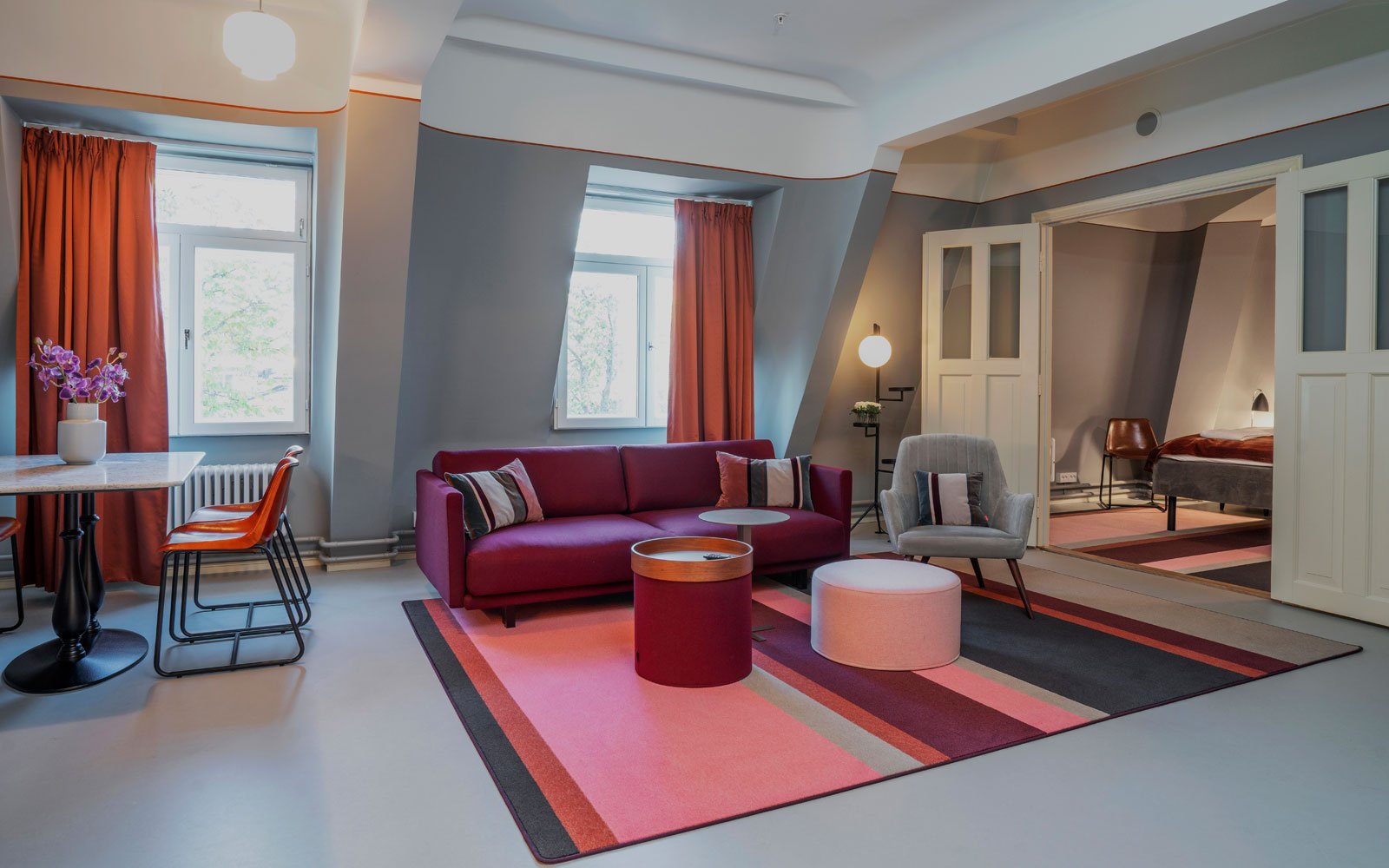 You may have a very clear idea of how you want pattern and colour combined. Possibly, you have an idea of the story but need inspiration for the design. Whatever your brief, we translate your idea into a bespoke carpet design. Click to learn more about the custom design process or to discuss your ideas with a local designer.
Want to turn the Highline potential into your perfect carpet match?
Whether you are looking for a rug, broadloom or tiles for your next interior project, the Highline concept covers all of your needs. Select from our large portfolio of predefined patterns (order your samples right away), create your completely own design or add your personal touch through recolouration to benefit from the advantages of both custom and pre-designed patterns.
Want to discuss all of your options and ideas – or book a meeting? Your local consultant is only a phone call or visit away!