Quality: Highline 910 rooms & Highline 1100 for rugs
Quantity: 1,000 m2
Design: Reconstructions of the 1930's
Interior designer: BASTIR Arquitectura e Design de interiores
Designed like a bygone-era townhouse, the six-story property mixes vintage and modern Portuguese character with striped walls, dark paneling, mood lighting, geometric rugs and 1950s furnishings in colourful hues. Valverde Hotel opened its doors in September 2014 striving for making warm colours, comfort of fabrics and homey arrangement of space distinguish the hotel as an oasis of comfort and discreet luxury.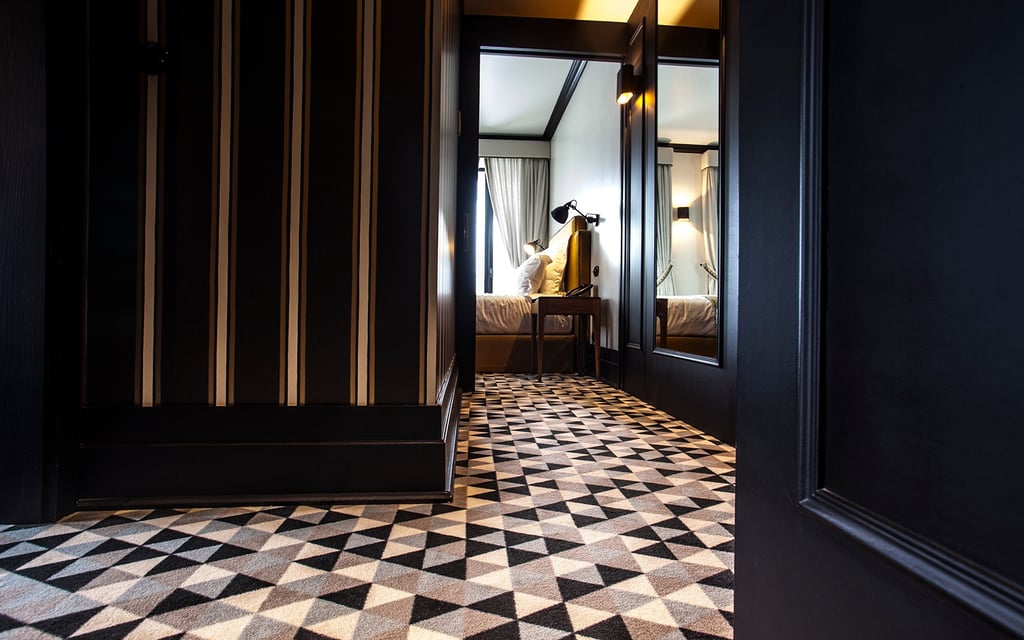 Soft furnishings
The interior design is executed by designer José Pedro Vieira and architect Diogo Rosa Lã, who have successfully refurbished it to feel like an elegant home from a time gone by. The dark-hued, ambient and dim-lit interior begins in the petite reception space with its adjoining cozy lounge and extends throughout the entire hotel. Each of the 25 rooms has a different colour palette and a different personality. The soft furnishings are plentiful, from the gorgeous rugs sitting atop the wooden flooring, to the retro chairs and printed fabric lounges.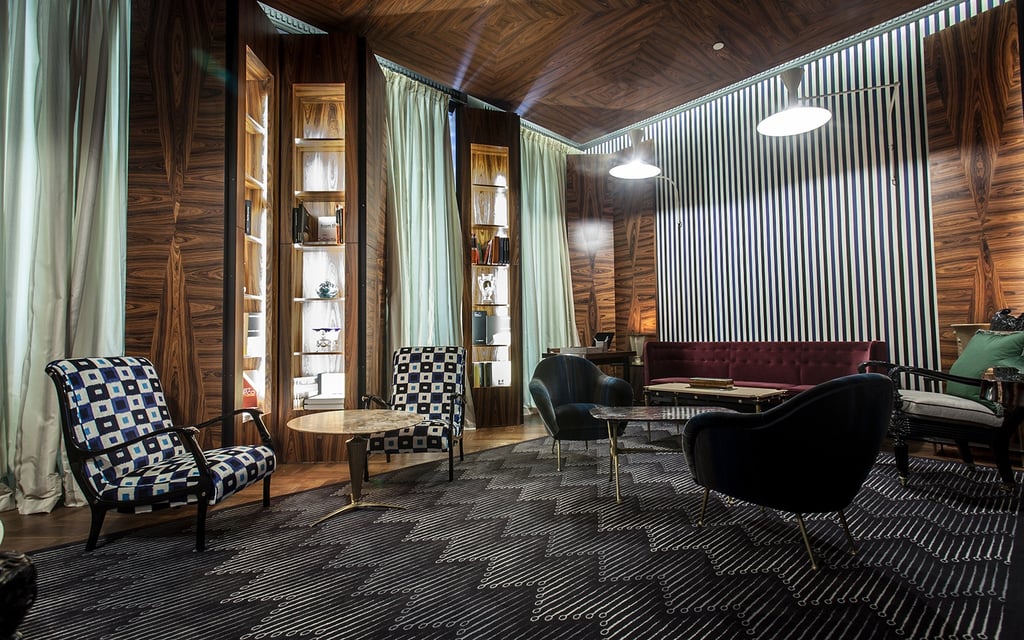 Carpet collection: Reconstructions of the 1930's
For the floor José Pedro Vieira and Diogo Rosa Lã chose ege's design spot collection Reconstructions of the 1930's. The collection creates a geometric universe of graphic patterns in monochrome grey, beige and black tones. Being inspired by, for example Art Deco and Le Corbusier, the collection has a functional design expression with characteristic geometric shapes such as cubes, circles, cylinders and pyramids.
Reconstructions of the 1930's was developed to celebrate ege's 75th anniversary and is a tribute to the decade in which the company was founded. The collection features 31 unique designs with a clear line from the thirties to today.
Explore more beautiful designs from our carpet collection Reconstructions of the 1930's.