A knowledge of carpet construction will assist you as you make important decisions in the fitting phase of a flooring project. Of course, a good carpet supplier will ably assist you along the way with expert advice, but the more you know yourself, the better you are able to understand and appreciate that advice and make informed decisions.
And making informed decisions is what the "How to Run a Profitable Carpet Project" guide is all about. Carpet installation projects are prone to any number of hiccups (even disasters) along the way that can cut your profit margin to shreds. A smooth carpet installation project is a profitable project and this guide arms you with the tools to get to the finish line of every project without a hitch.
If you are a carpet expert, you will know quite a bit about carpet construction already. But let's just briefly go through the essentials of carpet construction with an emphasis on the aspects important to you as a contractor and installer.
Carpet types
Broadloom carpet
Broadloom (or wall to wall) carpet is manufactured in long, wide rolls and laid on backing material over the substrate flooring. It's important to note that broadloom must be laid flat in the empty space on delivery, inspected to ensure all rolls can be lined up so patterns match and there are no flaws, then left for at least 24 hours to settle before installation can begin.
The installation of broadloom carpet requires careful planning, as the placement of seams is crucial to obtaining an optimal result. Wherever possible, seams should be run perpendicular to the primary light source. Some further points to keep in mind are:
Seams should be kept to the minimum where possible

Seams should run lengthwise through the space

Main traffic should follow the seam rather than move across the seam

Seams should be avoided in areas with pivoting traffic

Seams should not be placed perpendicular to doorway openings
Carpet tiles
Carpet tiles are small carpet shapes that can be laid in many versatile ways. While squares are most common, carpet tiles are also available in other shapes such as planks, triangles, hexagons, sine waves and more. Often cheaper than broadloom, they are also faster and easier to lay and result in considerably less wastage than wall to wall carpet due to less cutting, saving on both time and money.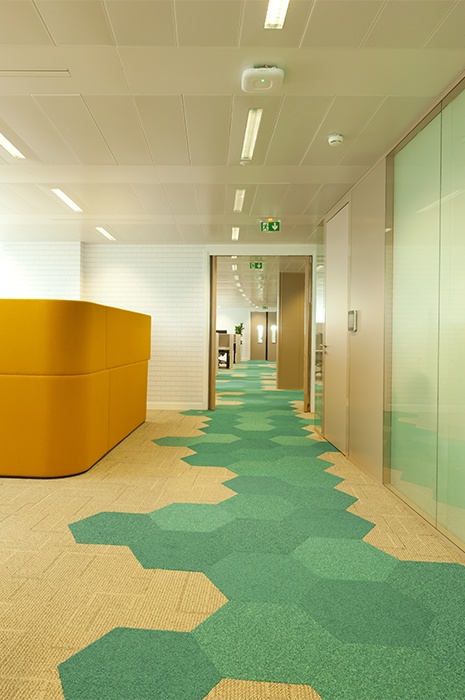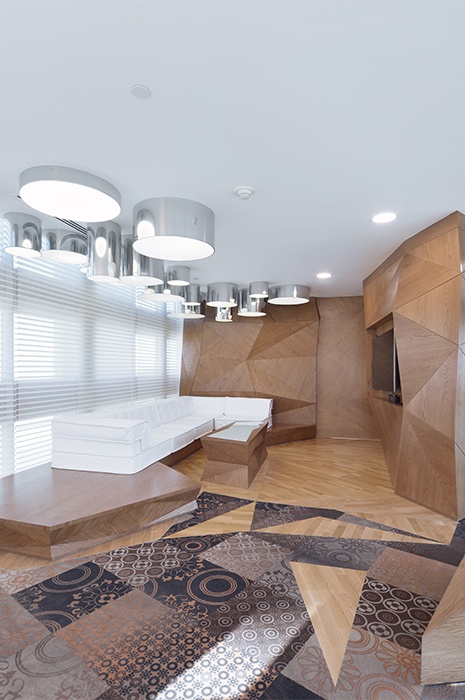 Carpet yarn and construction
Tufted carpets
Around 95 per cent of all contract carpets are tufted, mainly due to the fast production time, low price point and high design flexibility of this type of construction. Tufted carpet also offers a broad range of pattern possibilities, using pre- or post-dyed yarns, varying loop height and cut or uncut pile.
When choosing between tufted or woven carpet, installation is an important consideration. A woven carpet is essentially stitched together along the side, while a tufted carpet can be easily seamed both along the sides and across the ends. This means that less carpet is required for a tufted carpet installation, the process is usually speedier, requires less skill and is less prone to errors. Tufted carpet will produce great results in most applications, however there are times when the superior quality and durability of a woven carpet may be best.
Woven carpets
Weaving was the production process of choice for carpets up until the 1950s, when advances in machinery and the introduction of synthetic materials began the era of tufted carpets. Today, most carpet suppliers still carry woven carpets as an option due to their exceptional quality and durability. This is especially true of woven carpets using natural materials such as 100 percent wool or wool blends. Woven carpets are available in three different weaving techniques: Axminster, Velvet and Wilton. Their plush appearance makes them ideal for high-end projects where a luxury look and feel is required.
Needle punched carpets
Needle punched carpets are exceptionally colourfast, dry quickly and are highly resistant to sunlight and fading. This makes them an excellent choice for areas where moisture could be a problem, such as pool decks, locker rooms and patios. Needle punched carpet is most commonly used for entry mats and is available in both broadloom and carpet tiles. Whatever type of carpet is specified for a particular project, the support of your carpet supplier is crucial to the success of the job and the final effect.
Carpet properties
The key properties of contract carpet that architects, designers and building owners will want to know about are:
Underfoot comfort
Insulating properties
Wear resistance
Footstep suppression
Fire resistance
Soil resistance
Moisture resistance
Colour fastness
Light fastness
Sustainability
Contract carpets are tested and rated for these properties under various certifications and classifications.
Where help is at hand
Partnering with a supplier that not only provides a consistently high quality and durable product, but the support to back it up, can be the ace up your sleeve to ensure a smooth and profitable carpet installation project every time.
A great carpet supplier will aid you with:
Seam plans and roll plans for wall to wall carpet projects

Advice on tolerances for the type of carpets specified

Advice on the choice of correct backing and adhesives to achieve the optimal result

A complete installation guide for the carpets specified

Barcodes on the back of carpet rolls so you can download installation

Instructions and videos via the internet browser on your mobile phone

On-site technical assistance for large and complex installations

A fitting school to educate your team or help them upgrade their skills

Are you interested in having a chat with ege carpets about your next carpet project? Reach out to us here.