Download the full guide here.
Comparison of carpet tiles vs carpets
Let's start from the beginning – what is the difference between carpet tiles vs. carpets?

Wall to wall carpets, what we normally refer to as "carpets", are essential if you wish to use large-scale patterning or custom designs. They also generally have that extra touch of quality that you can just feel when walking on it or see when looking at the seamless surface.
Carpet tiles, also known as "carpet squares", on the other hand, are a great alternative if you are looking to lower installation cost and time. You also definitely want to consider carpet tiles if regular maintenance is an issue, for instance in a bar or hotel environment.

Read on below if you want to know more about choosing carpet tiles vs. carpets.
Carpet tiles vs carpets – an in-depth look
Wall to Wall carpets (also known as "broadloom carpets") are manufactured in long, wide rolls. Most manufacturers have different backing options, some of which allow installation directly on the subfloor, but wall to wall is most often laid on underfelt over a substrate floor. Despite the perhaps confusing name, "wall to wall" does not necessarily need to cover the entire room. It can just as easily be installed only in an area, integrating with another carpet or a different flooring. Wall to wall carpets are more difficult and costly to install than the carpet tile counterpart, but excels in quality and design versatility. Especially if you are considering a custom design carpets, wall to wall is superior. The seamless finish means that only the interior space and your imagination set the limits. The option of thick carpet backing and the yarn options also mean that wall to wall can have a certain plush comfort, which is hard to replicate with the pre-backed carpet tiles.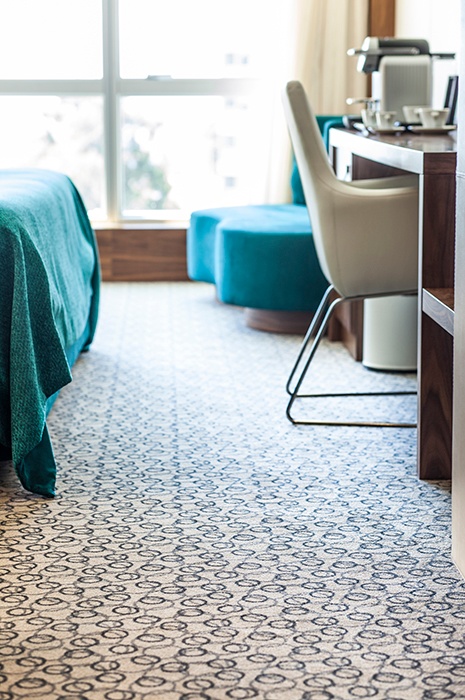 Installation and waste of wall to wall carpets vs. carpet tiles
There are a few drawbacks to choosing carpets, namely wall-to-wall carpets, over carpet tiles, most notably in the installation phase. First of all, the installation process is more demanding, and thus takes longer time. As the carpet is printed on large rolls, you also have to expect a waste of anywhere from 5-25 % (in some cases even more) from cutting and mishaps in installation. When the amount of corners, edges and odd angles go up, so does the expected waste. This can be greatly alleviated by proper planning and training, both of which your carpet supplier should assist you with. Nevertheless, wall to wall carpets will almost always see more waste than carpet tiles.
Why and when to choose wall to wall carpets
For projects with high design ambitions or for large spaces, wall to wall carpets more than makes up for its shortcomings. While wall to wall means increased waste, higher cost and more complicated installation, it also means unmatched design versatility, a plush, luxurious underfoot feeling as well as a stunning, seamless finish.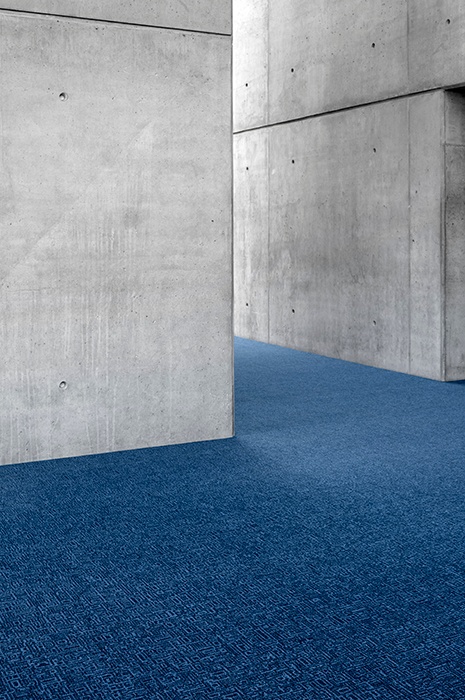 Carpet tiles vs carpets
If you're trying to decide between carpet tiles vs carpets for your next project, you first need to understand what carpet tiles exactly are and how they differ from "normal" carpets. Carpet tiles are small squares of carpet that can be installed and combined in many versatile ways. Carpet tiles come with the backing already attached, which enables them to be mounted directly to the subfloor. The modularity and small size of individual patches also means much less cutting than with the large wall to wall rolls. This results in significantly quicker and easier installation than is the case with wall-to-wall carpets. It also means that much less surplus carpet is needed, as waste from installation is usually only 1-3 %. Nevertheless, many still choose to order surplus stock, as the carpet squares are very easy to replace. With spare tiles taking up very little space, they can be stored on site, enabling the clients to replace tarnished or spotted tiles as needed.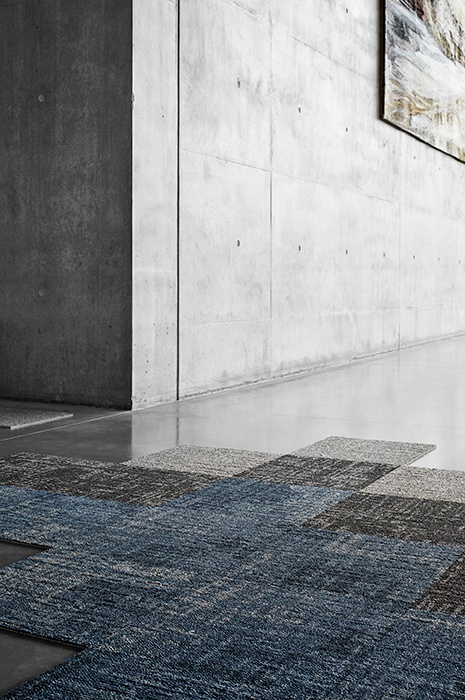 Look and feel is different with carpet tiles vs other carpets
Even when masterfully installed, most carpet tiles will still show some degree of seams, so it is difficult to achieve the feeling of a single piece of flooring as with wall to wall carpets. However, late advances in technology has made the look of carpet tiles in larger spaces appear much more seamless, as well as given versatility in options. With the simpler construction and pre-attached backing, you also do not have the plush underfoot feeling of some wall to wall carpets. This is not to say that carpet tiles are not comfortable, but they lack the option of thicker backing, giving that extra luxurious feel that you might want in a luxury hotel room or a high end lounge area.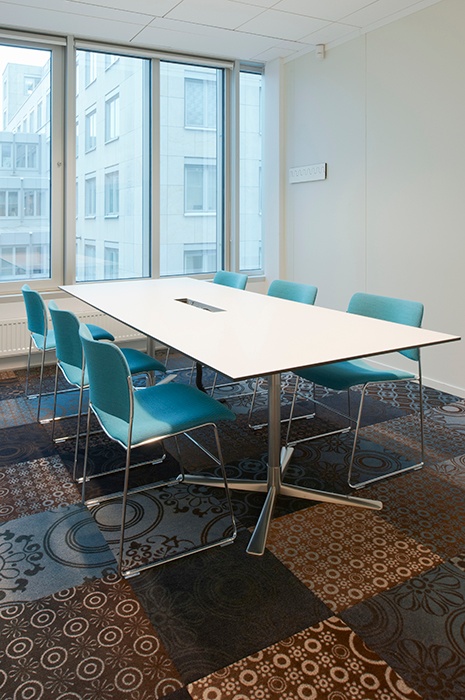 Why and when to choose carpet tiles over other types of carpets
Carpet tiles are unmatched in regards to cost and installation time so if cost and installation time are important to your project, then you should probably choose carpet tiles vs other types of carpets. Carpet tiles also have significant advantages in maintenance and modularity. For most projects which do not require a fully customized design, carpet tiles should at the very least be considered, as they are often the superior choice in both practicality and design for these less complicated projects.
Interested to learn more about carpet tiles?
Be sure to check out our next blogpost for a deeper dive into the world of carpet tiles, the benefits of carpet tiles, and when to use them.