Easily bored and never satisfied. What is your secret?
"My secret is that I get bored very easily and that always pushes me to try again or try something new. Journalists always ask me "what is your favourite restaurant, what is your favourite country, what is your favourite town, etc.?" But I do not know yet because I want to see the next one and next one, and that sort of dissatisfaction with the now and always thinking about what I can do next, is what my secret really is. Basically impatience is my secret."
Still feels like a hobby.
Tom Dixon is a man who likes making things and transforming ordinary materials into precious things or environments that people can appreciate as well as use or be comfortable in. "The idea of being involved in the making of things is my motive, being hands-on in the process is what interests me still and has from the beginning. It started out like a hobby and is still a real pleasure. Obviously there are bits of it that are frustrating; the number of meetings you have to have and the realities of commerce and so on. But when I am doing the design thing, it still feels like a hobby and there is a joy to creating stuff and being master of your own destiny, which is very hard to get in most professions."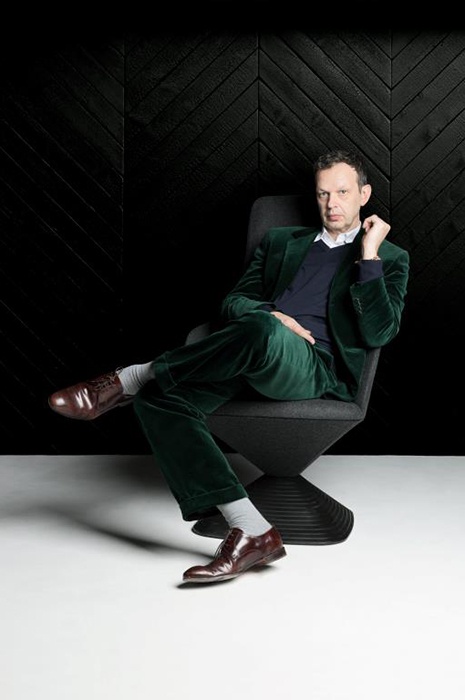 Tom Dixon (OBE). Born 1959. Selv-taught British designer. Creative Director of the design brand "Tom Dixon" and design research studio that specialises in high concept interiors, large scale installations and architectural design.
Doing shifts in the kitchen.
One of the key elements for Tom Dixon is to pursue and get inspired by other professions and translating the experience into a design context. For instance the acclaimed designer once in a while does a shift in the kitchen at his restaurant. What is the relation between the person Tom Dixon and the designer, the amateur cook, the musician, etc.? "I never had a really big interest in design as a thing on its own. I am interested, as interested in sculpture or cooking or music as I am in design as a thing to look at. We got a restaurant where I occasionally do a shift in the kitchen. And when you experience a kitchen you will eventually be a better designer, because you can observe the whole of the experience from inside a restaurant rather than looking at it from the outside. I then bring back some of those experiences, trends or ideas from other professions to what I do, which is design."
Test until destruction.
How do you approach new challenges?
"I like making mistakes. Not on purpose, but there is this term in engineering called "test until destruction", and that is how I learned to be a designer, my first chairs broke and I learned by just doing more and more of them. There is an element of throwing yourself into situations without a band aid which I have done many times. And that is something I think comes partly from me being in London when it was in deep recession with no real industry and no opportunities unless you created them yourself. It could not really get much worse and I believe a lot of Londoners at the time were familiar with making their own destinies."
It is about how you stick out
In order to become successful you have to believe in yourself and not pay too much attention to what other people think or to what can go wrong.
"It takes an element of recklessness, which a lot of people struggle with. I have never been that safety conscious. What it takes is courage of your conviction, which is something you learn, rather than know from the beginning. And it takes some naivety as well, which is something also very hard to preserve. I made myself a company where I can pretty much make decisions to throw a gamble on something new or something we have not been very good at. But they are increasingly calculated risks based on previous experiences. It takes a bit of risk in a way, but you know the whole thing is really about how you stand out and how you stick out."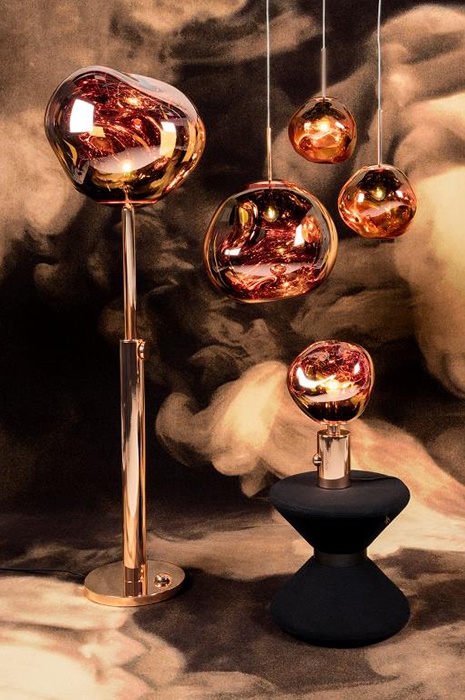 Translucent when off, reflective when on. The Melt Lamp creates a mesmerizing melting hot blown glass effect. Smoke carpet design from the industrial landscape collection works as a fascinating backdrop.
Look around and listen.
How do the physical surroundings affect us as human beings?
"The more experienced I become in doing interiors, the more interested I am in not just the obvious tools of the interior design which is colour, shape and comfort, but also the intangibles, the luminosity of a space, the smells of the space, the textures, the sound and the touch." Dixon touches the chair and continues: "I wonder if anybody else thinks it is nice, because I do. People are much more than just visual, and that is why I focus so much on tactility, acoustics and smell. Take you and me. We are sitting in a very harsh acoustical environment; lots of people around, very high ceilings and stuff like that. This would normally be a really appalling bit of acoustics, but because we are in a space with a floor and two walls of carpet plus we are sitting in Wingback chairs which have also been carpeted actually the acoustics are pretty good."

Does your interest in acoustics come from your earlier music career? "Well, there are certain things I can draw from that experience for sure, which make me probably more interested in acoustics than some other designers. But I am just starting my exploration of sounds, my new adventure is sounds. Look around and listen – I think the carpet is a perfect vehicle."

A carpet has to perform.
How does a carpet differ as a material in your creative process and what makes it special?
"From the perspective of carpet in general I think that it is something, which is all too often ignored, even though it, beside the walls, is the biggest surface. So it can have immense impact on a space, and it is also the place that gets the most wear and tear.
A carpet is abused in a really aggressive way, which makes it interesting because it is something that has to perform. It is a very interesting typology, and it is probably "under-loved". Carpets have a lot of potential. The contemporary spaces for sure lack a softness and there has been a trend for a really long time for concrete floors, no window dressing, blinds, or you know very few table cloths. So the carpet is so important in the context of contemporary interior; as a sound-deadening vehicle, as a softening device for all kinds of technical reasons as well as being decorative."
It all starts with a factory visit.
How do you start a design process?
"When I do collaboration it often starts with a factory visit. And the older and the more experienced I get, I realise it is not the money and it is not the principle but it is the people that make a good project. You tend to get a gut feeling about that. So I always start going as far upstream as I can in a project. With ege for instance we met in London but it was important for me to go see the factory, and the factory visit convinced me this was a company I would enjoy working with, because it had this very specific expertise and the highly skilled, dedicated people."
We live in exciting times.
The interview is nearing an end, and it seems natural to throw one of the difficult – and perhaps also impossible to answer – questions at Tom Dixon. How does the future of design look like?
"For a long time I felt it was a shame I was not born in the 40's, so I could have been part of the 60's. It would have been amazing with the new technologies, the new plastics and the new ways of living. Now I think we are on the verge of a new amazing time for designers, with these very high tech tools that become at your disposal. This means that technology becomes personal and that is something that has never happened before. The designer no longer needs the industrialist by his side. Everything is up to the designer now; we can make the final products ourselves. You could use that power to create a lot of rubbish or you could use it to save the world. So it is an exciting time, it can be terrifying as well but at least we are not going to be bored, right?"
"...So the carpet is so important in the context of contemporary interior; as a sound-deadening vehicle, as a softening device for all kinds of technical reasons as well as being decorative."
Industrial Landscape by Tom Dixon + ege carpets
London is the departure point for the collection and for Tom Dixon a world of inspiration. Perhaps not the prettiest, nor the most glamorous, but certainly one of the most characterful cities in the world. The collection interprets the gritty backdrops of railways, tunnels, factories, workshops and warehouses. Materials so prevalent that they make a huge impact. Surfaces – cracked paving stones and brick blocks make up the crumbling industrial landscape while the massive tidal River Thames splits the city in two, and new reflective glass towers begin to dominate the skyline.

The collection features seven designs available as carpet tiles and broadloom creating different expressions within each design theme. Tiles and broadloom can be mixed or combined with other ege collections to get a truly unique flooring solution for one room or projects with several spaces. Go to The Industrial Landscape collection

Want to know more about Tom Dixon? Go see the official Tom Dixon website tomdixon.net