Location: Viola Communications, Abu Dhabi
Missing some inspiration in terms of carpet tile designs for office environments? Read along in this article for three great carpet tile designs from around the world.
First on the list of amazing carpet tile designs for offices is a company in Abu Dhabi. For the refurbished offices of marketing and communications agency, Viola Communications, in Abu Dhabi, capital of the United Arab Emirates, a creative and funky atmosphere has been created to encourage all teams to work side-by-side while also maintaining their own individual environment. Different colours are used to mark each department, with custom designed carpet tiles changing accordingly.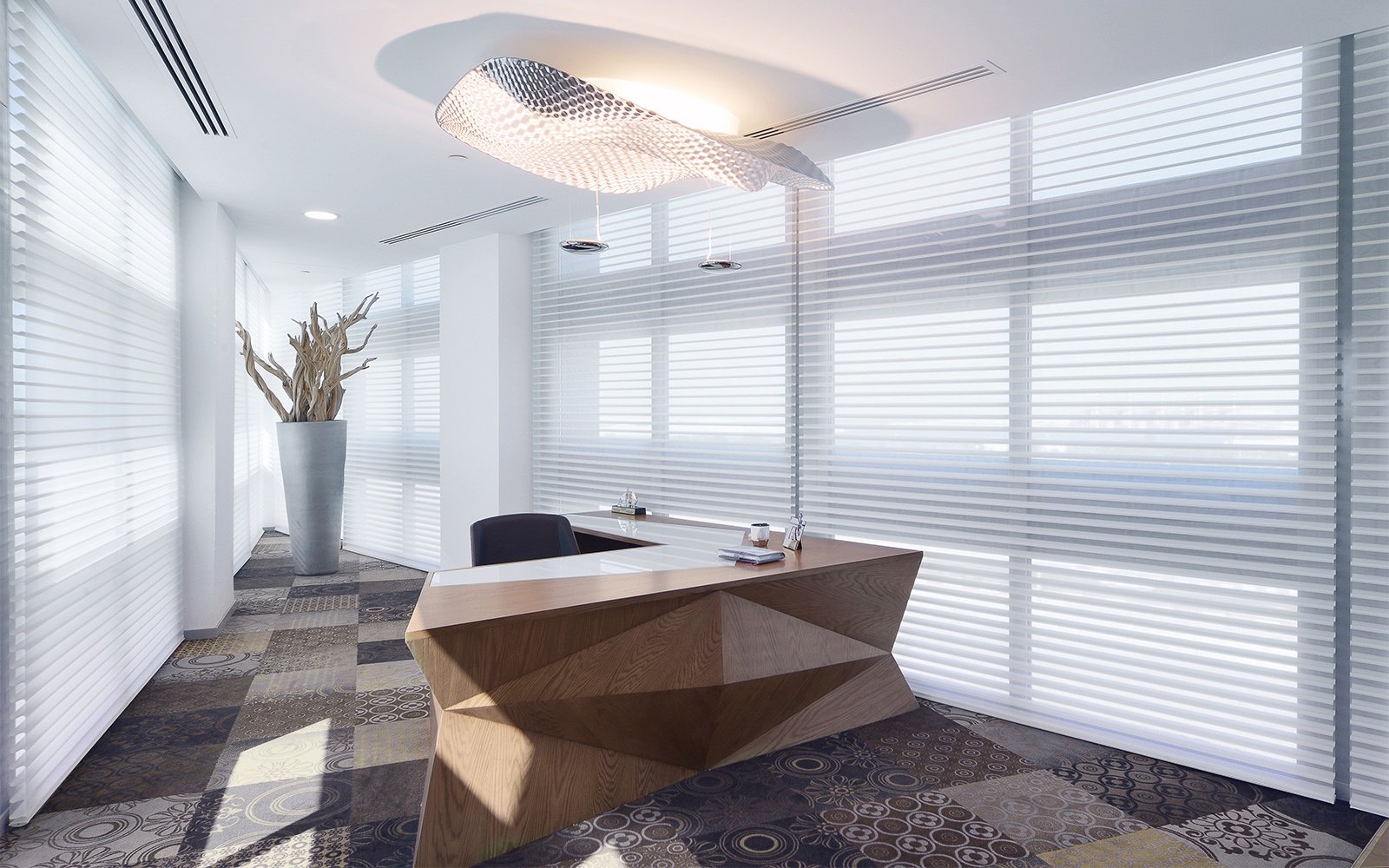 Several different themes are used in the office's carpet tile design to give distinctive character to each space, while making sure that all areas follow the same design concept. The main entrance is inspired by a metro station, with customised carpet illustrating a colourful metro map.
lt's in the informal meeting area, however, that we find our favourite detail. Here, boldly coloured and patterned carpet tiles have been oddly cut and integrated with the hardwood floor to amazing effect. The geometric patterns and odd shapes extend onto the walls, making the area both dynamic and intriguing.
Beside the aesthetic effect the carpet tiles, as well as the 3D effect of the protruding wall panels, serve to minimize noise in a 'hard' room, which might otherwise have been an acoustic nightmare.
"The flexibility provided by egecarpets' manufacturing process made it possible to create non-repetitive designs which were fixed on the floor as well as on walls and ceilings, creating a very individual office look as well as enhanced acoustic performances" says Lorenzo Zoli, Managing Director at M + N Architecture, responsible for the overall design of the office, including the office's carpet tile design.
Location: AXA Technology Services, Paris
French-based AXA is a worldwide leader in financial services and a company with a strong commitment to sustainability. For the design of the offices of subsidiary AXA Technology Services, this sustainability commitment is illustrated by a 'flowing green river' running along all corridors and office spaces created using green Figura Hexagon carpet tiles from the ege Highline Loop Barcode Ecotrust collection.
This approach to designing with office carpet tiles helped to break out of the typical boxy square look and instead create a sense of innovation and flow. With a Cradle to Cradle Bronze Certificate™ and a guaranteed content of 100% recycled fibre, this carpet not only worked to achieve the design vision. It also helped to implement sustainable design in the office environment.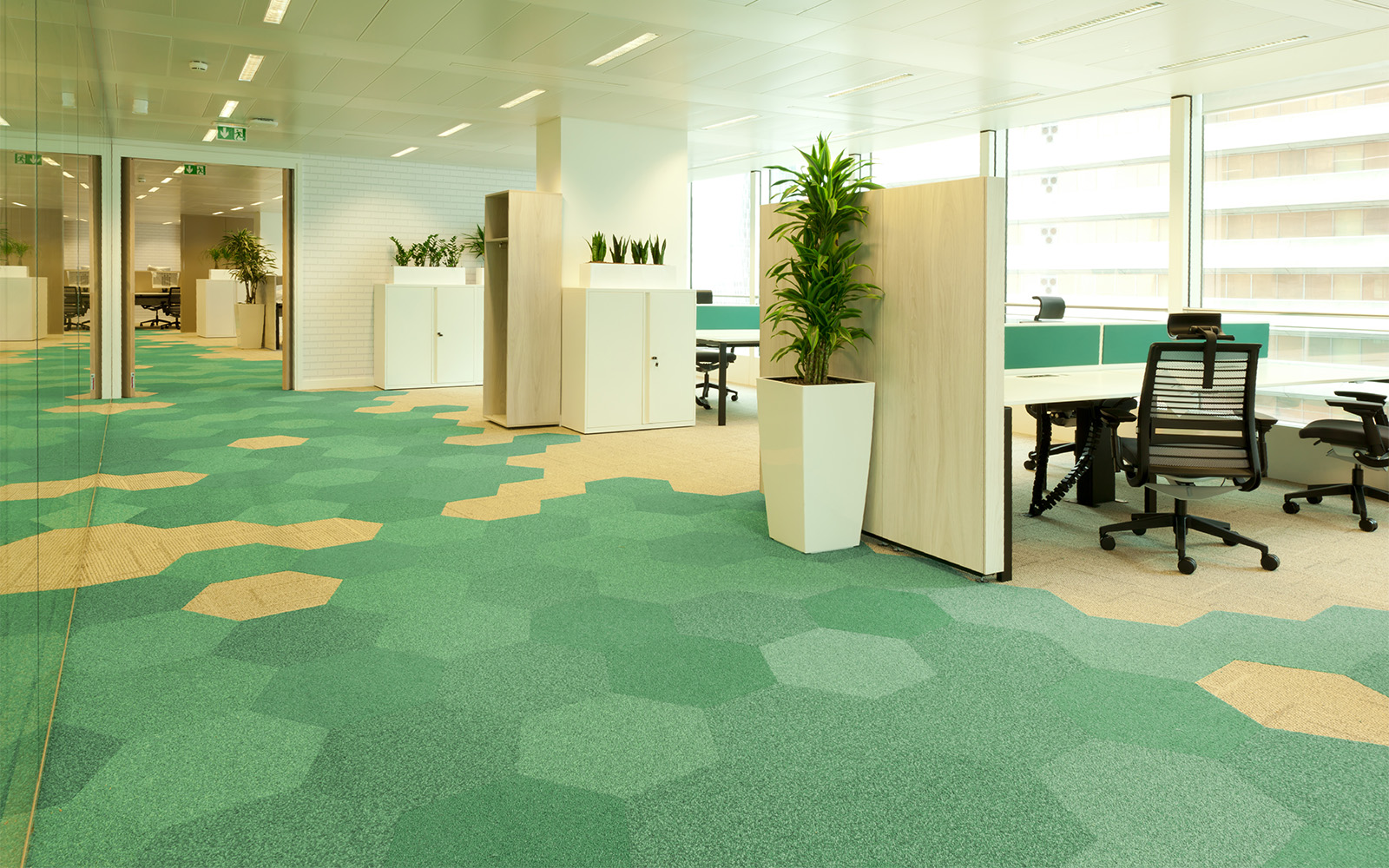 Location: Elan Edelman, Paris
For the headquarters of French-based international communications agency Elan Edelman, a Figura Hexagon carpet tile design was once again used to fabulous, but more subtle effect. This time from the City- scapes collection, softly toned hexagonal tiles are placed seemingly at random to create a quiet tonal palette and sophisticated ambiance.

The entire interior of this office is a great case for the art of simplicity and beauty in the little details. The gradient design and subtle colours of the carpet tiles compliment the subtlety, while giving space for other design elements like the patterned wallpaper and odd-coloured chairs to catch the eye. The Cityscapes carpet collection seems a great choice for the project, as it features an optimum combination of functionality and design – without compromising on quality and environmental requirements. The collection is part of ege's carpet tile concept, Modular Shuttle.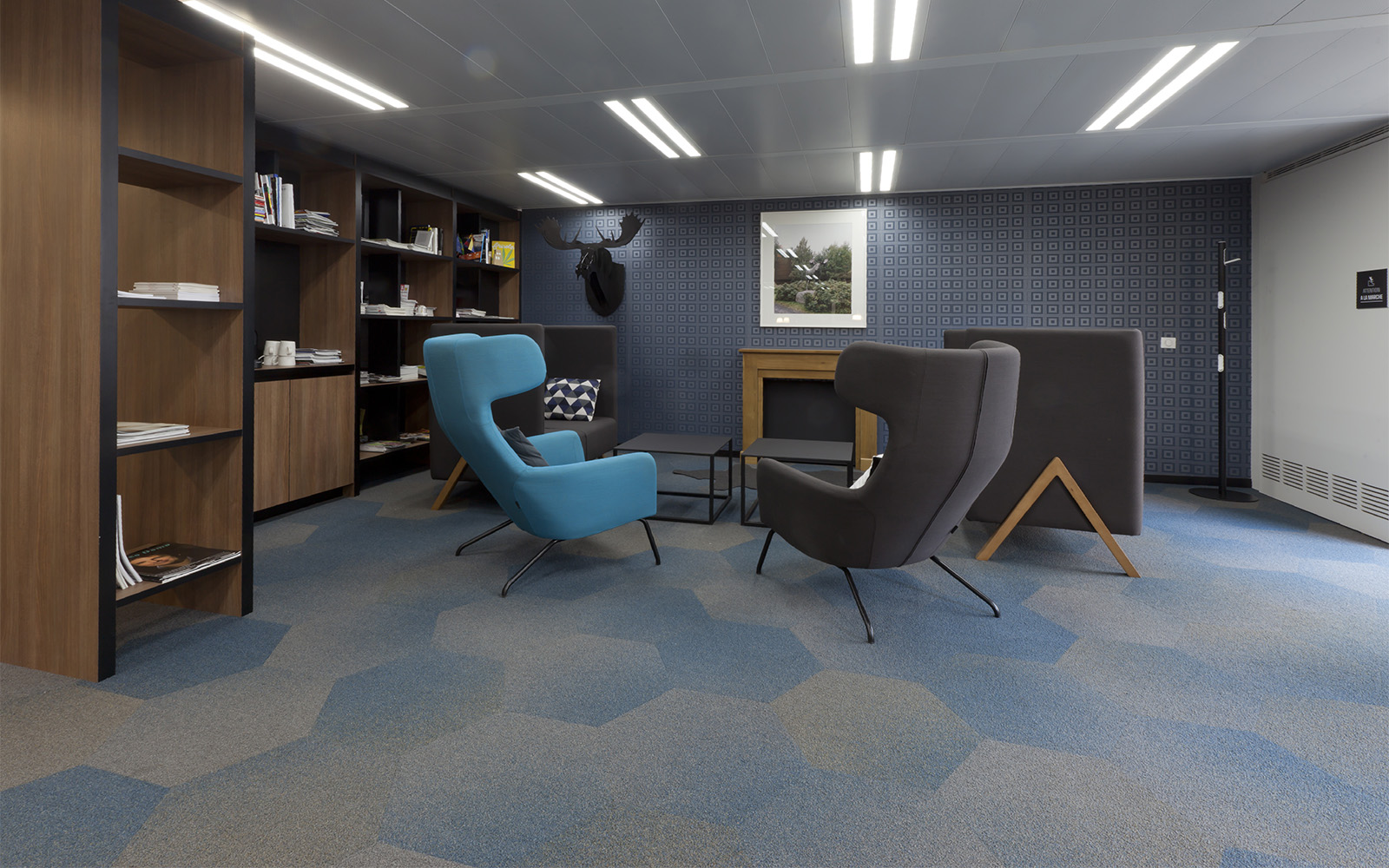 Key takeaways from these amazing carpet tile designs:
Carpet tiles are not only faster and easier to install in office environments than wall to wall carpet, saving both time and money, they also have endless design possibilities.
Carpet tiles can be effectively applied to seating, walls and ceilings, not just floors, for dramatic effects and superior acoustic benefits – ideal for office environments.
If sustainability is an important concern, carpet tiles are available that meet high environmental standards and they also create less waste than wall to wall carpet.
Carpet tiles come in all kinds of colours, shapes and sizes. The days of boring grey squares might not be over, but there are a lot of other options out there for giving the interior design in an office environment that little something extra. Even for projects requiring subtlety and simplicity.