Sometimes less is more. But at the new office of digital agency Futurice in Berlin, Germany, too much is never enough. At least when it comes to colours! From the German capital of tech and innovation, the company services multinational industry leaders such as VW, SAS and ABB with end-to-end digital solutions developed by a diverse team of experts coming from no less than 16 countries.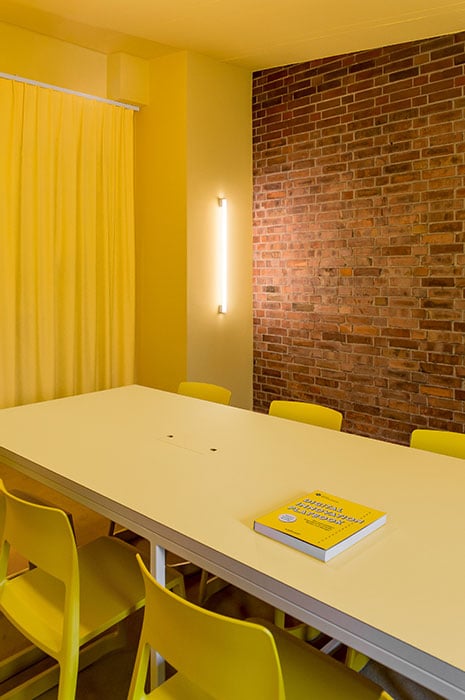 Expressing Futurice's corporate mission that is to improve communication and collaboration through new ways of working, the interior design strategy is quite clear. Thus, is works around the fact that collaborating with colleagues and clients is crucial to the success of the work that Futurice does and therefore, the team rooms are given the most of the design attention.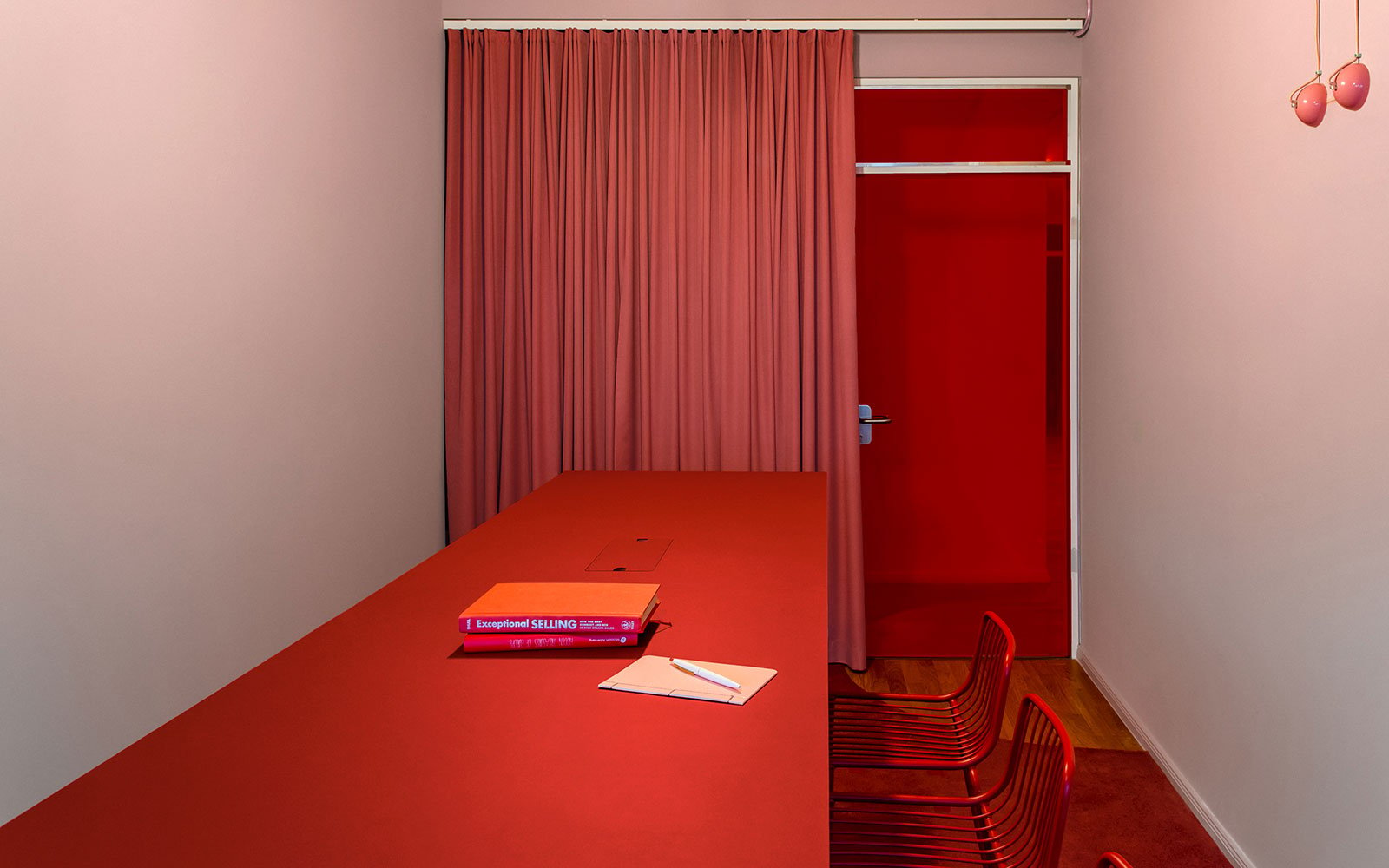 This means that meeting rooms, phone booths, receptions, kitchens, multifunctional spaces and other areas dedicated to meeting in person and through conference calls are defined by colour themes. Individual offices, on the other hand, feature more muted colour stories as a deliberate contrast to highlight the importance of collaboration and teamwork – while also representing an effective means of optimising the renovation budget.
Connective colours
Giving each team space its own distinctive colour, Ester Bruzkus from Ester Bruzkus Architekten managed to take monochrome interior design to the next level when drawing the big lines for the renovation. To create a visual sense of connectedness in each room, all decorative elements from wall paint, carpet, furniture, lamps, film on corridor glass panels and curtain fabrics are unified by a common hue.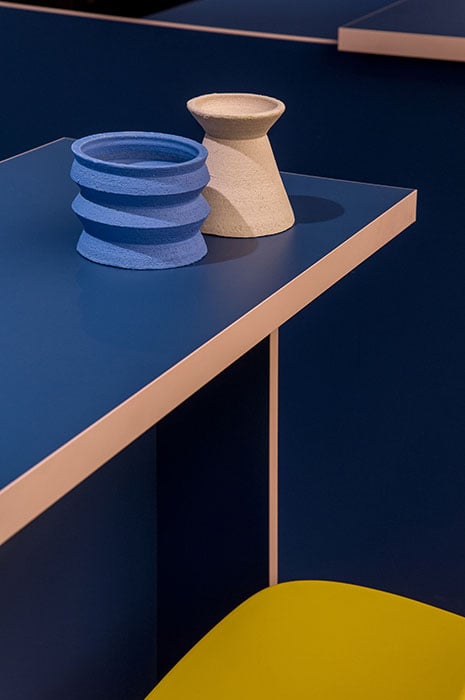 Fitted with custom meeting tables made from painted steel frames and matt linoleum tops as well as differently coloured workshop chairs, the team rooms almost look like a row of window shops when seen from the corridor along which all employees walk several times during their workday.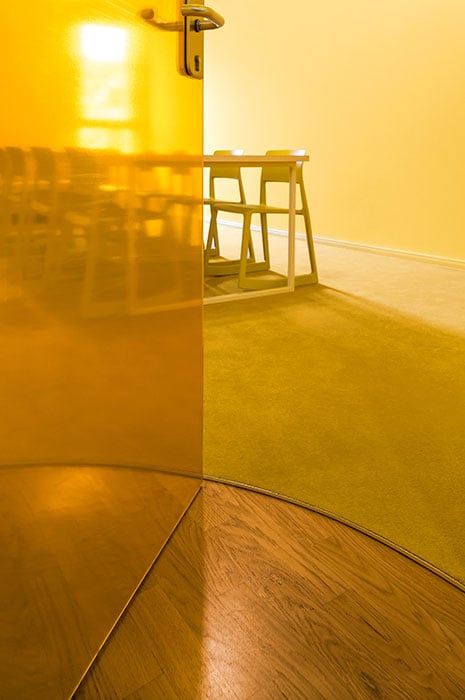 A quarter-circle sweep in front of each door marks the important transition from hallway to team room. When entering the highly prioritised spaces, the floor changes to toned carpet just as alike coloured curtains are specified to create a soft plane of fabric along the team room walls. While carpets and curtains bring a soft domestic touch and acoustic dampening to the spaces, the curtains also offer privacy from the hallway just as well as they represent a quite simple way to transform the ambience of each room.
As an architect, I am a minimalist. But deep in my heart, I love opulence. - Ester Bruzkus, Ester Bruzkus Architekten
When mixing all colours, what do you get?
At the center of the office, the communal kitchen brings all employees, and colours, together. Decorated in grey tones, which you get from mixing all team room hues, and brought together by the red lines of the steel table and the grout between the tiles, the kitchen works as a neutral background for colourful chairs and cabinet door handles.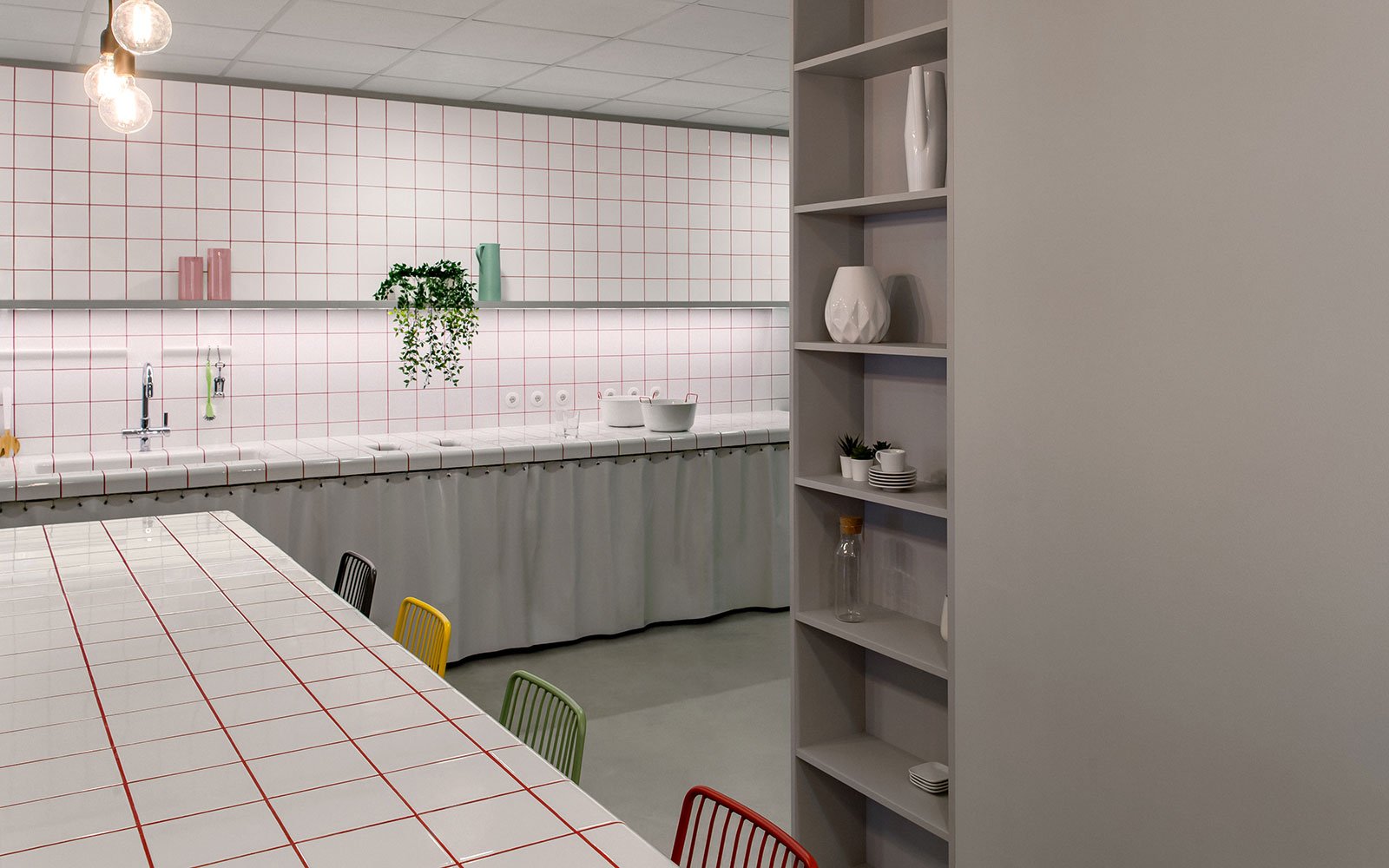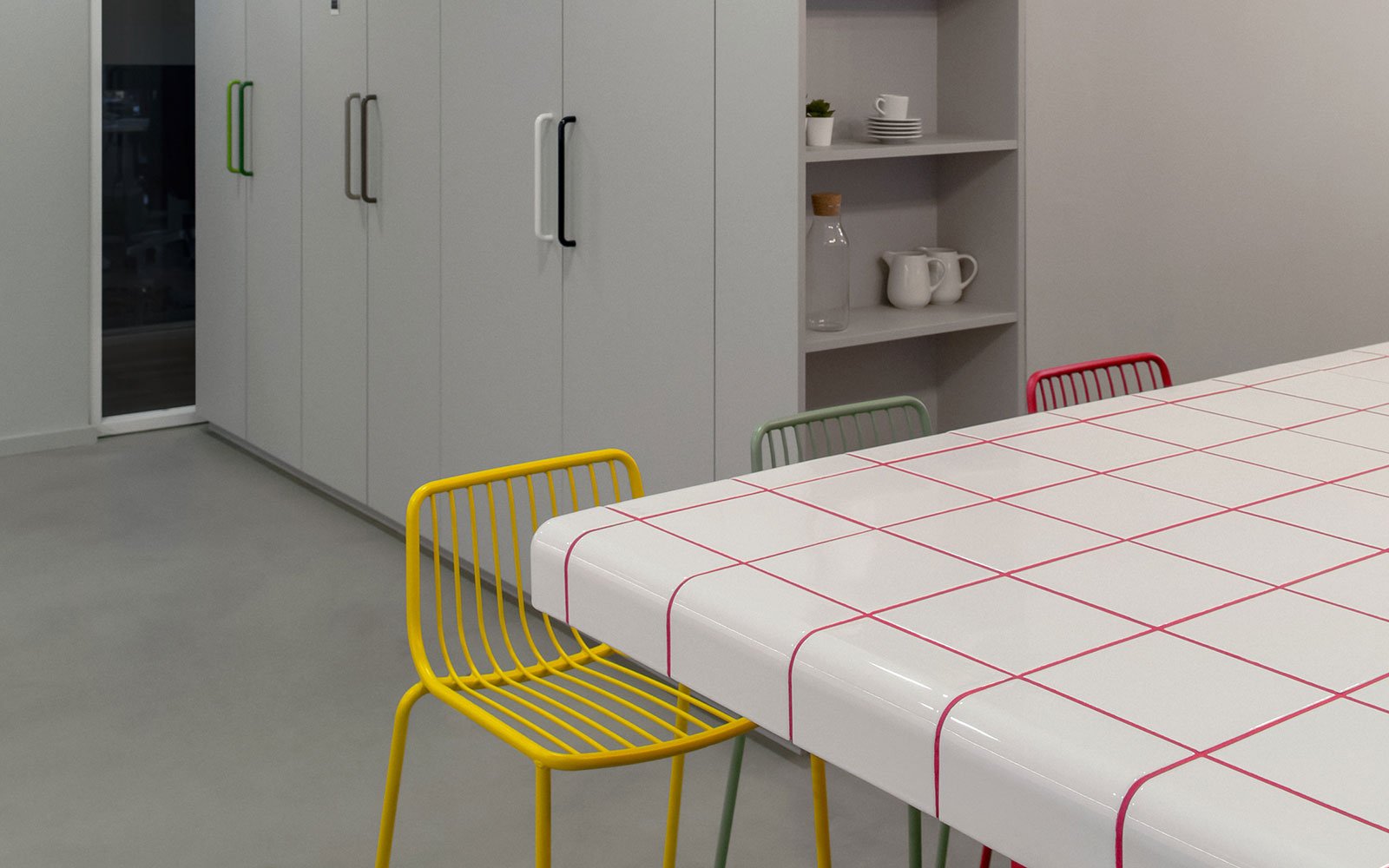 The multi-functional space on another floor unites all team room colours too. Here, an existing ceiling has been transformed by a dense installation of Japanese paper lamps. Movable folding tables and stacking chairs can be re-arranged for different scenarios such as lunch breaks, skype meetings, game nights, lectures and all sorts of events supporting Futurice's corporate mission of improving communication and collaboration.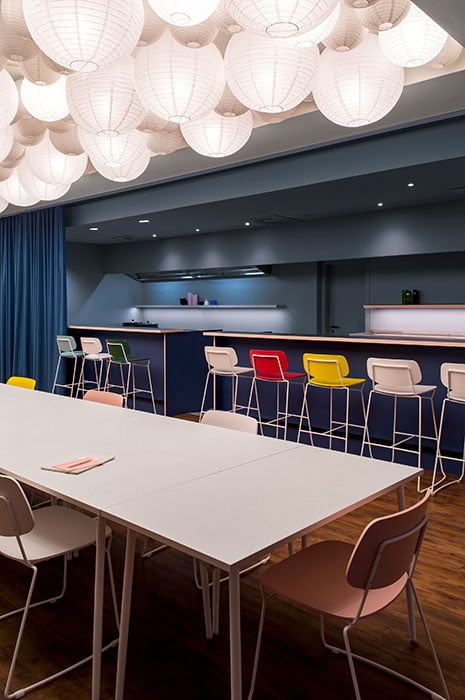 Do you have a crush on colours too?
If you want to exploit the power of colours in interior design, you have come to the right place! With the launch of our four updated colour palettes, your design options have increased significantly. Each palette holds a remarkably number of accent colours, now 65 in total to be precise, offering great potential of picking your very own perfect one(s).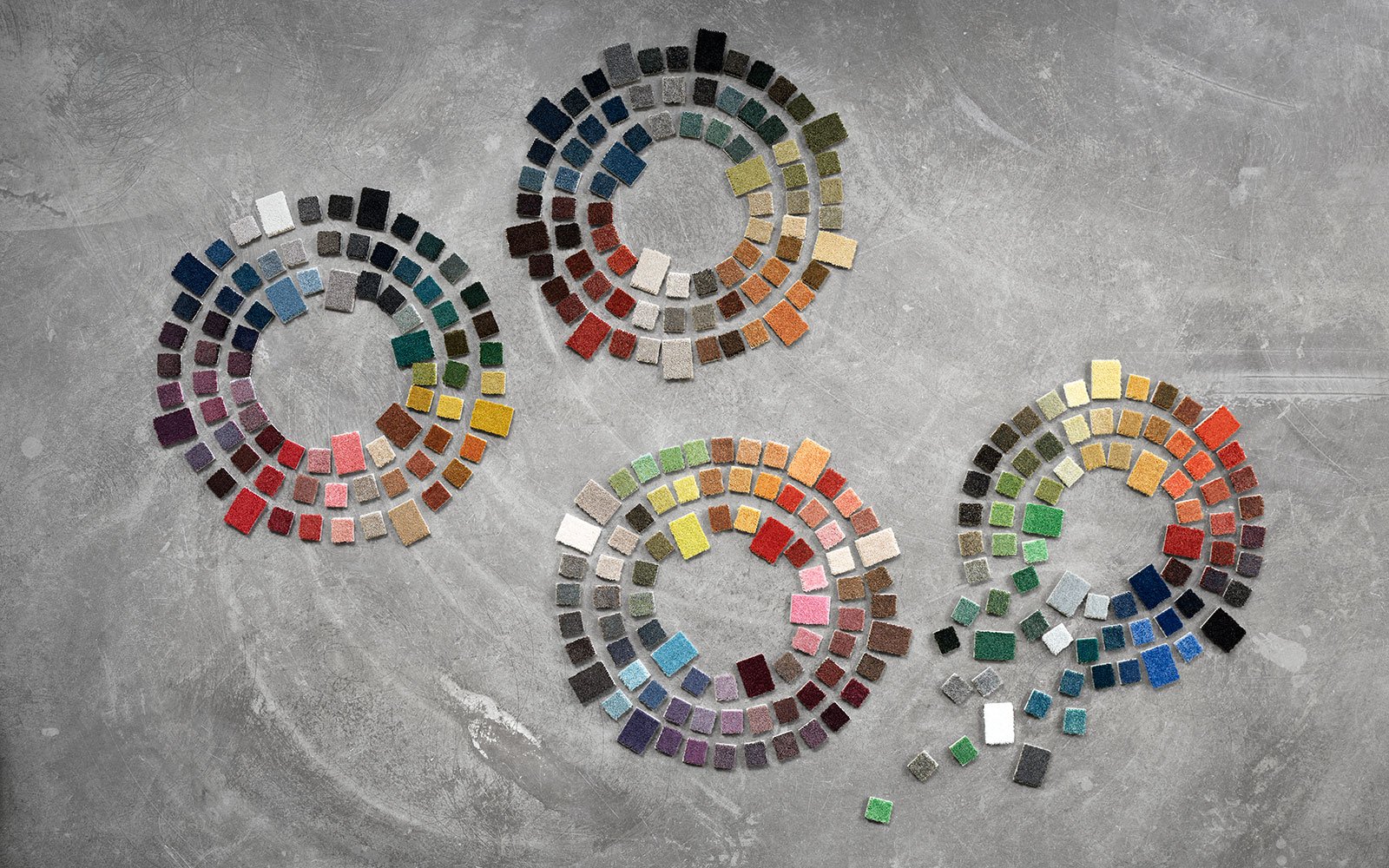 If you need professional advise, your local consultant is ready to answer any of your questions or to enrich your mind with creative ideas for you to pick and choose. We can't wait to hear from you!