A young yet very qualified member of the ege portfolio, the ReForm family has already proven its worth through a number of projects when fitting airports, hotels, universities and stores, among others. Appealing to a number of segments both aesthetically and functionally, ReForm has a wide applicability.
Though available as tiles and broadloom carpets, this article explores a wide selection of office projects from all around the world defined by ReForm carpet tiles. So, feel inspired from the evocative design ideas and learn how personal design ambitions translate into completely different interior settings when exploiting the ReForm potential in a number of ways.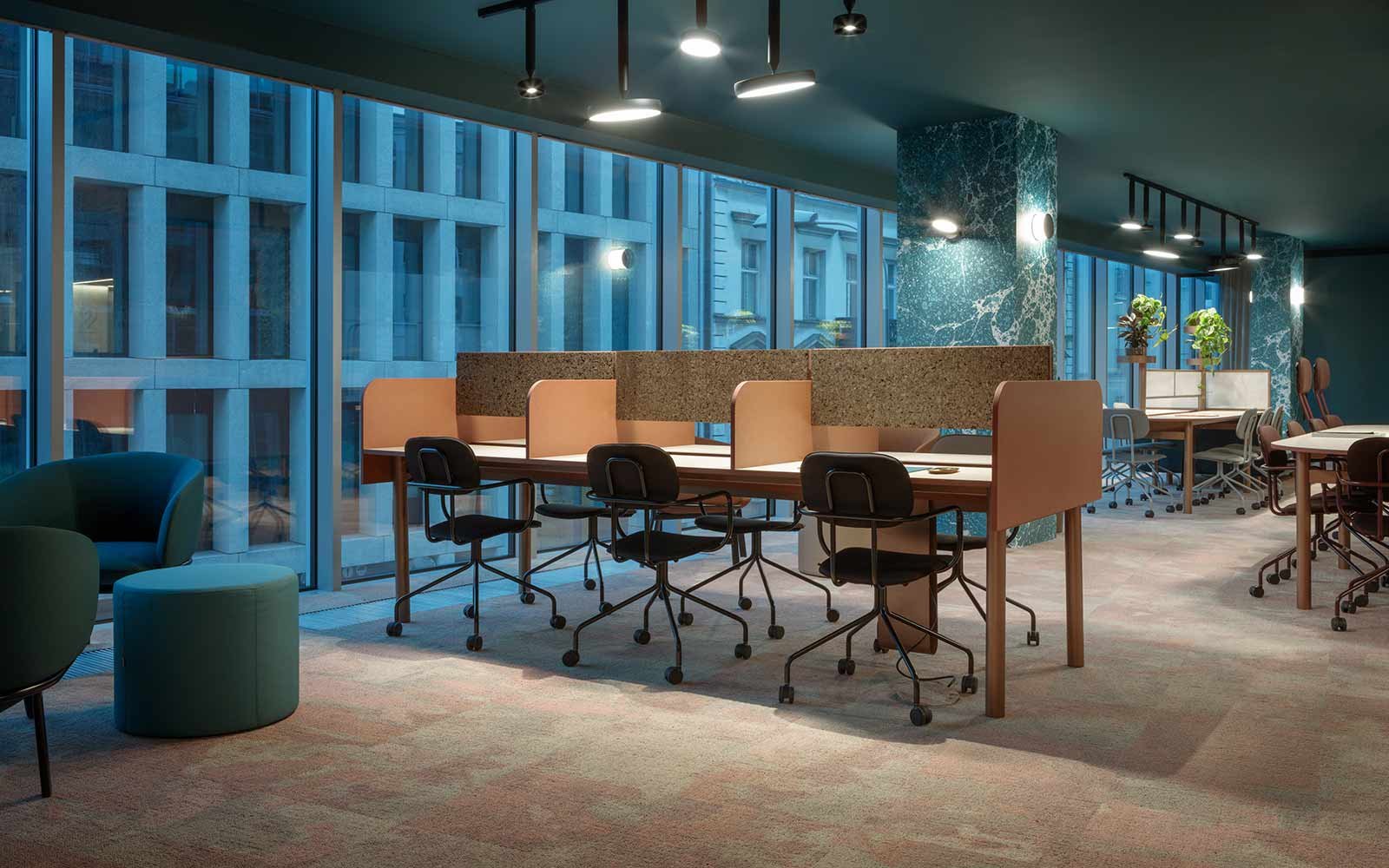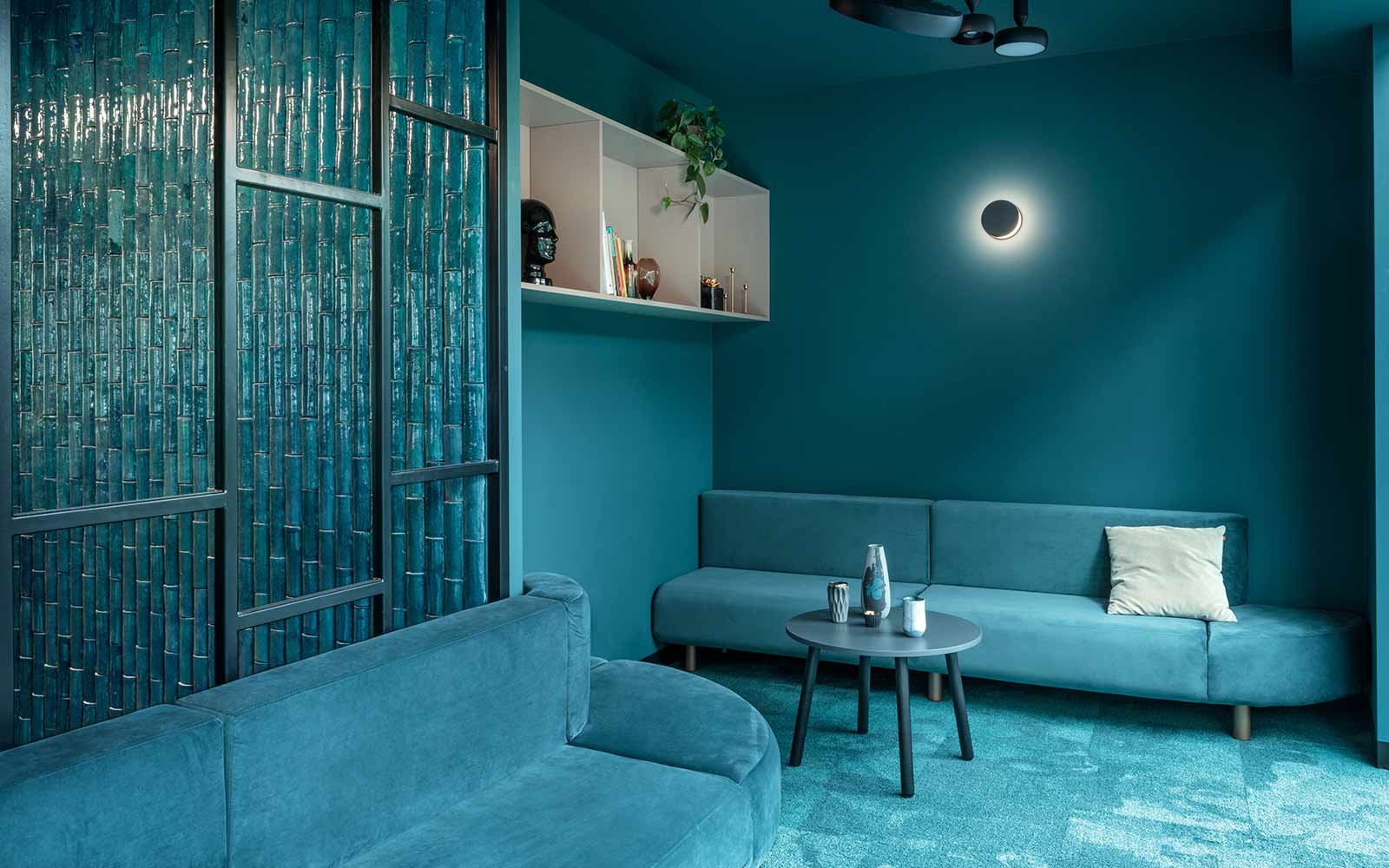 The Nest, Poland. A club workplace for entrepreneurs, companies and the creative industry. Top image fitted with ReForm Terra Ecotrust and bottom image fitted with custom coloured ReForm Terra Ecotrust. Custom colours are available from 200 m2.
Carpet yarn based on used fishing nets and other waste materials
We want to contribute to a sustainable world. This is why we developed the concept of ReForm, with collections based exclusively on regenerated and regenerable ECONYL® yarn. The yarn is regenerated because it is based on discarded fishing nets and other industrial nylon waste that is regenerated as durable carpet yarns. The yarn is regenerable because after use it can be broken down to its original chemical components and recycled as a new nylon product: that may be new carpet yarn, fishing nets or something entirely different.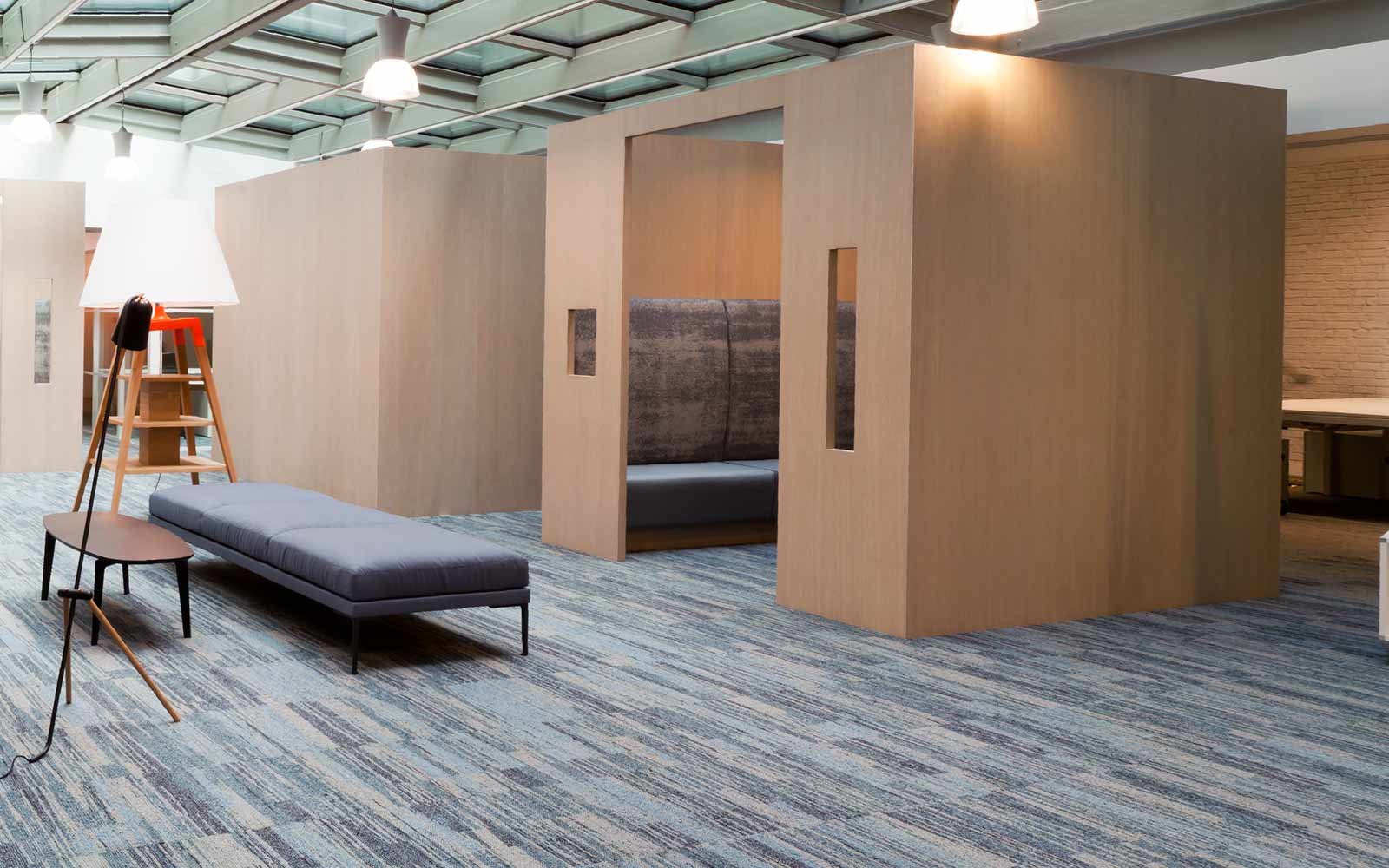 Publicis Group, France, features a ReForm Legend Ecotrust tile matching the remaining textiles in this sophisticated and acoustic-friendly office setting.
Ecotrust felt backing made from recycled water bottles
All ReForm carpet tiles come with our patented Ecotrust backing. Used water bottles are converted into a soft but durable felt that will benefit acoustics, comfort levels – and obviously the environment too! This, combined with the ECONYL® tile face, make ReForm the complete green choice for you.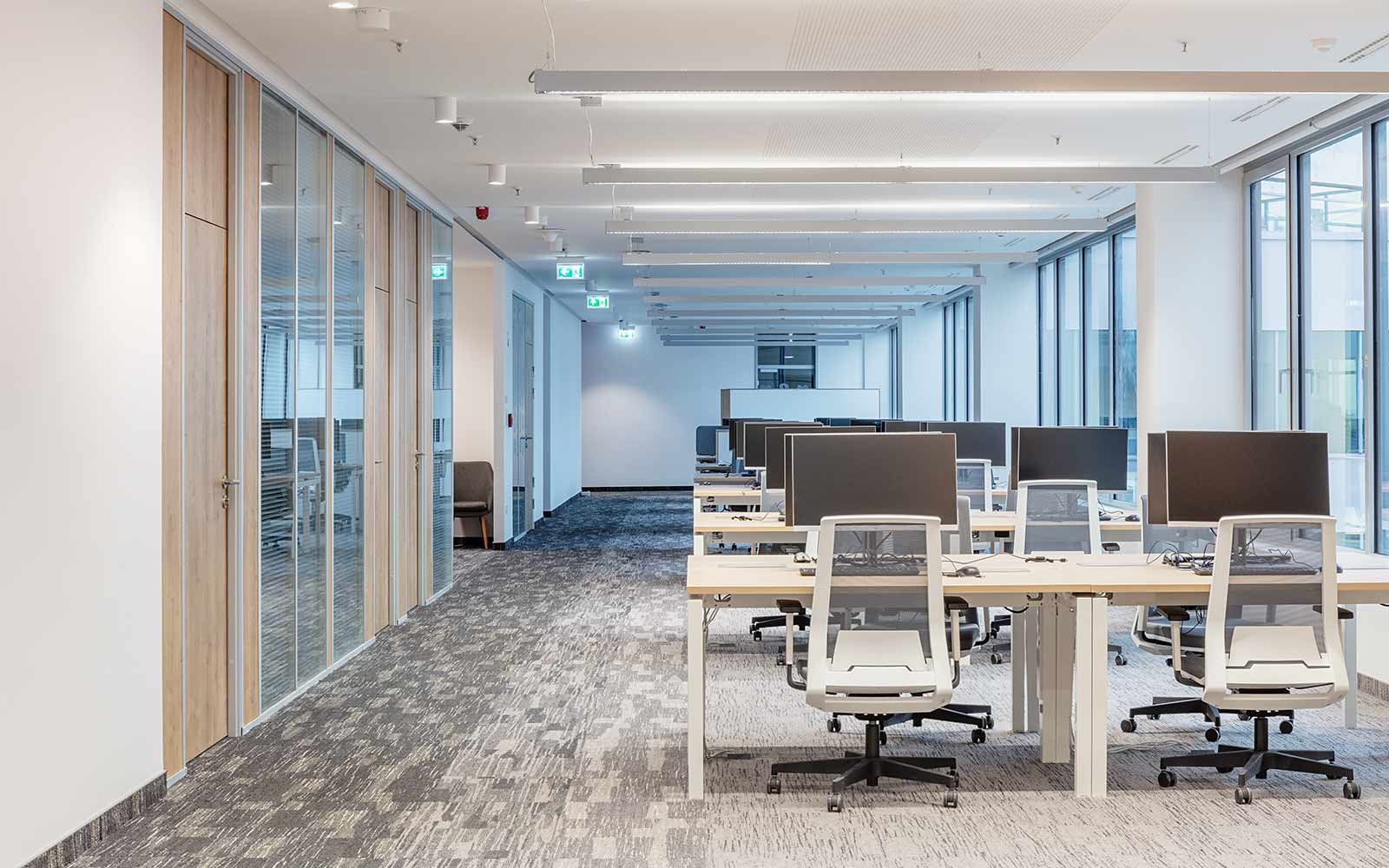 For open-plan offices as Telecom, Hungary, ReForm Legend Ecotrust tiles offer improved acoustics and easy access to subfloors. Furthermore a delicate combination of 3 different Legend patterns demonstrates how the subdued yet powerful carpet plays an important role in the interior design.
Multi-level structure with 3D effects
Many, though not all, of the ReForm collections are characterised by a multilevel carpet structure. The surface is designed in different layers, so the appearances of the collections are defined not only by colour and form in the pattern but also by the texture of the design. The varying heights and compositions of the loop pile result in a strong visual effect and a richness of detail that emphasise the carpet's pattern in an extra dimension. The Artworks, Legend, Memory and Terra collections all feature this 3D effect, whereas Foss alternatively offers a plain structure at a very budget friendly price because of the low yarn spend.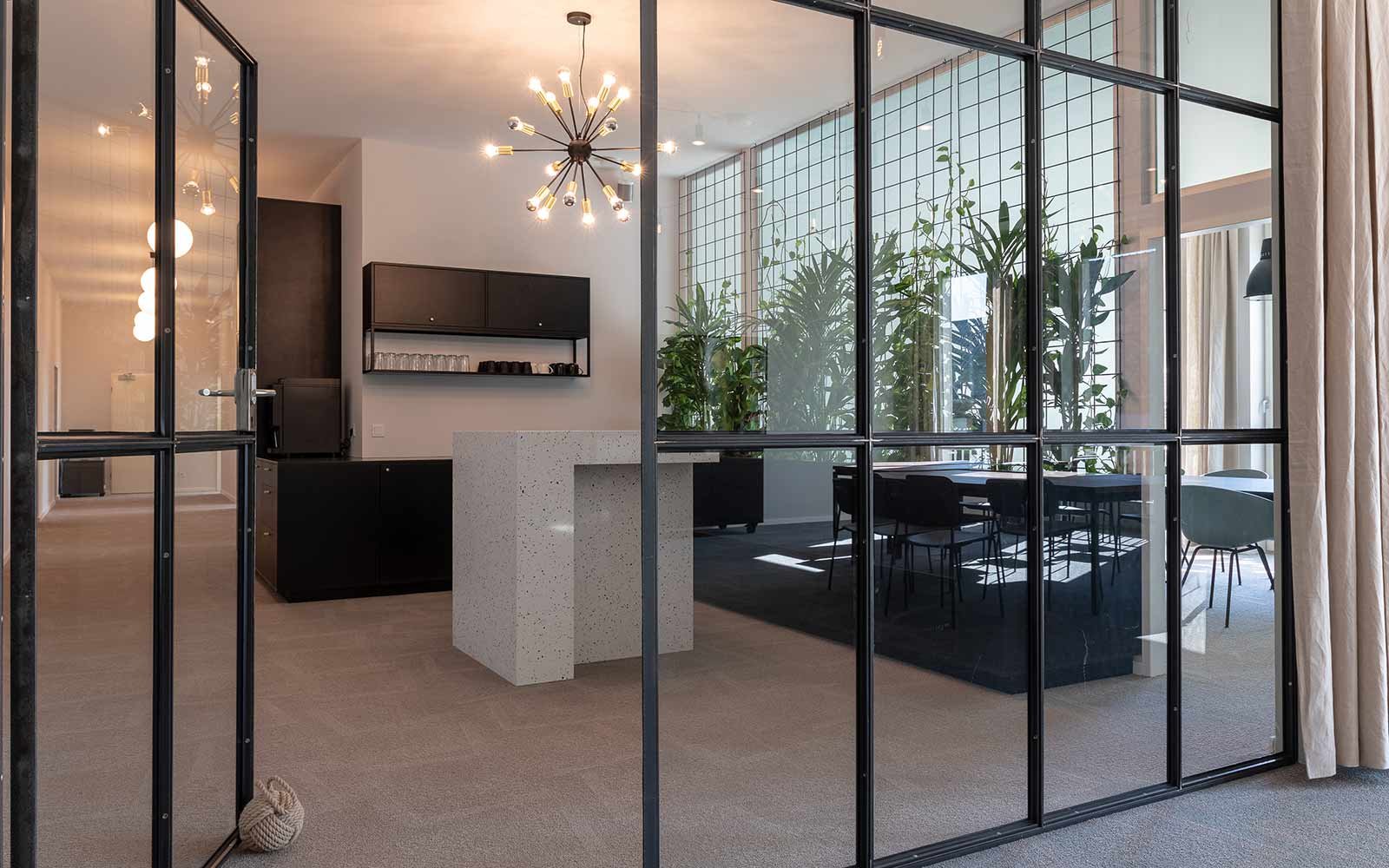 KI Business Performance, Germany. A subdued colour choice from the ReForm Artworks Ecotrust collection elegantly matches the contemporary interior style within this consultancy company. The carpet pattern appears from the textured construction.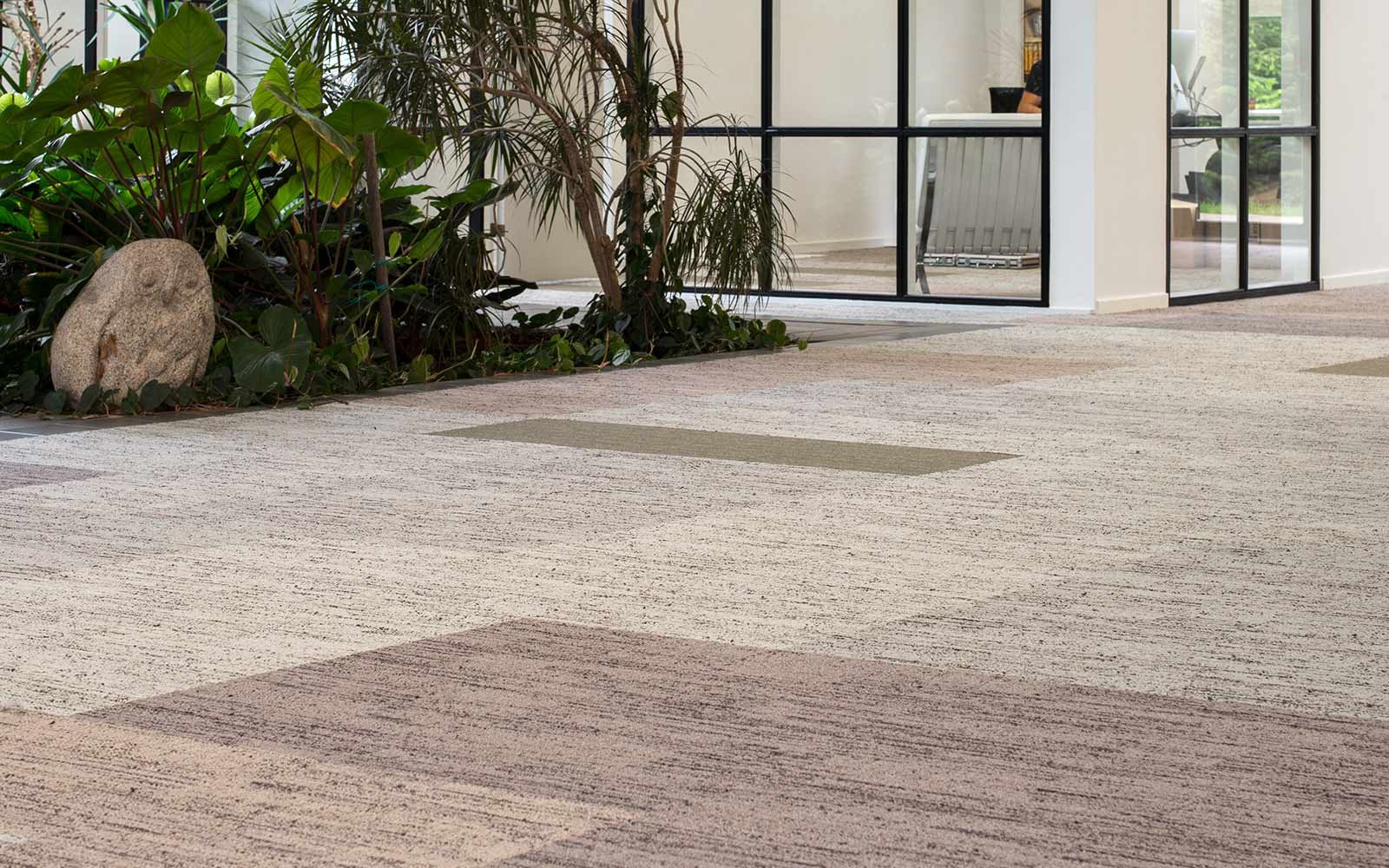 A close up from communications agency Buchs, Denmark, demonstrates the tactility of the ReForm styles with this combined ReForm Legend Ecotrust and ReForm Foss Ecotrust installation in various colours.
Your carpet tile advantages
The majority of the ReForm collections have been developed as carpet tile collections but they are all available as either carpet tiles or wall-to-wall carpets. In evolving the ReForm concept, we focused particularly on carpet tiles because of their suitability for use in modern and flexible office environments.
At architect Rian Knop's studio, Holland, ReForm Terra Ecotrust and ReForm Artworks Ecotrust are combined to create an intimate lounge zone in the open office. The colour and pattern contrasts effectively define the area.
Carpet tiles are the solution that permit easiest access to the underlying floor, a distinct advantage when it comes to repairs or new installations. While the overall concept has a discreet and understated look that is well-suited to a minimalist office landscape focused on a healthy indoor climate and work environment, the products are also available in fresh, bright colours that can stand vibrantly alone or in appealing contrast to classic shades.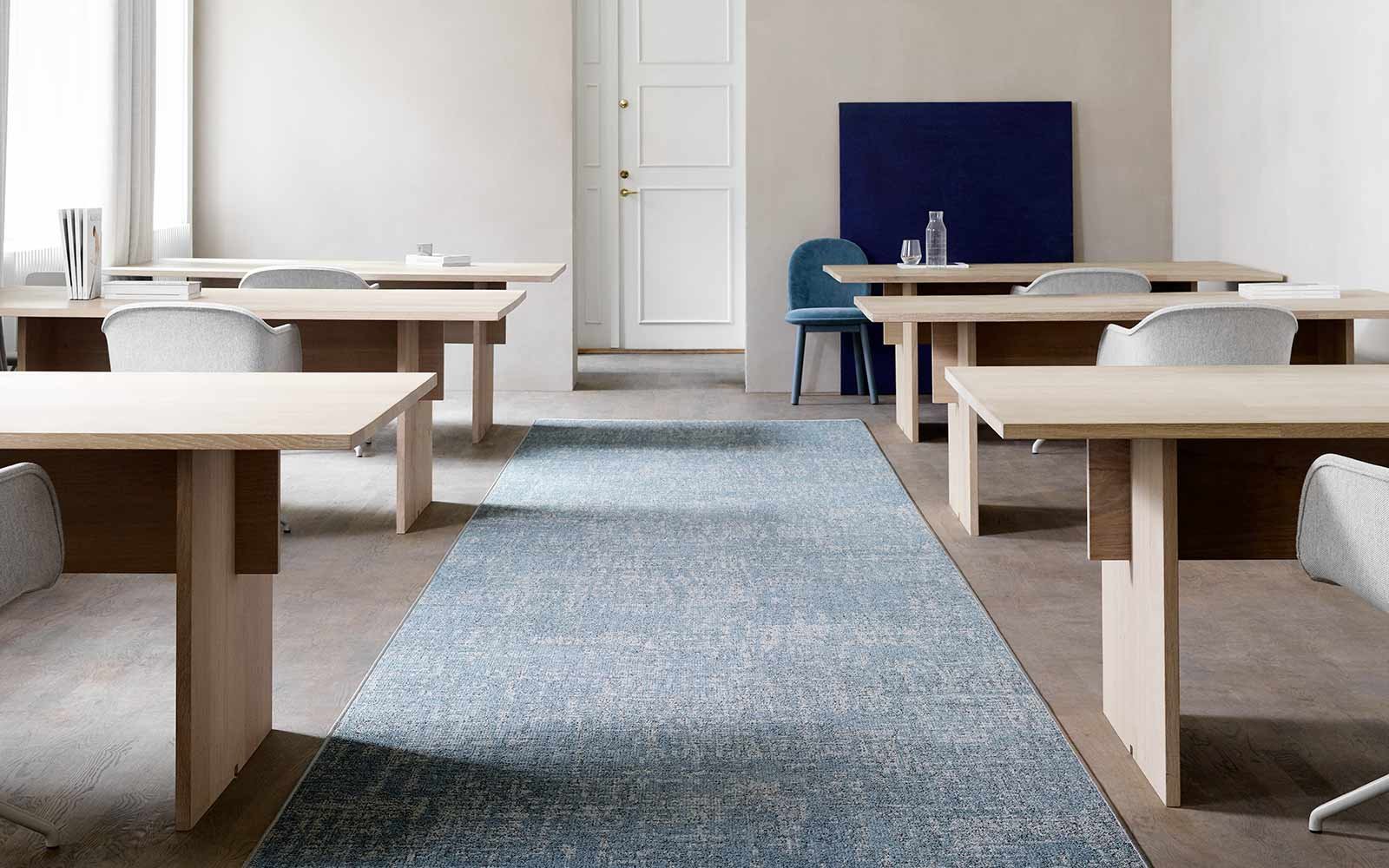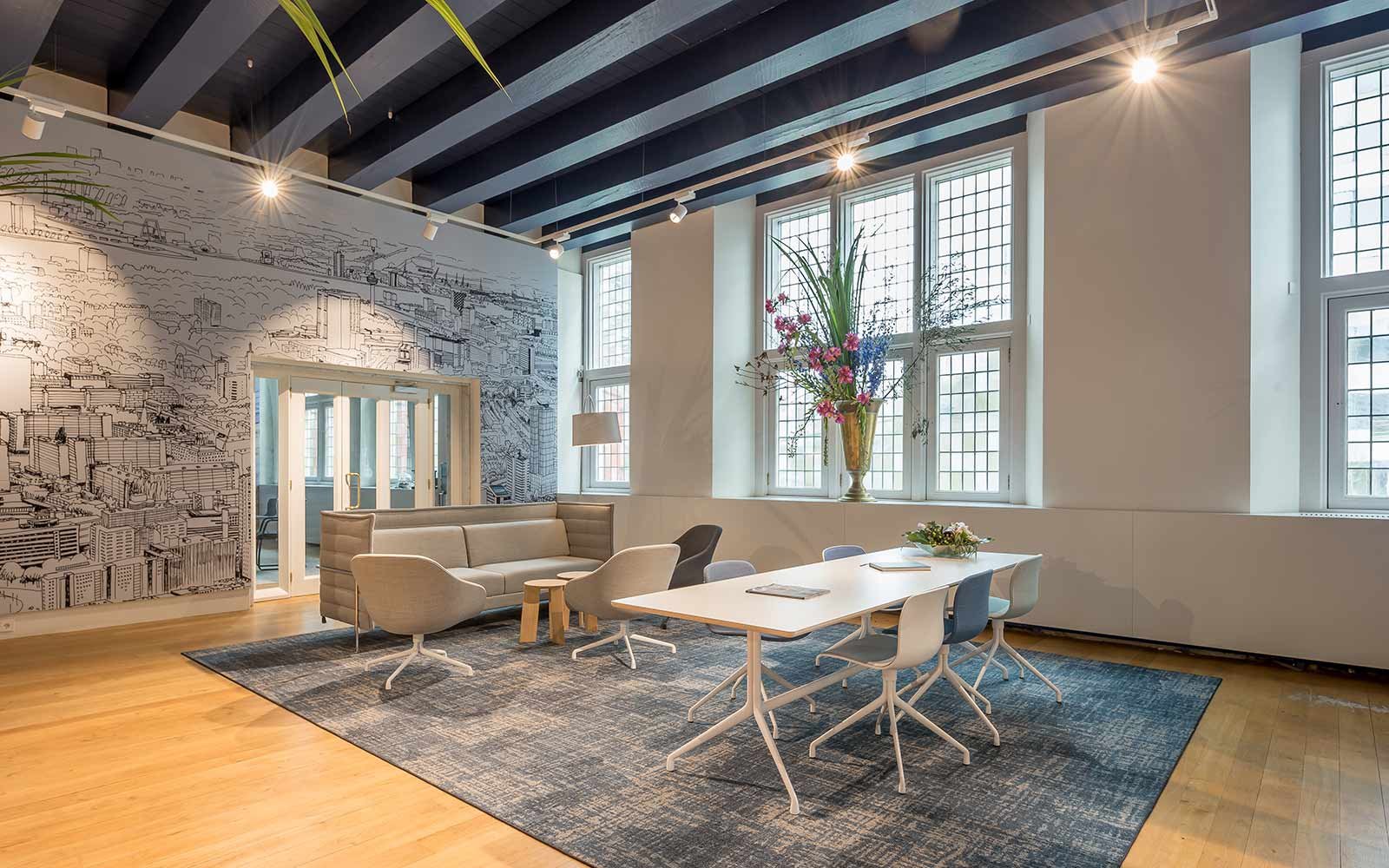 Above images show how the ReForm Memory collection appears when shaped into rugs. Within this collection you have three design stories at hand - each of them holding different levels of pattern and colour contrast to be combined or to beautifully stand alone.
ReForm is not just for offices, though! The collections have also been successfully fitted in hotels and educational institutions, where their green credentials, flexibility, multidimensional texture and look make a great impact on the design.
Fair pricing yet another ReForm advantage
I am sure you feel convinced about the multiple ReForm advantages already. So, logically, you might assume that this premium quality product equals a premium price. However, that is not so! Comparing ReForm to other ege collections, it fits into the middle price group with flat woven collections such as Rawline Scala Ecotrust and Epoca Knit Ecotrust making up more expensive product choices and tufted collections such as Una Tempo Ecotrust and Una Grano Ecotrust counting for the cheaper alternative.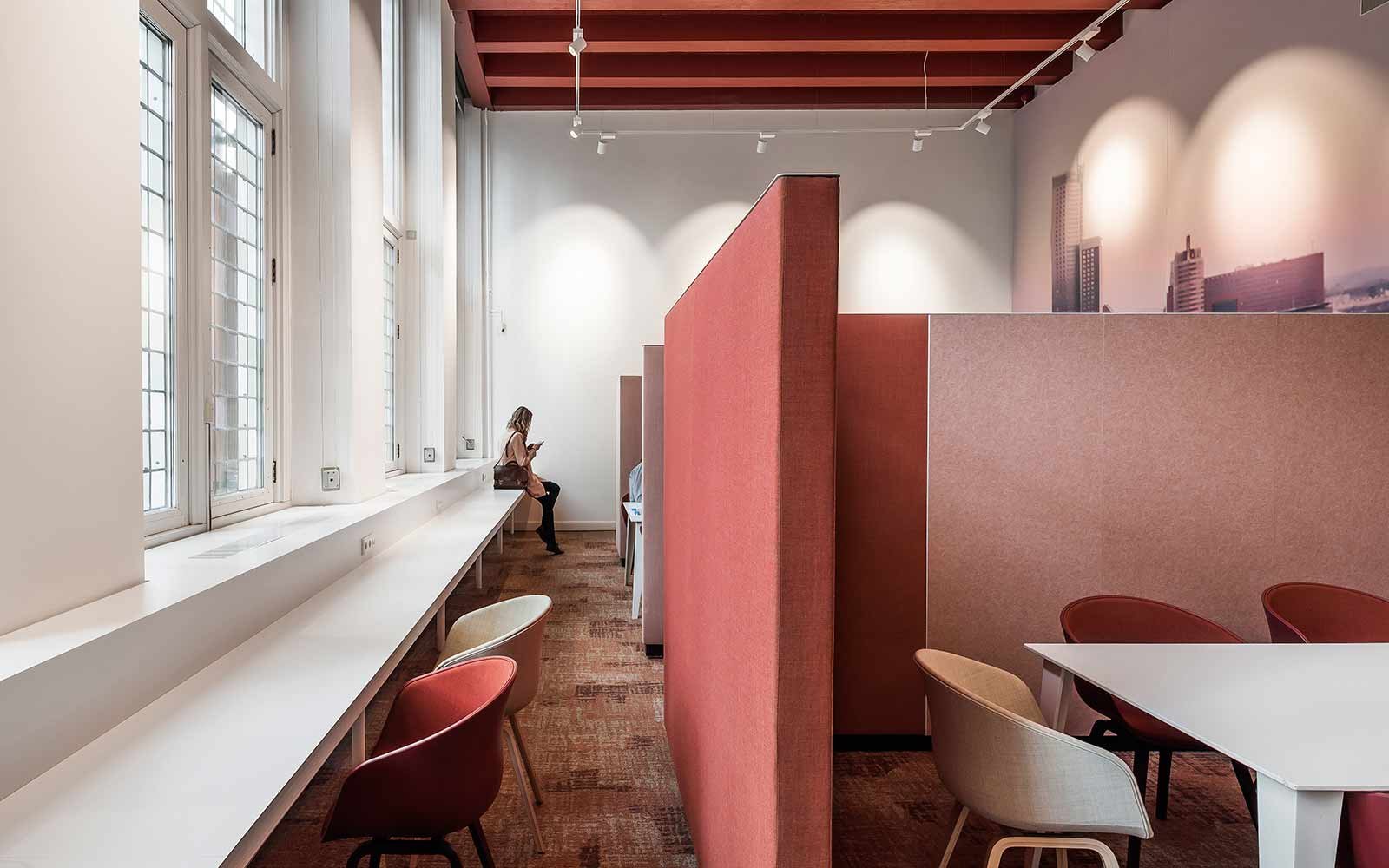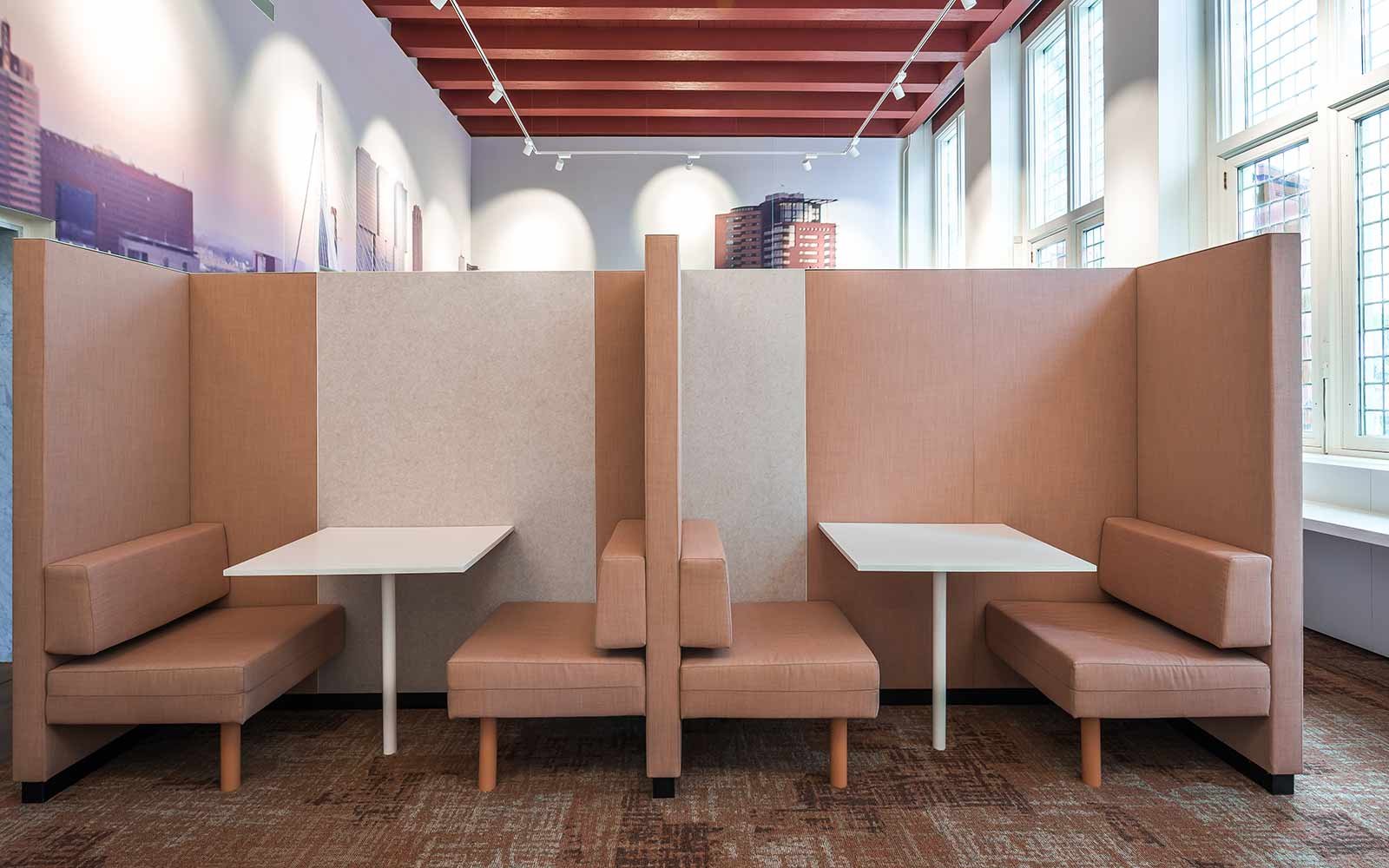 At Schielandhuis, Holland, the ReForm Memory collection is harmoniously colour coordinated with the furniture, ceiling and wall decoration to create a stylish atmosphere with an energetic ambience. Carpet is specified for its acoustic properties and the design impact too.
The cost of a particular ReForm product will depend on your choice of collection, quantity and design (colours). In line with the collections' unique multidimensional look, each collection has its own signature construction. Meaning the heights and densities of the loop pile vary from collection to collection, thus affecting the amounts of yarn used and the price. If you select a custom colour for your ReForm carpet, a shade that is not included in the standard palette, this will entail an extra one-off expense.
Order your ReForm samples and brochures now
Are you wondering if ReForm is right for your project? Feel free to order your very own samples to see for yourself how impactful the multidimensional structure is when combined with various patterns and colour themes. Also, feel inspired from the interior settings in the ReForm brochures and do not hesitate to contact your local consultant if you want more inspiration or wish to discuss all of your options.