But GamFratesi is more than a fusion of cultures. GamFratesi communicates through their designs and creates a gentle, sensitive presence in space. In this way, their designs should be seen as a sort of microarchitecture that establishes a broader relationship with their users and surroundings.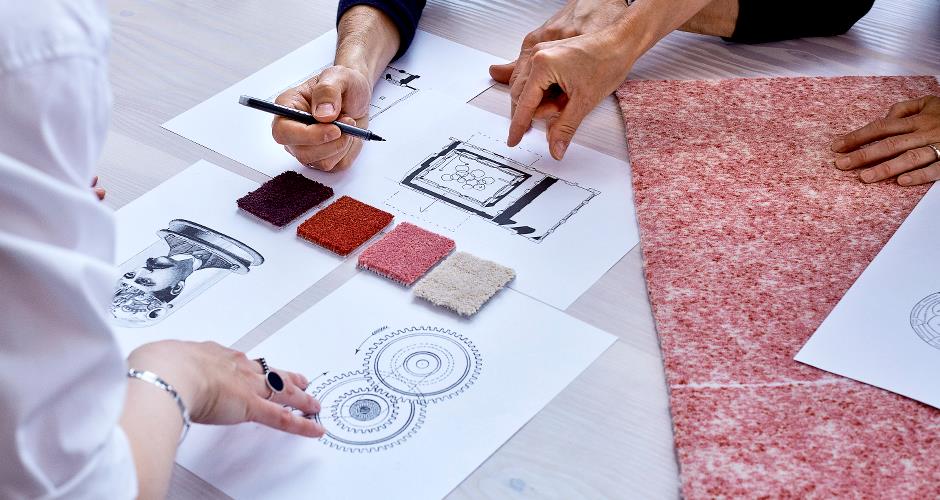 What's their secret?
The two designers met in Ferrara, Italy through Stine's Erasmus exchange in 2005, and afterwards they studied together at the Aarhus School of Architecture in Denmark. Since, Stine and Enrico have added an impressive list of modern design classics to their portfolio. Undoubtedly the cross-cultural meeting of design traditions plays an important role in the work of GamFratesi, and so do their shared architectural backgrounds. But in their own words, what is the key to their success?
Enrico: We are both very passionate about what we do, and we work very hard. We take great pleasure in creating our designs, so part of it is work, but most of it is actually our life and passion. That aside, there is this meeting of cultures and an intimacy between our two cultures, which give us a good starting point for every project we undertake.
Stine: The Italians have a more intellectual approach. In Italy, it's very important that there's a concept and some sort of story. It can't just be all functional with no emotion. Combined with the functional Danish tradition, you get what we see as a great balance. Also, from our different approaches to design, we tend to discuss a lot; How would you react in a situation like this? What would you need to feel intimate in an environment like this? And so on. Because we're both architects, we tend to start by considering the surroundings and the environment, rather than the actual furniture. That's why our different environments and cultures are so important. You see, our designs and projects reflect our different cultures, but, more than that, they communicate unique embedded symbols and stories, creating an intimate, shared relation with the users.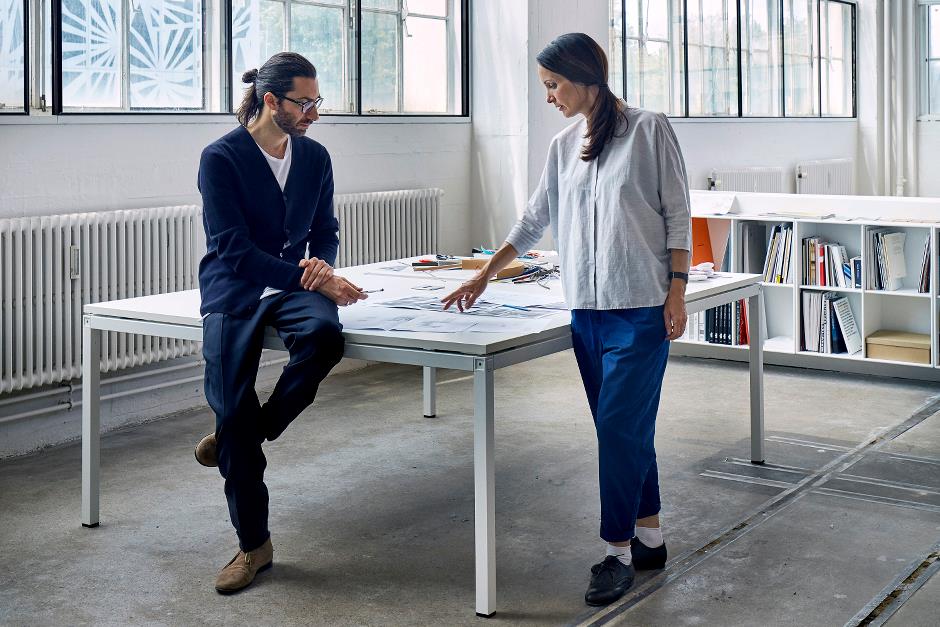 Life is beautiful to share.
Stine and Enrico are not only a successful design duo – they are also partners outside work. Being both colleagues and a couple means that work life and home life are often intermingled. Normally, they agree on the goals, but not always on how to reach them.
Enrico: Designing is about sharing, and we think life is a beautiful thing to share. When something goes really well, we can share and celebrate it. Of course it can be tough being partners both in business and at home, but I think it would be even harder if we didn't have each other.
What sort of things can you disagree about while working?
Stine: We share a very similar sense of design and quality. When we disagree, it's more about the way to get there. During that process, we can have huge debates, and then suddenly we arrive at common ground. So, it's not that we disagree on what we want to do, but more on how to do it.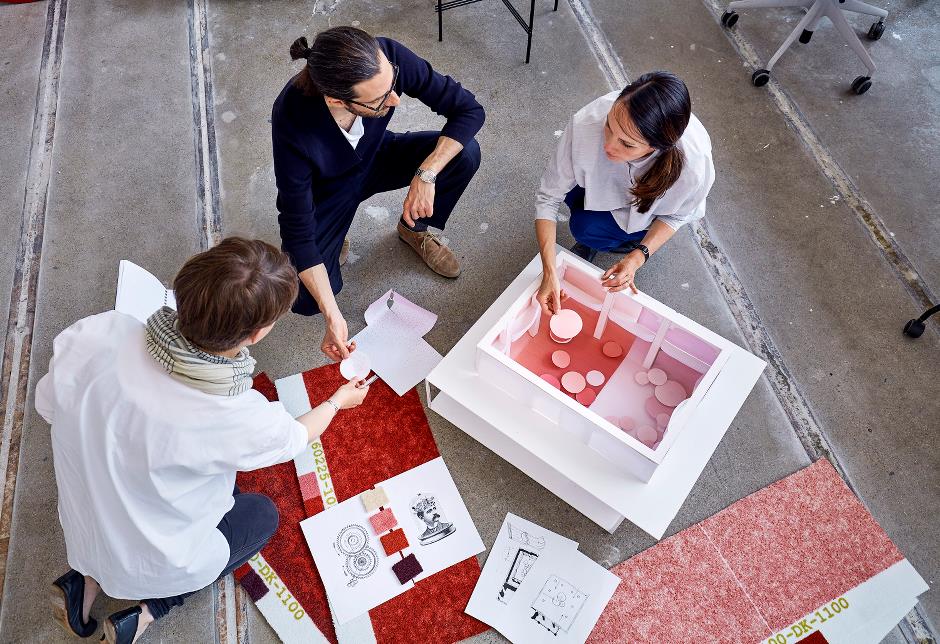 Design duo GamFratesi working with ege designer Karen Lund Hansen
Curating MINDCRAFT in Milan.
In 2016, the annual MINDCRAFT exhibition was held for the ninth time in Milan curated by Stine and Enrico. MINDCRAFT is a showcase of Danish design and craftsmanship, where the curators invite designers to create a new piece for the exhibition.
Stine: Our initial idea was to get into the origin of the mind. We were very inspired by twentieth-century drawings of the brain and the mind, and how people thought the mind worked via mechanical networks – with one association physically leading to the next and so on. The idea that everything was sort of connected in the brain inspired us to create an architectural idiom that, in an artistic way, represented the Danish brain.
Enrico: We wanted a room with columns and an open floor that in some way embraced visitors – so when you enter the room, you feel like you're inside a big brain. But it was a little confusing until we took a closer look at our materials and realised that the carpet, as a material, was the answer. By covering not only the horizontal but also the vertical surfaces with carpets, we found a material that embraced the whole space, instead of dividing it. The carpets went all the way to the top of the columns, while still showing their structure, almost like bones. In the centre you had all the parts turning, using the same carpets on top. So in the end, you had only one primary material – the carpet – and it worked amazingly.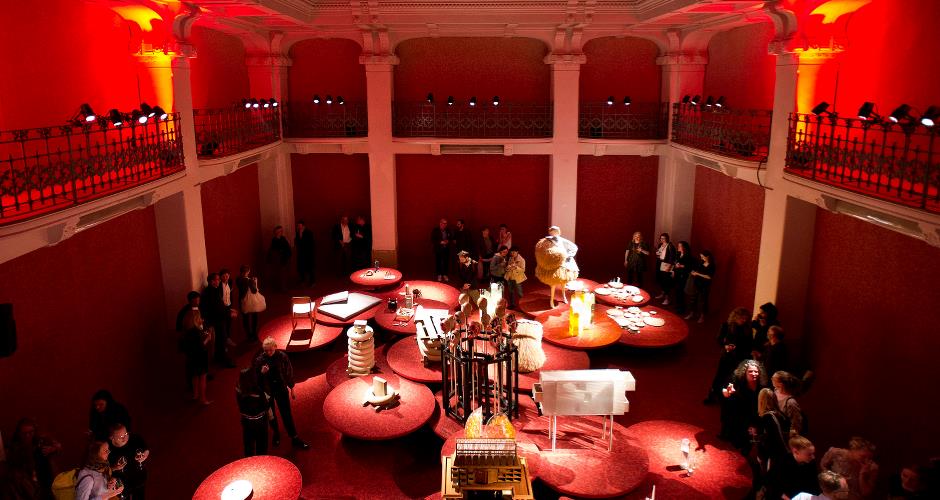 Mindcraft Exhibition 2016
'How much attention do you pay to senses other than the visual sense in your creative process?
Enrico: The acoustics are very important. When we did MINDCRAFT 2016, we invited a film composer to create the perfect acoustic atmosphere. Also, when you create a product, it's very important to consider the sensation and touch of it in combination with the texture. These parameters are very important to us. But mostly, an idea starts with a feeling.
How was it to work with the carpet as a material?
Enrico: It was very interesting because we could customise this material in any way we wanted. We did not have any restrictions, so we were able to work closely with the concept, the colours and the drawing that was printed on the carpets.
"Because of the attributes of the carpet as a material, we could work on every surface to create a continuity we wouldn't have been able to create otherwise." Enrico Fratesi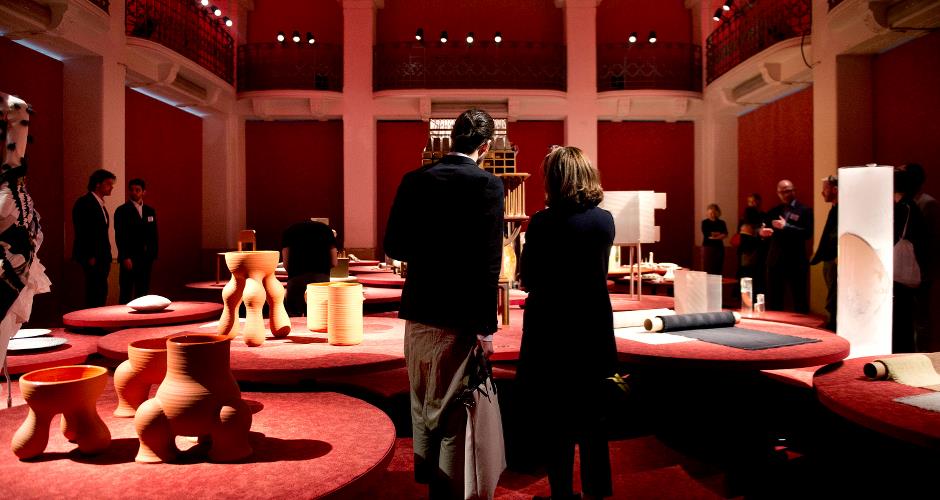 Mindcraft Exhibition 2016
About MINDCRAFT.
Curated by GamFratesi, Mindcraft 2016 showcased new and original works by some of Denmark's leading designers and artisans. Held in the unique historical setting of the Circolo Filologico in central Milan, GamFratesi used ege carpets as the main visual component. Combining the worlds of MIND and CRAFT, GamFratesi exhibited the creative works on carpet-covered, rotating toothed wheels, cre­ating an intense, yet dynamic, atmosphere.